Special trains for post-Chhath rush to work
East Central Railway to operate services for Delhi, Mumbai, Calcutta, Secunderabad and Bhopal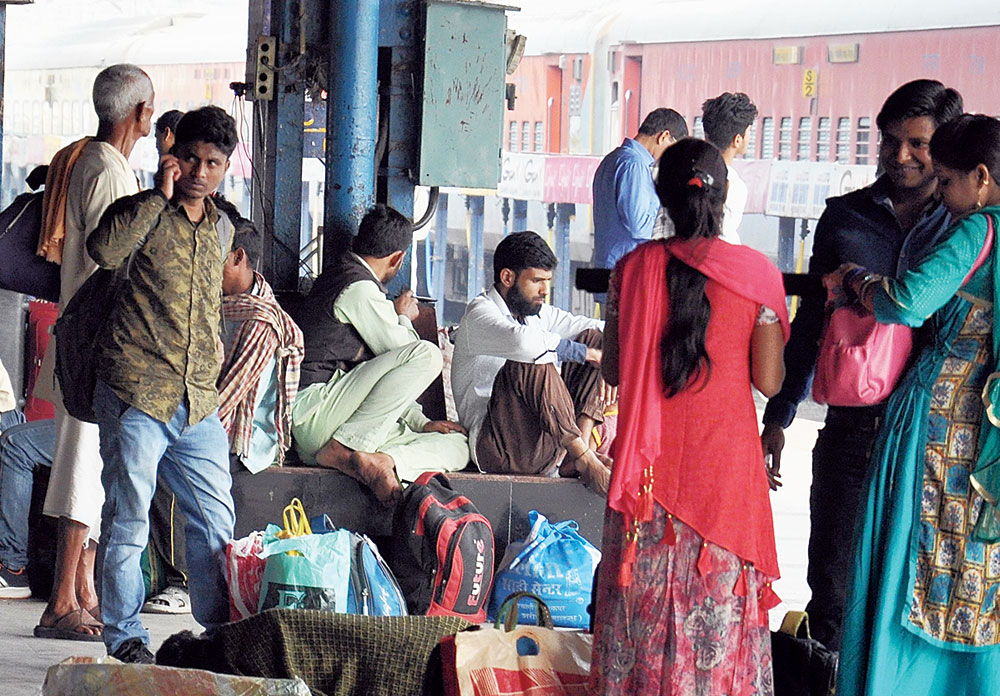 Passengers wait for their train to leave on Wednesday.
Picture by Manoj Kumar
---
Patna
|
Published 14.11.18, 06:36 PM
|
---
The East Central Railway will run special trains till next week to clear the post-Chhath rush.
At least 24 trains will take devotees back to Anand Vihar, New Delhi, Mumbai, Secunderabad, Bhopal, Asansol, Howrah and Sealdah.
From Wednesday, trains left for New Delhi from Barauni, Saharsa, Darbhanga and Muzaffarpur. Besides, two trains — each from Patna and Gaya — have been introduced for Anand Vihar and two for Mumbai, via Ara and Buxar. The Patna-Anand Vihar (02365) will depart from Patna Junction on Thursday, November 18 and 22 at 8.30pm.
Chief public relations officer Rajesh Kumar said another train from Patna to Anand Vihar (04021) will leave on November 17 at 7.35 pm.
East Central Railway officials said the decision to operate the special festive trains had been taken to provide devotees returning to their places of work or current residence a smooth journey after Chhath.
The Patna-Mumbai special train (02053) will depart on Saturday night (11.35pm) as will another Patna-Mumbai Superfast special train (02054). Two trains will leave Patna for Secunderabad — one on Thursday and the other on Friday.
The Patna-Habibganj Express Special will depart for Bhopal with 19 coaches.
Rajesh said instructions have been issued to East Central Railway's all five divisions to arrange for extra rakes to meet emergencies. "It is the duty of the railways to ensure people reach their workplaces without any trouble after Chhath," he added.
Several trains will also pass through the East Central Railway divisions for convenience of devotees. A train between Gandhidham and Bhagalpur will go by via Chhapra, Hajipur and Shahpur. The Calcutta-Chhapra and Asansol trains will run from November 16-19.
Another train will run between Malda town and Haridwar via Patna, Ara and Buxar while trains from Sealdah for Anand Vihar and Ajmer will travel through Dhanbad and Gaya.
"The train operations will be specially monitored for time, and officers will be deputed for each special train. Information on berth-availability on the special trains is available on Indian Railways," Rajesh said.