Slice of Patna in Sinha saga
Just retired envoy recalls city's influence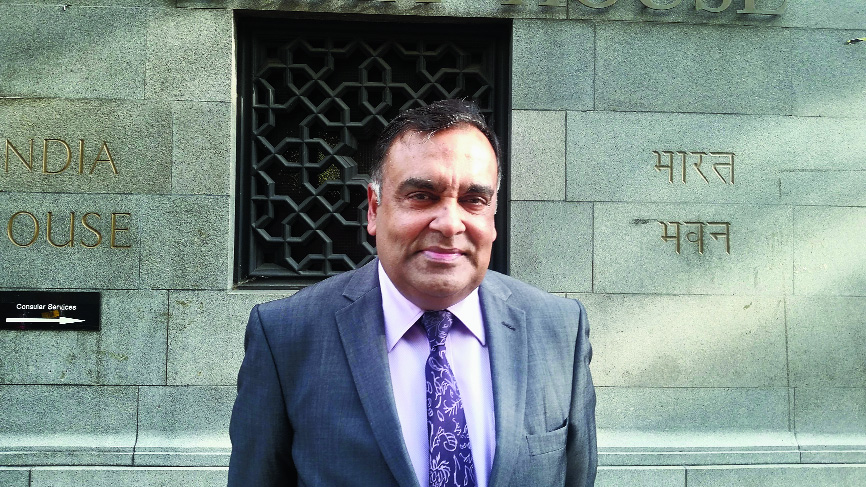 ---
|
London
|
Published 02.12.18, 11:32 AM
---
Patna has been the one constant in the life of Yashvardhan Kumar Sinha, who gave a valedictory interview to The Telegraph as he stepped down as Indian high commissioner in London after a distinguished career lasting "37 years, two months and four days" in the foreign service.
"Yash", who had to retire on reaching the age of 60 on October 4, was high commissioner in Sri Lanka before coming to London and before that ambassador in Venezuela. He has also served in New York, Abu Dhabi, Islamabad, Rome, Milan, Riyadh and Cairo.
As head of mission, his diary was invariably full but he has always been free to take calls from his batchmates at St Xavier's School in Patna, where he feels the influence of "legends" such as Father Murphy, principal from 1953-1968, and Father Cleary, in charge of cricket, shaped his life.
When Fr Murphy died on September 28, 1972, Yash, then in the seventh standard, attended his funeral which turned out to be one of the biggest mass gatherings witnessed in Patna.
"I have black and white photos of his coffin," says Yash. "My wife says they are so morbid — 'Why do you preserve them?' 'These are my memories.'"
If the story of the Sinha family were ever to be made into a TV drama along the lines of the BBC's adaptation of John Galsworthy's Forsyte Saga, it would have to be shot on location in Patna. Indeed, the story of the eminent Sinha family over the last five generations reflects the wider story of Bihar in general and Patna in particular.
Yash's late father, Lt General Srinivas Kumar Sinha, who was vice-chief of the Indian army, has helpfully left behind a family history, Sinhas of Raipur Khajuri. The latter was a village between Patna and Arrah where the Sinhas were located before their move to the Bihar capital.
"From a Patna-based family, confined to Bihar, we are now a global family dispersed all over the world," wrote the general, who served as governor in Jammu and Kashmir and in Assam and also as Indian ambassador to Nepal.
Yash may have travelled all over the world but he says: "My link to Patna is though my ancestral home."
This remains in Danapur – "No 11 Alak Sinha Varg, named after my great grandfather".
The house was bought in the 1930s from an Englishman after the earlier family residence, Gajadhar Mandir, was badly damaged in the devastating Bihar-Nepal earthquake of 1934.
"It used to be the biggest house in Danapur — not any more," says Yash. "The house is located in that square just as you cross the nala into the cantonment. There is a bridge there that goes to Arrah. In the old days you were scared because it was completely deserted.
"Nobody lives there from the family right now but portions have been rented out — my grandfather's brother got his share and the house was partitioned."
In the high commissioner's office at India House in London, Yash kept his father's books within easy reach. There are numerous references to Patna in Raj to Swaraj.
Yash's great great grandfather, Rai Bahadur Gajadhar Prasad, part of the landed aristocracy, arrived in Patna shortly after the first war of Indian independence in 1857. Yash's great grandfather, Alakh Kumar Sinha, and grandfather, Mithilesh Kumar Sinha, both joined the Imperial police, rose to the very top, became inspector general of police in Bihar and were decorated by the British. Yash's father went into the army, was promoted swiftly by the British and became a general in independent India. He set out his early experiences in Operation Rescue: Military Operations in Jammu & Kashmir 1947-49. He should have become army chief but resigned in 1983 after being superseded by General Arun Shridhar Vaidya on the instructions of Indira Gandhi.
Gen. Sinha was not regarded as being quite on board with what Mrs Gandhi had in mind. According to Yash, "my father had advised against conducting Blue Star the way it was done – he was the western army commander one year before Blue Star. They had planned that the army may be required to go in – he set out SOPs (standard operating procedures) which would maintain the sanctity of the Harminder Sahib. It is all there in the records — he put in on paper. This was disregarded by (generals) Vaidya, Brar and Sundarji. They took big guns and shot up the place. That was a big mistake we are still paying for it."
It also did not help that Gen. Sinha was spotted being courteous to Jayaprakash Narayan, with whom the Sinha family had long had friendly relations.
Yash says his father and JP were once on a flight. When a frail JP struggled with his hand luggage, "my father insisted on carrying his briefcase down the steps to the terminal building. JP was closely watched by Indira Gandhi — that was reported and used by people who wanted to supersede my father as army chief".