Tej benefactors in Lalu cross hairs
Elder son has not been home for nearly a month, after filing for divorce from his wife, and is moving from hotel to hotel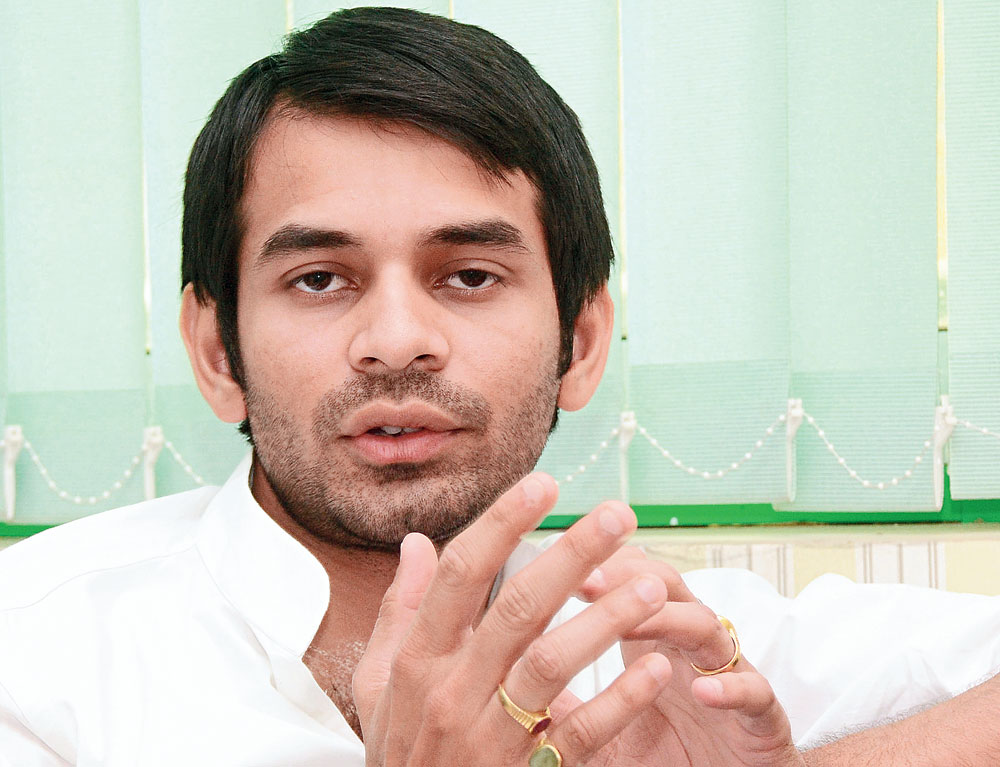 Tej Pratap: adamant on divorce, against his family's wishes
Telegraph picture
---
Patna
|
Published 03.12.18, 07:27 PM
|
---
RJD chief Lalu Prasad is fuming, and his ire is directed at those providing financial assistance to his elder son,
Tej Pratap Yadav, who has not returned home for almost a month.
Tej Pratap, who has filed for divorce from his wife, Aishwarya, has been staying in hotels in Patna with half a dozen close friends.
He has been not in touch with the family.
"Laluji is very angry at a few people who are providing Tej Pratap financial assistance," a close Lalu aide told The Telegraph on Monday under cover of anonymity.
"Laluji believes that by providing Tej Pratap financial support, these people are fuelling the frost in the family. Laluji believes those who are backing Tej Pratap up cannot be well wishers of the party or the family."
Sources in the Lalu family said one of Tej Pratap's relatives is providing money to Tej Pratap and is continuously in touch with him, keeping tabs on his activities.
This relative, the sources said, had contacted building construction minister Maheshwar Hazari demanding a separate bungalow for Tej Pratap.
The family sources say that without help, Tej Pratap cannot afford to put up in hotels with friends.
"Apart from vehicles, there are other expenses as well which are required. As a legislator, Tej Pratap may bear his own expenses but what about his friends? "They are also staying with him at his cost and for that there is need of good financial back-up," said an RJD leader who frequently visits the Lalu family's 10 Circular Road residence. "One person from Patna keeps on transferring money to Tej Pratap's friend's bank account so that they can be with him. Laluji has identified those people and soon they will face his wrath," the RJD leader added.
Lalu, the sources said, believes that once the financial backing dries up, Tej Pratap will automatically return home because he will not be able to afford checking into hotels with his friends.
Tej Pratap is adamant on divorcing his wife against his family's wishes. He has accused his family members of not backing him.
He has also set conditions to return home, and the conditions include ousting a few people from the family home who Tej Pratap says are poisoning his family's ears against him. Even when he attended Assembly on the last day of the winter session, Tej Pratap had avoided his brother, Tejashwi Prasad Yadav.
The first hearing on Tej Pratap's divorce petition occurred on November 29.
The court has issued notice to his wife to appear on January 8, 2019, or send someone to represent her.