Red tape holds up foreign liquor sale
Wine and scotch lovers would have to wait a bit longer as the sale of foreign made foreign liquor (FMFL) is unlikely to start before January 15.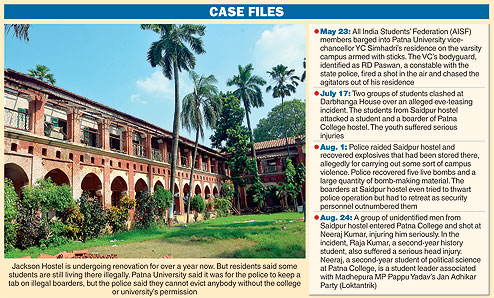 ---
|
Patna
|
Published 03.01.16, 12:00 AM
---
Patna, Jan. 2: Wine and scotch lovers would have to wait a bit longer as the sale of foreign made foreign liquor (FMFL) is unlikely to start before January 15.
According to sources, Bihar State Beverages Corporation Limited is yet to finalise corresponding paperwork leading to a delay in supply of FMFL to the retail liquor shops.
Besides, against the existing 300 liquor shops in the city, there would be only 90 such shops from April 1 as per the provisions under the partial liquor ban proposed by the Nitish Kumar government. These shops would be run directly by the corporation against the existing practice of private retail trade of liquor.
Angry retailers, who would lose their business because of the proposed state-run machinery for liquor trade, are expected to meet Nitish on January 10 for expressing their concerns related to the proposed partial ban on liquor.
Regarding the wine and other FMFL business, red tape in the form of incomplete paperwork is acting as bottleneck for its sale. "As per Section 19(d) of the Bihar Excise Act, 1915, the corporation is required to enter into an agreement with foreign liquor and wine manufacturing companies to directly import their consignment and allow its sale in Bihar. The agreement has still not been signed. Besides, the corporation would also take literage fee from the retailers for importing FMFL but it would be reimbursed later. This process has also not been completed yet," said the owner of one a firm, which would promote sale of FMFL in Patna.
On December 24 last year, the excise department issued a notification for authorising the corporation to buy FMFL from manufacturers, suppliers or importers and distribute it for retail purposes to licensed foreign-liquor shops operating in the state.
The notification allowed sale of 12 brands of FMFL, three Indian-made wines and Bermuda-headquartered company Bacardi's low-alcohol content beverage, Breezer, through licensed liquor shops. Officials in the excise department had claimed that sale of FMFL would start in Bihar from first week of January.
Asked about current status, Rajendra Prasad Gupta, general manager (finance), Bihar State Beverages Corporation Limited, said: "Managing director Ashwini Dattatraya is on leave but she is expected to join office on Monday. The order for retail trade of FMFL has already been issued and it would soon start in the state."
Sources in the liquor trade industry in Patna claimed that arrival of FMFL is eagerly awaited. "Bacardi already has its full set-up here as it sales its white rum. They would start selling Breezer as soon as the paperwork is completed. Others too are eying to start the sale of FMFL between January 15 and 20," said an FMFL trader.
As of now, most bars in Patna do not serve wine but not that there is no demand for it. "For youths, who live in metropolitan cities like Calcutta or Mumbai, wine is a common thing. When they come to Patna, they search for wine here as well," said Sumit Kheria, owner of Pind Balluchi.
The notification allowing sale of FMFL came nearly a month after Nitish announced ban on liquor in the state from April 1. Though initially talks were in the air regarding blanket ban on liquor but later the excise department curtailed the prohibition only to country-made liquor. Besides, the state government would set up its own retail shops for selling liquor in the urban areas.
The corporation would set 90 such shops in the Patna town area. Dattatraya, in a letter dated December 21, requested Patna Municipal Corporation municipal commissioner to rent 90 shops for setting up retail liquor shops. There would be total 656 shops in Bihar.
A section of retail liquor sellers are protesting the proposed move of the state government to allow sale of liquor by setting up its own shops in the urban areas. "We are against the government's move to take the liquor trade industry from private hands and hand it over to the corporation. It would surely lead to wide-scale corruption," said Nawal Kishore Singh, president, Patna District Foreign Liquor Retailers' Association.