Rajgir Buddha launch on Nov. 25
The statue depicts the Buddha in his famous Dharma Chakra Pravartana Mudra or hand pose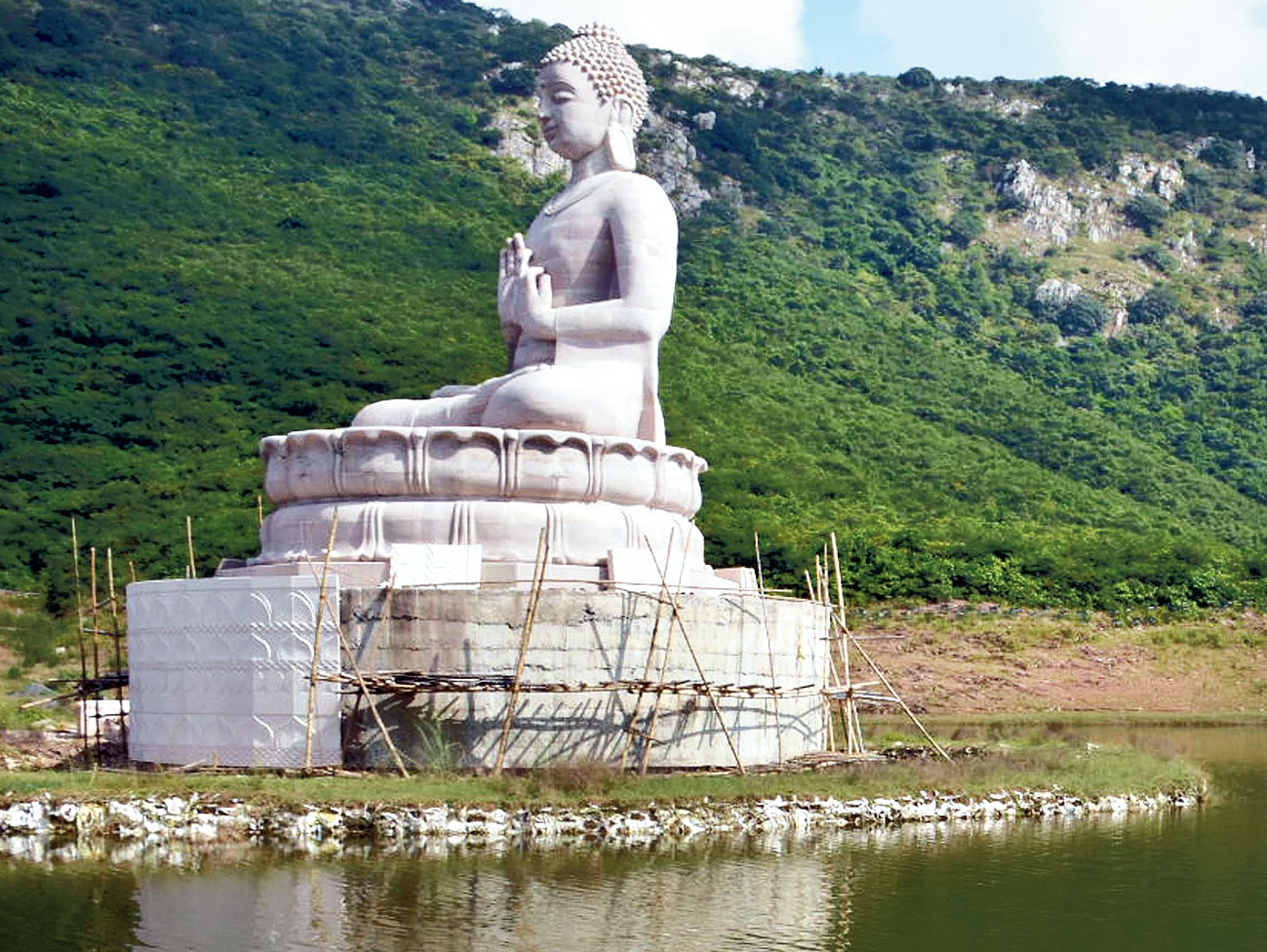 The Buddha statue on the Ghorakatora Lake in Rajgir
Telegraph picture
---
Patna
|
Published 01.11.18, 06:41 PM
|
---
Chief minister Nitish Kumar will inaugurate the 50-foot-high Lord Buddha statue in the middle of Ghorakatora Lake at Rajgir in Nalanda district, around 110km south of Patna, on November 25.
"The chief minister has agreed to inaugurate the statue on November 25. It is one of his pet projects and its construction has taken around two years. In between, he has inspected the site and reviewed the progress several times," a source said.
The statue depicts the Buddha in his famous Dharma Chakra Pravartana Mudra or hand pose.
The project has been executed by architecture firm Kapoor and Associates. The statue has been made using 770 sandstone blocks cut under the guidance of sculptor Deepak Kumar Gaur.
The weight of the statue and its base is around 3,000 tonnes, and it is supported by 40 columns that go down to the lake bed.
The lake is surrounded by hills and the statue will add to the attraction of the picturesque valley, which has already started attracting tourists in large numbers.
"We are going to prepare a floating jetty at the lake for devotees and tourists that visit the place," said tourism principal secretary Ravi Manubhai Parmar. "A modern boat will take them around the statue for a better view."
The tourism department plans to construct pathways and gardens near the lake, and set up decorative lights.
"Other amenities like benches for visitors to sit, sheds and restrooms will be provided in the area, which is one of the most beautiful ones in the state," Ravi said.
Nitish has already asked his officials to promote eco-tourism in the area where only horse-drawn carriages and battery-operated vehicles are allowed to ply.