Poll-bound Tejas says RJD for all
Tejas says RJD is a party for the poor and marginalised section in a bid to secure the votes of the EBC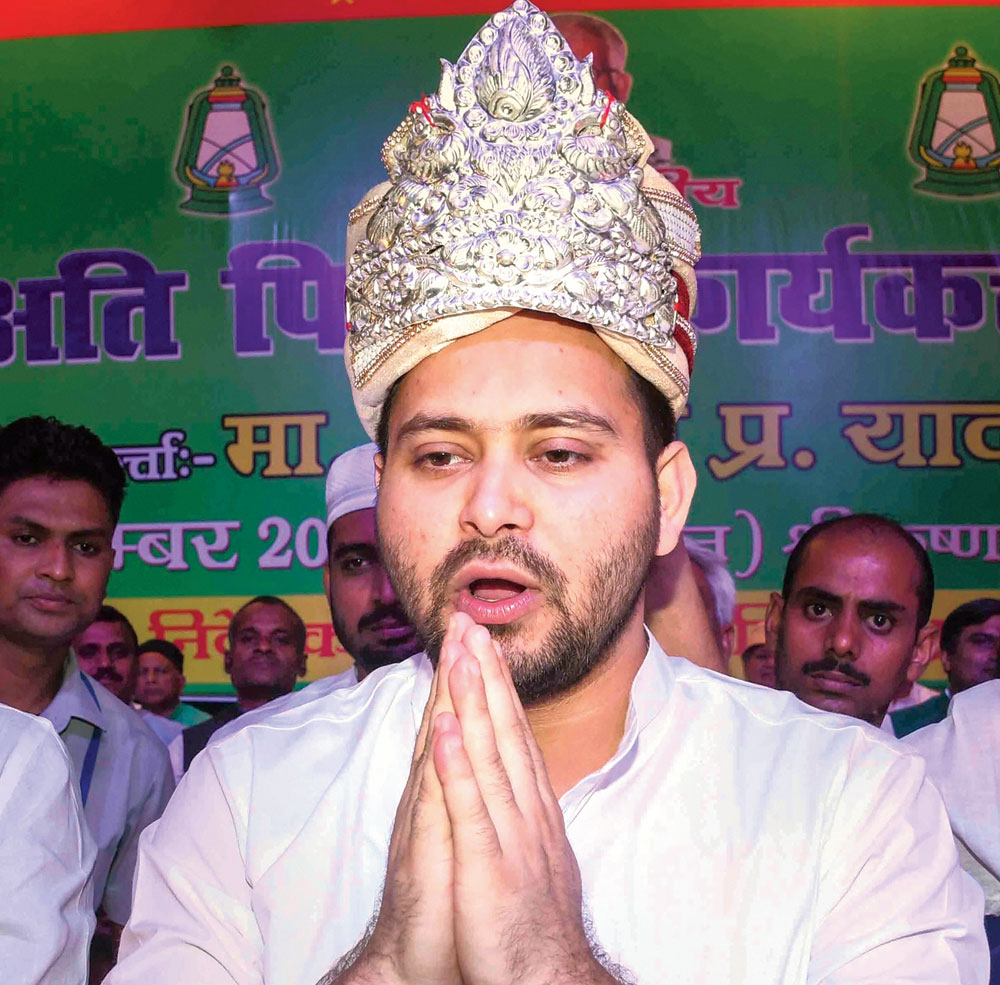 ---
|
Patna
|
Published 03.11.18, 05:05 PM
---
Tejashwi Prasad Yadav on Saturday said his party was not restricted to the Muslim-Yadav (M-Y) combine and the RJD treats all sections on equal footing, wooing the extremely backward classes ahead of the coming polls.
The EBC constitutes about 30 per cent of total votes in Bihar. In the run-up to the Lok Sabha elections, Tejashwi addressed a function organised by the EBC cell headed by Bhagalpur MP Shailesh Kumar, alias Bulo Mandal.
Tejashwi said: "There are people who have always tried to spread canard about the RJD, to malign our name saying it is the party that gives preference to M-Y. Till now Laluji has not said so, nor have I used this word. It is the conspiracy of Opposition leaders so that Laluji's votebank is shifted somewhere else. The RJD is not the party of M-Y but a party for the poor and marginalised section.
His statement was followed by a huge round of applause at SK Memorial Hall.
The EBC base was once considered a staunch supporter of Lalu, who during the peak of Mandal politics had given the community a voice in the 1990s. But it subsequently shifted loyalty to JDU's Nitish Kumar in 2005. The results of the 2014 general elections, however, showed that a good chunk of EBCs had voted in favour of the BJP-led NDA.
To come in power, it is very important for the RJD to get votes of the other castes and extremely backward classes, as the M-Y combination alone will not help the party. The M-Y combination accounts for around 30 per cent in Bihar.
Nitish, after coming to power in 2005, worked hard to create a votebank among the EBCs. The government's work for the community paid the NDA dividends in the 2010 Assembly elections. The general elections of 2014 was a different story so far as Nitish was concerned. A good chunk of the votes went to the BJP kitty, which since then the party has tried hard to retain.
So, the RJD is now leaving no stone unturned to get EBC votes to change the face of Bihar.
Tejashwi said the BJP wants to end reservation. He said if his party comes to power in Bihar, 69 per cent reservation will be implemented in Bihar on the lines of Tamil Nadu which has it for backward classes in institutions and jobs.