Party to decide fate, says RLSP chief Upendra Kushwaha
RLSP sources confirmed to The Telegraph that Kushwaha will resign as minister of state for human resource development before December 11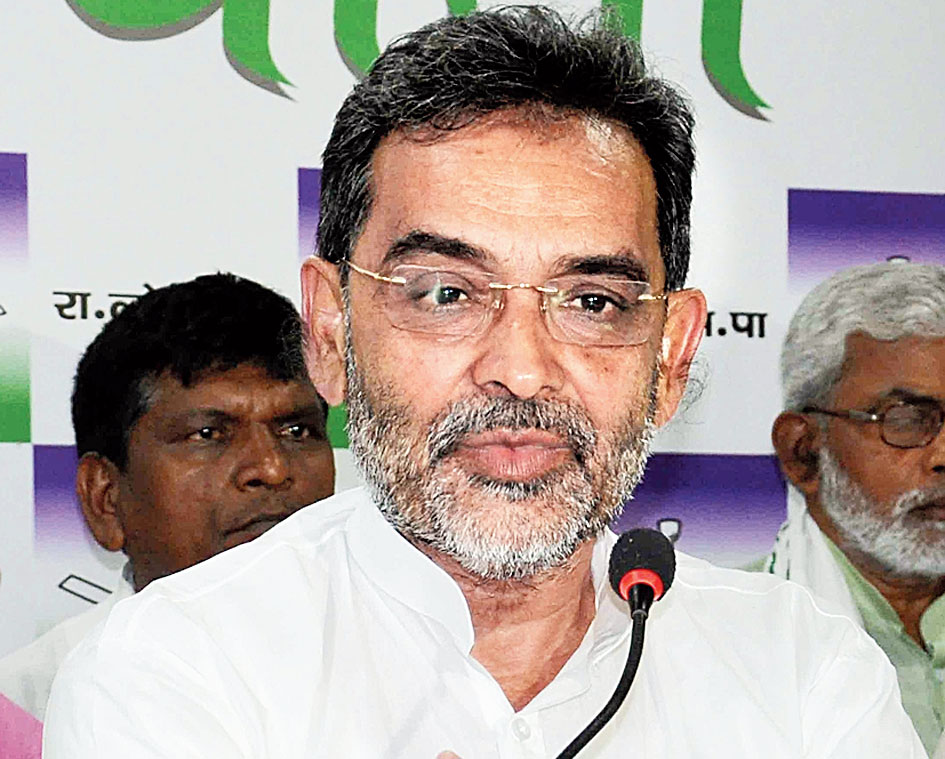 Upendra Kushwaha
Telegraph picture
---
Patna
|
Published 01.12.18, 07:33 PM
|
---
RLSP chief and Union minister Upendra Kushwaha has left it to his party to take a call on his future in the NDA and the Narendra Modi government before the winter session of Parliament begins on December 11.
RLSP sources said Kushwaha has made up his mind to resign from the ministry after facing humiliation from the BJP leadership. His efforts to contact leaders like BJP president Amit Shah and Prime Minister Narendra Modi on the seat-sharing issue have proved futile.
Contacted in Motihari, Kushwaha said: "I have called a meeting in Valmiki Nagar from December 4-6 to discuss all issues with my workers and leaders and arrive at a consensus. In the meeting, if everybody suggests me to continue in the NDA, then I will do so. Else, I will leave. And if I leave the NDA, then I will surely resign from the ministry as well."
Kushwaha was in Motihari on Saturday to meet the
family members of Premchand Kushwaha, the RLSP leader who was murdered on November 29.
A day after his ultimatum to the BJP on seat-sharing ended, Kushwaha attacked his ally's leaders by reciting patriotic and provocative lines of late poet Ramdhari Singh Dinkar: "Jab naash manuj pe chhata hain, pehle vivek mar jata hai", loosely translated as when destruction is inevitable, the conscience of man dies first.
These lines were originally written by Dinkar against British rule in India. These lines were also used by iconic leader Jayaprakash Narayan during the Emergency while addressing the packed Ramlila ground against the Indira Gandhi government.
Asked why he did not get time to meet either the PM or Shah, Kushwaha told The Telegraph over phone from Motihari: "I cannot say why they did not give me time to meet. The BJP leaders are the right person to speak on this issue. However, I can sum up everything in the lines of Dinkarji that 'Jab naash manuj pe chata hain, pehle vivek mar jata hai.'"
RLSP sources confirmed to The Telegraph that Kushwaha will resign as minister of state for human resource development before December 11.
"Our leader will resign from the Narendra Modi government. He is not going to tolerate any more humiliation. After the 2015 Assembly elections, BJP leaders have raised questions about his leadership quality and asked why he had failed to transfer the Kushwaha vote to the NDA, owing to which it got less numbers in Bihar. I want to ask how many votes have Yadav leaders in the BJP like Ramkripal Yadav, Bhupender Yadav and Hukumdeo Narayan Yadav transferred to the NDA?" an RLSP leader said on the condition of anonymity.