Oppn. unity call at Kanhaiya launch rally
Kanhaiya Kumar said it was impossible for any political party to defeat BJP alone so the Opposition have to come together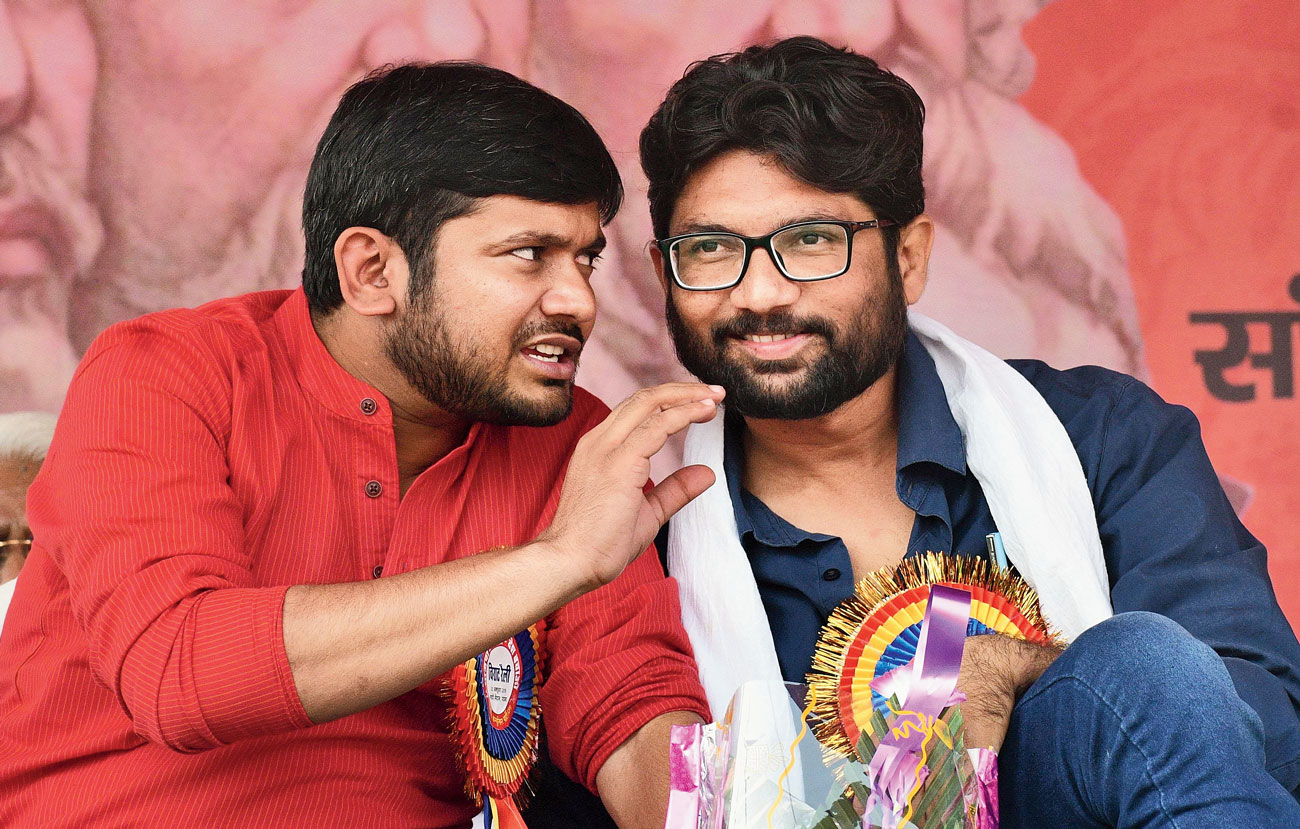 Kanhaiya Kumar interacts with Dalit leader Jignesh Mewani at the CPI rally in Patna on Wednesday.
Picture by Nagendra Kumar Singh
---
Patna
|
Published 25.10.18, 06:22 PM
|
---
Kanhaiya Kumar was the star of the CPI's "BJP Hatao, Desh Bachao Virat Rally" at Gandhi Maidan on Thursday, where Opposition parties gave a call for unity to defeat the BJP in the upcoming Lok Sabha elections.
The former JNU Students' Union president was the last to address the gathering of around 20,000-25,000 people. He said it was not possible for any political party to defeat the BJP alone so the Opposition parties have to come together.
"I do not tell lies because I do not want to become Prime Minister by telling lies and I always speak the truth and I am ready to accept all my weaknesses and deficiencies," Kanhaiya said. "I know very well that there is not a single political party in Bihar which can defeat the BJP alone. It is a fact and we should not have any problems accepting this truth."
A galaxy of leaders from the Opposition parties were present at the rally, notable among them senior Congress leader Ghulam Nabi Azad, CPI national secretary D. Raja (Raya Sabha MP), CPI national secretary Atul Kumar Anjan, the SP's Bihar unit president Devendra Prasad Yadav, HAMS national president Jitan Ram Manjhi, CPI-ML (Liberation) general secretary Dipankar Bhattacharya, NCP general secretary D.P. Tripathi, Independent Gujarat MLA and Dalit activist Jignesh Mewani and Loktantrik Janata Dal patron Sharad Yadav.
Tejashwi did not attend the rally but sent party state unit president Ram Chandra Purbey as his representative.
However, Kanhaiya in his speech praised Tejashwi, mentioning that there were unprecedented crowds at the RJD leader's Samvidhan Bachao Nayay Yatra, which the BJP was afraid of.
Thursday's CPI rally served to be a launching pad for Kanhaiya, who is likely to contest the 2019 general elections from Begusarai Lok Sabha constituency, once known as the Leningrad of Bihar and currently represented by the BJP.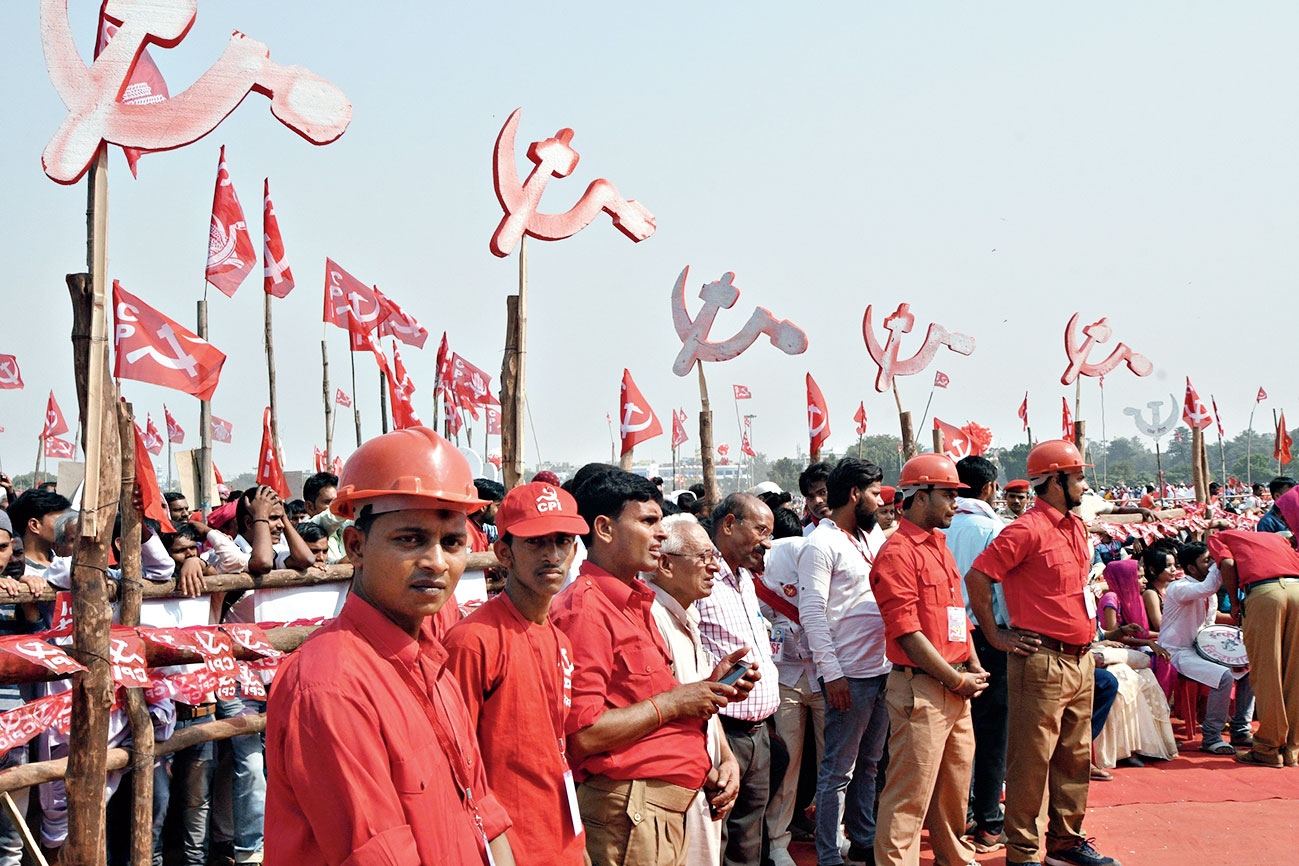 But the BJP MP, Bhola Singh, passed way few days back and the seat is not being represented by anybody at the moment.
Slogans of "Begusarai ka saansad kaisa ho, Kanhaiya Kumar jaisa ho (How should Begusarai's MP be, like Kanhaiya Kumar he should be)," rent the air continuously. The slogan was repeated many times from the stage too.
In the 2014 general elections, the CPI had stood third, but Begusarai was once considered a CPI stronghold even sending an MP in 1967.
However, its hold over the constituency has declined sharply. Former director-general of police D.P. Ojha contested the polls in 2005 with the support of all Left parties but could muster only 5,000-odd votes.
This time, the Left parties hope to get the support of the RJD, Congress and other Opposition parties in Bihar.
Lakhs of farmers, peasants, daily wagers and others thronged Gandhi Maidan for the rally. Poor men and women were seen eating sattu and chura (beaten rice) they had brought with themselves.
Kanhaiya alleged that Election Commission of India had become a spokesperson of the BJP. Many leaders also attacked chief minister Nitish Kumar saying he has betrayed the people's mandate and their expectations. Ghulam Nabi Azad said that despite the JDU having less number of seats than the RJD, Nitish was made chief minister. "But when he got the chair he found a new company and married the BJP to leave us," Nabi said.