Ola! City taps app & go habit
Tech makes travel easier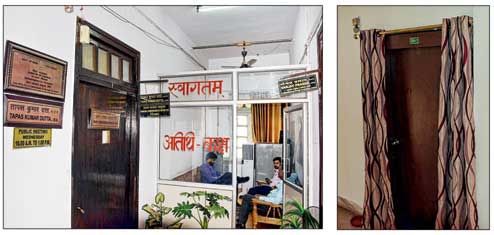 ---
Published 18.05.16, 12:00 AM
|
---
Public transport in Patna has lately got a boost thanks to Ola and its latest feature, Ola Autos.
Ola, the only app-based radio cab service in Patna, debuted in the city in January 2014 with cabs. It later launched a 24x7 Ola autorickshaw service in the last week of April to meet the shortage of reliable transport options. Ola autorickshaws are available 24x7 at Rs 30 base charge and Rs 5 per km and their estimated time of arrival (ETA) is under 5 minutes.
Fliers at the city airport are increasingly using Ola Auto because of the flexibility it offers, as the auto-rickshaws drop people inside narrow lanes cabs cannot easily enter.
Ola cabs or autorickshaws can be booked using the Ola App, which comes enabled with features like an SOS button, sharing ride details and GPS tracking.
Payments can be made in cash or through Ola Money, an e-wallet managed by the app operator.
"I stay in Ashiana Nagar and a taxi ride from the airport to my place used to cost me Rs 200-300, quite high considering that the distance is not even 5km," said Pratyush Singh, faculty member at an engineering college in Patna. "Now with Ola Auto, the journey costs me Rs 125-150. Besides, the auto-rickshaw driver doesn't grumble about entering internal roads, which are quite narrow at times."
Ganesh Kumar, an auto driver at the city's Jayaprakash Narayan International Airport, said more and more people are opting for Ola autorickshaws. "Normal pre-paid rates from the airport to Gandhi Maidan are Rs 170. The same journey on Ola Auto costs around Rs 150," Ganesh said.
"People even book Ola Cabs with their cellphones before boarding their flights to Patna from other cities," he added. The facility of pre-booking has not been extended to autos yet.
All Ola autorickshaw drivers have been provided a smartphone linked to the company server, through which they get to know their bookings. To avail an Ola autorickshaw or cab, one has to first download Ola App on a smartphone.
As of now, those wanting to use Ola air-conditioned cab service in Patna can choose from among the ultra affordable Ola Micro, flagship Ola Mini to the premium experience-driven Ola Sedan.
For Ola Mini service, which offers hatchback cars, one pays Rs 40 for the first 1 km and Rs 9 for every kilometre thereafter. Also, there's a ride time charge of Re 2 for every minute. Peak time pricing may be applied on standard fare when cabs are in high demand. Under Ola Sedan, the rates are Rs 40 for the first kilometre and Rs 12 for every kilometre thereafter. In case of auto- rickshaws, night-time charges are 1.25 times higher between 11pm to 5am.
"Overall use of personal transport is going up in Patna, because people have started trusting a platform like ours than in owning a car," said Piyush Surana, business head, east, Ola.
"A majority of our passengers are office-goers and we get bookings from across the city," said Mohammad Mehbooba, an Ola Cab driver in Patna. "Registering taxis with Ola is quite profitable as we get around 15-20 rides a day and commission to the company is a mere 20 per cent."
Ola is the lone radio cab service in Patna. Places like Calcutta have Ola, Uber, Meru, Bookmycab and Mega Cabs. Mumbai has over half-a-dozen radio cab services, including Ola, Uber, Meru, EasyCabs, Mega Cabs and Priyadarshini, which has only woman drivers.
Hyderabad also has over six radio cab services, including Meru, Orange Cabs, Dot Cabs and women-only She Cabs.