Nitish keeps promise to Bhutan
The Bihar chief minister says Rajgir temple will help bond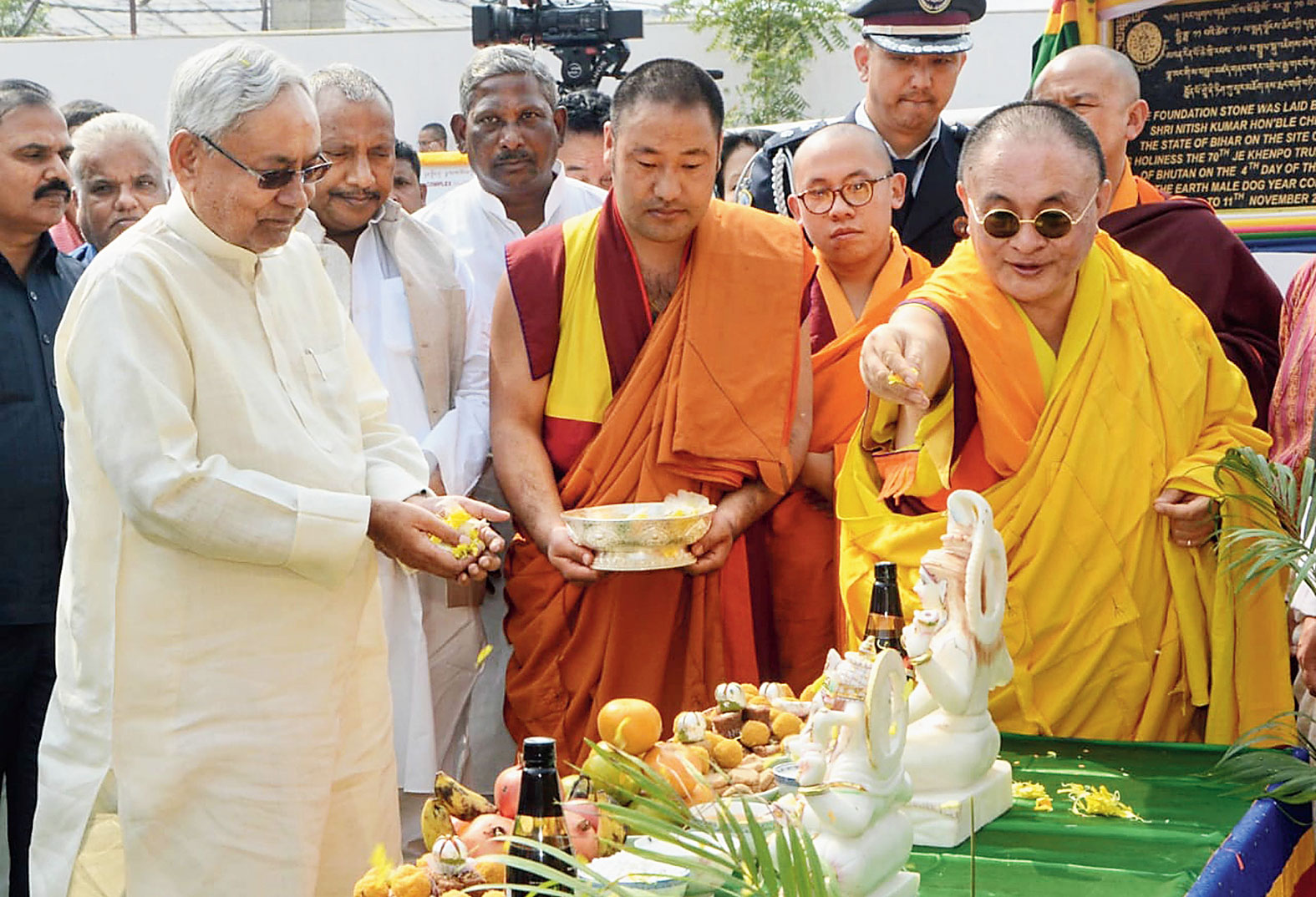 Chief minister Nitish Kumar at the foundation stone laying ceremony for the Bhutanese Temple in Rajgir on Sunday.
Picture by Ravi Ranjan
---
Patna
|
Published 11.11.18, 06:28 PM
|
---
Chief minister Nitish Kumar on Sunday laid the foundation stone for a Bhutanese Temple at Rajgir in Nalanda district in the presence of reverend monk 70th Je Khenpo Truelku Jigme Choedra from Bhutan, and asserted that it would strengthen the bond between the two countries.
"The work on the temple starts at a time when India and Bhutan are jointly celebrating the golden jubilee year of formal diplomatic relations. Its construction will further strengthen the mutual relations between the two countries," Nitish said after laying the foundation stone.
Reverend Gyaltrul Rinpoche, Bhutanese ambassador to India major-general Vetsop Namgyel, and former Indian ambassador to Bhutan and JDU general-secretary Pavan K. Varma, several Buddhist monks and officials from the two countries were present at the event around 104 km south of Patna.
Speaking about Bihar-Bhutan relations, the chief minister said the people of Bhutan have affection for the natives of Bihar. A large number of people from the state work there with sincerity and have respect for the men and women of Bhutan. The temple is the outcome of the request Nitish received during his Bhutan visit in 2011. He directed the officials to make necessary arrangements for it. The Bihar government earmarked 2.8 acres and provided other necessary assistance for the purpose.
"I hope the temple will turn out to be a grand one. People of Bhutan come to Bodhgaya and once this is ready they will come to Rajgir too. We are making all efforts to ensure that visitors from the neighbouring country do not face any difficulty here," the chief minister said.
Bhutan is predominantly a Buddhist country and Nitish said the people of Bhutan have love for environment and the government there has fixed that the country will have a minimum 60 per cent of forest cover and said it was 72 per cent when he visited there.
"There are immense possibilities of hydropower in Bhutan and its total capacity is estimated to be 30,000MW. At present, work is going on hydroelectric projects worth around 10,000MW, which I saw during my visit," Nitish added.
Praising Bhutan, the chief minister said the country's king Jigme Singye Wangchuck had introduced a concept of Gross National Happiness and had made health, education, democracy and other such things as its basis.
"Today when people talk about Gross Domestic Product (GDP), Bhutan works on how people could be happy," Nitish added.
Gross National Happiness is the guiding philosophy of Bhutan and is part of its Constitution. It is measured by an index that considers collective happiness and well-being of the population.
Nitish said sanctifying prayers for the 50 feet tall statue of Lord Buddha at Ghorakatora lake in Rajgir will be held on November 25. He added that the Buddhist
Circuit is being developed and a stupa will be built in Vaishali, which will house Buddha's relics.