Nitish inspects Ganga ghats ahead of Chhath
The festival will be observed along 93 ghats on this stretch of the Ganga and lakhs of people are expected to throng them from November 11 to 14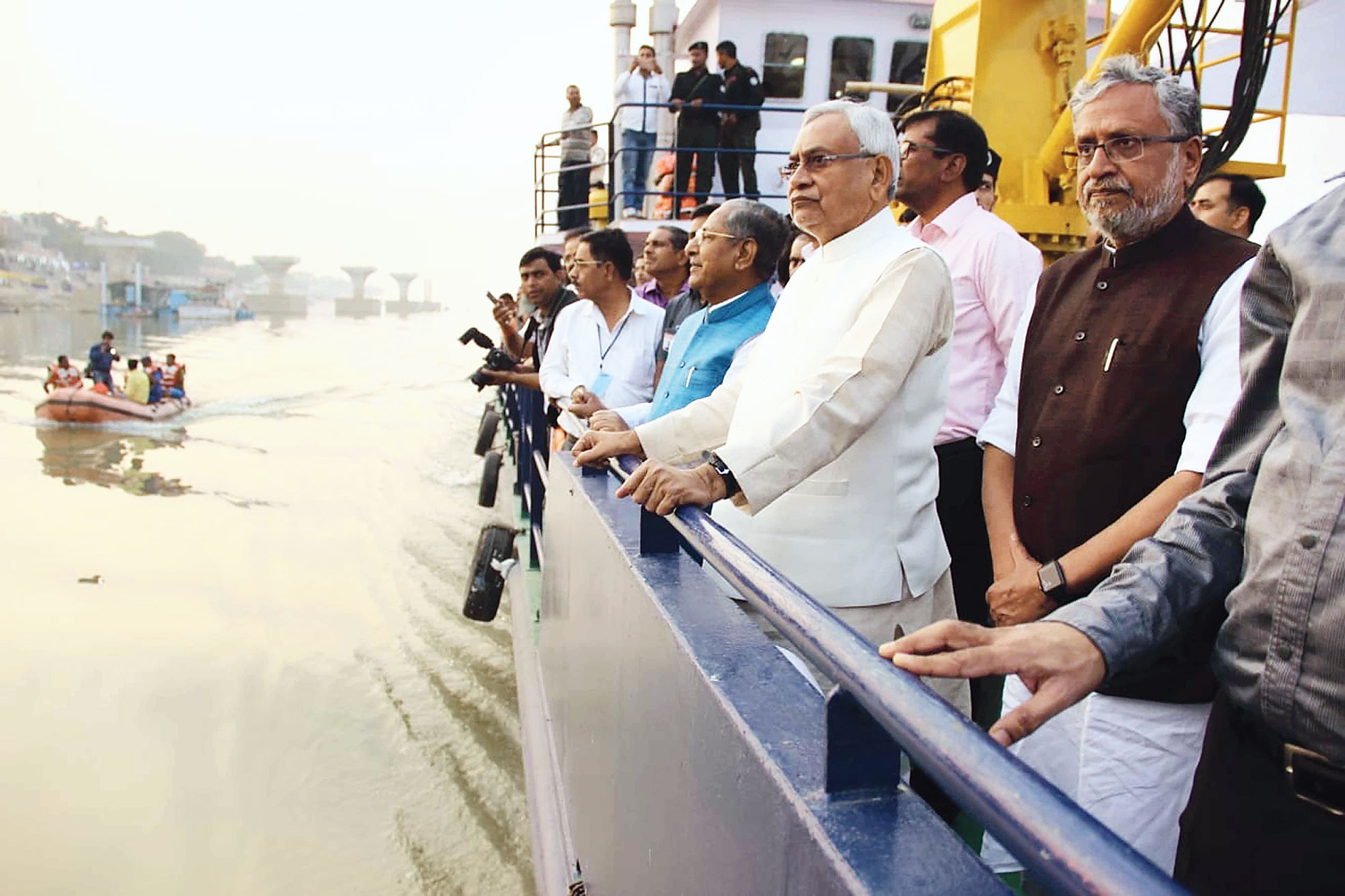 Chief minister Nitish Kumar inspects a Ganga ghat in Patna on Thursday.
Picture by Nagendra Kumar Singh
---
Patna
|
Published 08.11.18, 06:36 PM
|
---
Chief minister Nitish Kumar on Thursday conducted the second round of inspection of ghats along the Ganga in view of the upcoming Chhath and instructed officials to make arrangements for the smooth passage of devotees coming to the river. He also asked them to ensure separate entry and exit routes for ghats where people will come to perform rituals for the Sun God.
Nitish took a ferry ride from Nasriganj Ghat in Danapur to Khajekalan Ghat in Patna City with his entourage consisting of deputy chief minister Sushil Kumar Modi, energy minister Bijendra Prasad Yadav, road construction minister Nand Kishore Yadav, urban development and housing minister Suresh Kumar Sharma, mayor Sita Sahu, chief secretary Deepak Kumar, director-general of police K.S. Dwivedi and several other senior officials from different departments for inspecting the ghats.
This time the festival will be observed along 93 ghats on this stretch of the Ganga and lakhs of people are expected to throng them from November 11 to 14.
"I have always asked my officials to ensure that the devotees do not face any difficulty. Our focus is to have more number of ghats for the people and having separate approach and exit roads to them," Nitish said.
Referring to the Chhath stampede of 2012 at Adalat Ghat in the state capital in which 18 people were killed and several others were injured, Nitish said special care is taken to prepare for the Sun worship festival since then.
"Special attention is being given on the depth of water at the ghats so that people do not face any problem in performing Chhath rituals. Work is happening at a good pace, and in a better way. Preparations are satisfactory. We arrange for facilities, but the number of Chhat devotees keeps growing every year. We are now preparing as per the expected increase in the number," Nitish added.
During the course of inspection, the chief minister gave directions to the officials to improve the stairs and slopes leading to water on the ghats. He also asked them to make proper arrangements of electricity all along and get sand deposits removed from the ghats, as well as, in the midstream of the Ganga.
Nitish, who had noticed heavy erosion near Kurji Ghat during his first inspection on November 3 for preparations for the biggest festival of Bihar, on Thursday again directed officials of the water resources department to keep a watch on erosion and take necessary measures.