Nitish cuts fuel tax, at cost of Rs 707cr to exchequer
Petrol, diesel down by around Rs 5 a litre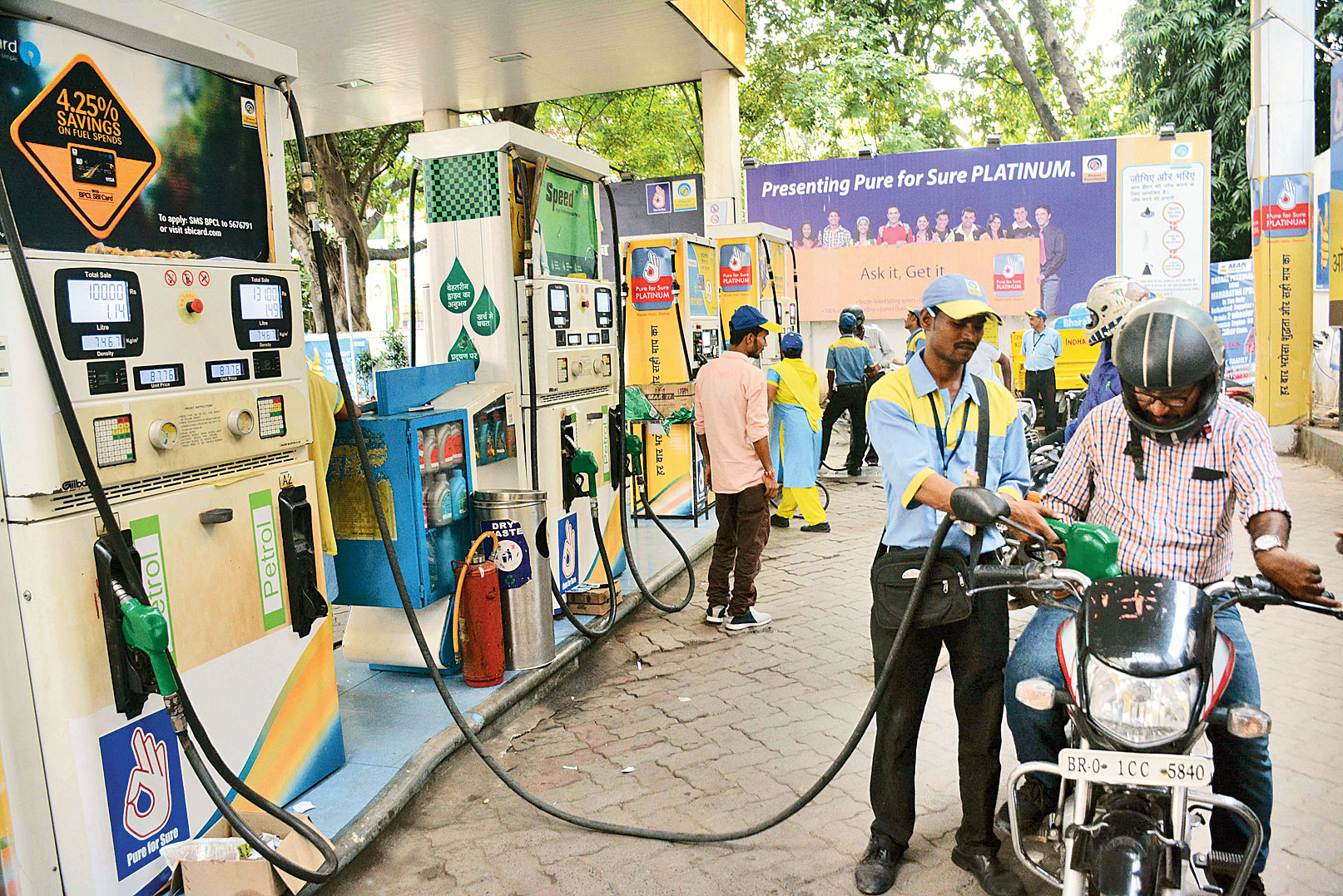 A man refuels his motorcycle at Dakbungalow in Patna on Friday.
Picture by Nagendra Kumar Singh
---
Patna
|
Published 05.10.18, 09:22 PM
|
---
Bihar on Friday reduced its tax on petrol and diesel in a move that will provide relief of around Rs 2.5 per litre to the common man and cause a loss of Rs 707-crore revenue to the state exchequer this fiscal.
The move came a day after the Centre blinked and cut the excise duty on petrol and diesel by Rs 1.50 per litre and directed state-owned oil marketing companies to forgo another rupee a litre, effectively reducing pump prices for auto fuels by Rs 2.50 per litre.
Chief minister Nitish Kumar on Friday evening announced that value added tax (VAT) of 22.2 per cent would be levied on petrol and 15 per cent for diesel.
Prior to this cut, the state was collecting 26 per cent VAT on petrol and 19 per cent on diesel.
For consumers, petrol will be cheaper by Rs 2.52 per litre and diesel by Rs 2.55 per litre.
On Friday, petrol was being sold for Rs 87.67 per litre in Patna, and diesel for Rs 78.59 per litre because of the Centre's rate cut.
"The revised rates had come into force from 6am on Friday and people would get the additional benefit of the state's VAT reduction from 6am on Saturday," said Bijendra Kumar Sinha, general secretary, Bihar petroleum dealers' association.
Effectively, petrol will cost Rs 85.15 per litre and diesel will cost Rs 76.04 per litre from Saturday, which means that compared to Thursday's rates people would get a total relief of Rs 4.99 per litre of petrol and Rs 5.10 per litre of diesel from Saturday morning.
Union finance minister Arun Jaitley, while announcing the rate cuts on petrol on diesel on Thursday, had said that states too would be requested to reduce their taxes.
However, unlike several other BJP-ruled states including Maharashtra and Gujarat which had announced similar rate cuts on Thursday, the Bihar government had appeared non-committal.
The state government's response had created doubts in the minds of people because Bihar had not responded positively to a similar call given by the Centre when it had reduced excise duty on petrol and diesel by Rs 2 per litre in October last year.
On the financial impact of the state government's decision, Modi on Friday said that Bihar would lose Rs 183 crore of VAT on sale of petrol in the remaining six months of the current fiscal (2018-19) and the corresponding loss of VAT on diesel would be Rs 524 crore.
Bihar had got revenue of about Rs 5,600 crore in 2017-18 from sale of petroleum products and in the first six months of the current fiscal (April-September) tax revenue of about Rs 2,500 crore had been generated, said a source in the state commercial taxes department.
Modi, on the other hand, also maintained that Bihar was already collecting less VAT on these items in comparison to several other states.
He pointed out that VAT rate for petrol was 47.94 per cent in Maharashtra, 38.93 per cent in Andhra Pradesh, 36.11 per cent in Punjab, and 34.09 per cent in Kerala.
He also said that even in case of diesel, the VAT rate in Bihar was quite low in comparison to several other states such as Andhra Pradesh (30.86 per cent), Tamil Nadu (25 per cent) and Telangana (27 per cent).