Marching orders for Bihar constables
After a section of them went on the rampage and fought pitched battles with their seniors, the public and the media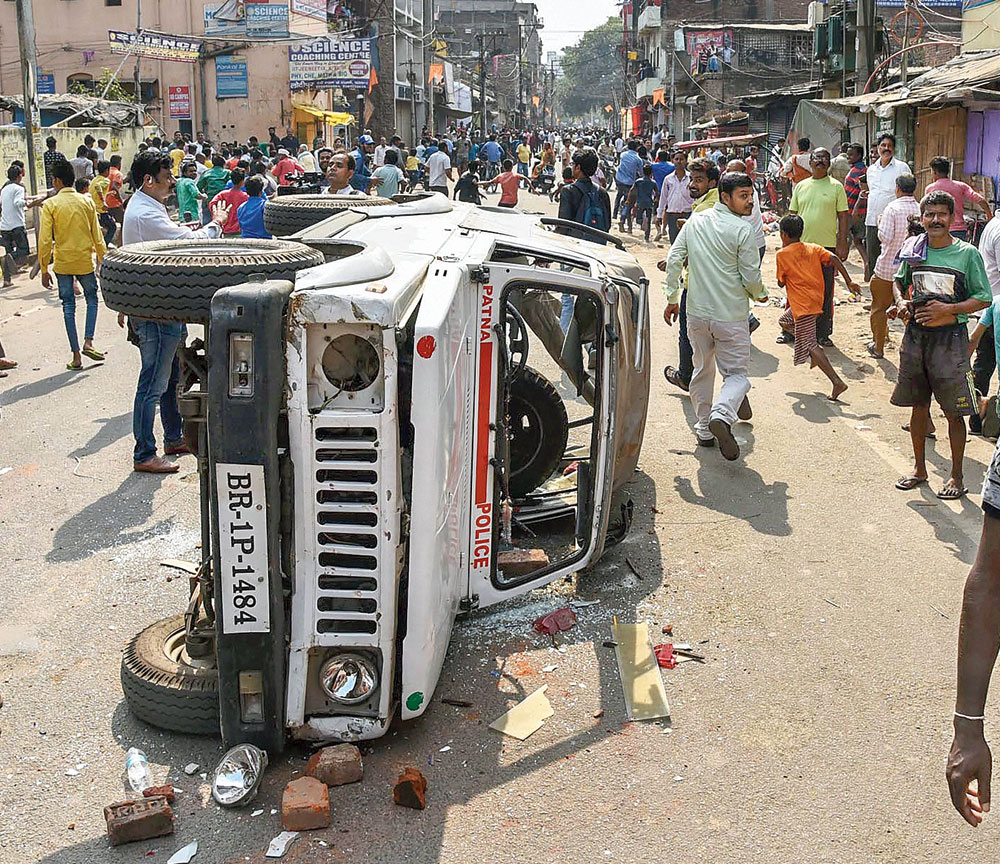 ---
|
Patna
|
Published 03.11.18, 04:48 PM
---
All 1,644 trainee constables were shifted out from the New Police Lines here on Saturday, a day after a section of them went on the rampage and fought pitched battles with their seniors, media personnel and passers-by over the death of a 21-year-old woman colleague.
Patna senior superintendent of police (SSP) Manu Maharaaj said on Saturday that while 1,064 newly recruited constables were being shifted to the Constable Training School at Nathnagar in Bhagalpur, the remaining 580 were being attached to the Bihar Military Police (BMP) for training.
The decision came after director-general of police (DGP) K.S. Dwivedi returned from an official tour to New Delhi. Chief minister Nitish Kumar had sought a report from the DGP.
Authoritative sources said Dwivedi directed the officials concerned to immediately shift all the trainee constables — both male and female.
Around 9am on Friday, an unruly mob of 400 and odd police personnel, a majority of them women, staged a veritable revolt against the police brass — attacking senior officials, ransacking official residences, smashing some 20 police vehicles and indulging in stone pelting in which sergeant-major Ashish Kumar and Umesh Kumar, the body guard of deputy superintendent of police (police lines) Mohammad Maslehuddin, suffered head injuries.
The constables were agitated over the death of their colleague Savita Pathak, who passed away at a private hospital in Patna in the early hours of Friday. The constables alleged negligence of senior cops who allegedly refused to grant Savita, a resident of Siwan, leave for her treatment.
SSP Maharaaj said two separate FIRs have been lodged with the Buddha Colony police station under whose jurisdiction the locality falls. While the first FIR has been lodged by DSP (police lines) Maslehuddin, the second pertains to the damage caused to government property. Around 100 cops have been named as accused on the basis of CCTV footage.
The complainant of the second FIR is the station house officer (SHO) of Buddha Colony police station, Manoj Mohan. "The identity of the erring cops will be ascertained with the help of CCTV clips, which have already been obtained by the investigating officers," Maharaaj said, adding that stringent action would be initiated against cops found guilty.
The SSP said a member of Savita's family would get a job on compassionate grounds and Rs 11 lakh as compensation. The state police headquarters has already ordered a probe into the death and the subsequent violence under inspector-general (Patna zone) Nayyar Hasnain Khan. The report has to be submitted within three days.
SSP Maharaaj claimed that Savita had never met him for leave. "Medical leave is granted to the cops if they fall sick. But there is no provision of any other leave for trainee policemen," he said, adding that leave was granted to the trainee cops as per rules.
Savita's colleagues said that she (Savita) had not been feeling well for the last few days. She had fainted during duty hours three days ago. Savita, who was posted at Kargil Chowk under the jurisdiction of Gandhi Maidan police station in Patna, was asked to perform regular duty even though her health didn't permit it, a colleague said on the condition of anonymity.
According to the trainees, they were barely trained for 10 days and then posted in police patrol, at traffic intersections and to manage VIP movement. The trainee constables, though kept as reserve force, have to be often put on duty because of shortage of policemen.
The sergeant major and in-charge of roster duty at Patna New Police Lines have been put under suspension.