Lalu son Tej silent and missing after divorce
RJD's ranks see him as a burden on party, feel that he has finished his own career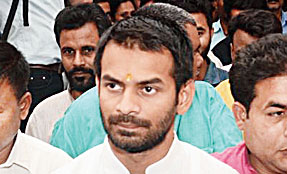 Tej Pratap Yadav
Agency picture
---
Patna
|
Published 08.11.18, 06:28 PM
|
---
The family members of RJD chief Lalu Prasad may be tense with Tej Pratap Yadav still incommunicado, but the party rank and file is rather relieved.
Even senior RJD leaders, in private conversations, dubbed Tej Pratap a burden on the party and said that after the divorce petition episode he has finished his political career.
No one still knows Tej Pratap's exact whereabouts. He apparently visited the Kashi Vishvanath Temple in Varanasi and from there travelled to Vrindavan in Mathura district of Uttar Pradesh. Tej Pratap did not even celebrate Diwali with the family.
Sources in the RJD confirmed that Lalu was very angry with his elder son and tried to convince him to drop the divorce petition but Tej Pratap was adamant on his decision.
RJD leaders, however, believe that sooner or later things were bound to come to such a pass.
"All of Bihar knows who is Tej Pratap and what are his activities, it is not hidden from anyone, but RJD workers and leaders did not have the guts to speak against him," a senior RJD leader said under cover of anonymity.
"However, with the divorce petition, he has damaged himself politically and his own people have no sympathy towards him. One can easily judge that even his family members are not with him and they too are supporting the girl (read Aishwarya Rai, wife of Tej Pratap). I can tell you with full guarantee that he has finished his political career."
Ever since Tej Pratap filing the divorce petition hit headlines, RJD workers and leaders who consider Tejashwi Prasad Yadav as the successor of Lalu are angry. They believe that everything was going smoothly with Tejashwi's Samvidhan Bachao Nyay Yatra across the state but the divorce has now hogged the public attention.
One such leader, who travelled with Tejashwi for most of the public meetings, said, "Massive crowds were turning up and we saw great response, but Tej Pratap has completely spoiled the public enthusiasm."
The leader added: "Frankly, however, sooner or later Tej Pratap was bound to be alienated in the party due his track record and past statements. We never thought that it would happen so early but it's good. Isne apne pair par kulhadi maari hai (loose translation: he has cut his nose to spite his face). In days to come, he would be politically insignificant in the RJD as well Bihar politics. In other words, he has made the path smoother for Tejashwi."
A staunch Tejashwi supporter outside 10 Circular Road residence said: "Tej Pratap should be tied up inside a sack and the sack should only be opened once the Lok Sabha election is over."