Lalu Prasad health cause for worry: Rabri
The RLD chief is currently serving term in the fodder scam and is in hospital under police custody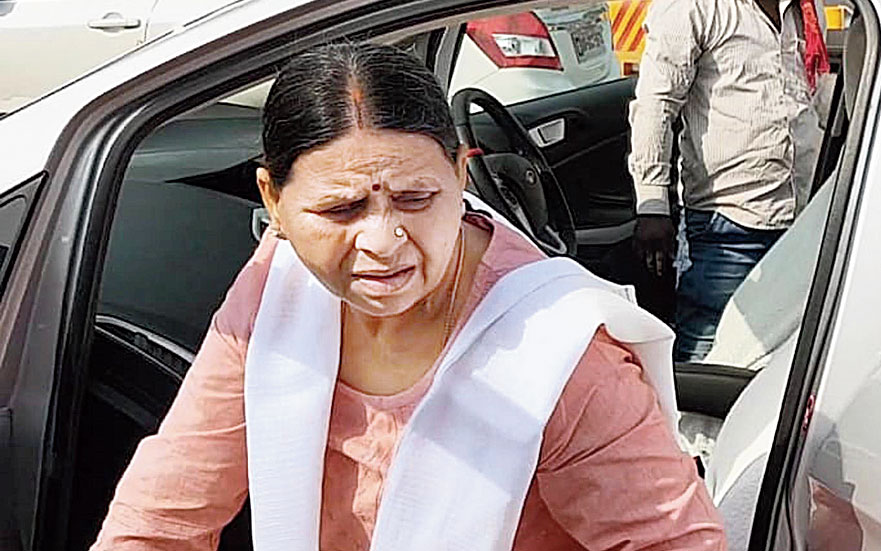 Rabri Devi at Patna airport on Sunday.
Picture by Manoj Kumar
---
Patna
|
Published 18.11.18, 06:42 PM
|
---
Former chief minister Rabri Devi on Sunday expressed her concern over the health of her husband, RJD chief Lalu Prasad, who is admitted in the paying ward of Rajendra Institute of Medical Sciences (RIMS) in Ranchi.
Rabri on Sunday left for New Delhi where she will appear before the court in the railway land-for-hotels case along with her younger son Tejashwi Prasad Yadav.
"I have come to know that Saheb's (Lalu's) health is a cause for worry and day by day his condition is deteriorating," Rabri said outside Patna airport before going to Delhi with her daughter Ragini.
Lalu is serving term in the fodder scam and is admitted in RIMS under police custody. The doctors at the hospital have also said that in last few days the RJD chief's health has deteriorated because of an infection and wound behind his neck. He can neither sit not stand due to the wound.
Lalu is also suffering from diabetes, hypertension, and chronic kidney failure. He underwent a heart valve replacement in Mumbai in 2014, and more recently was operated upon for fistula. At present, Lalu's blood sugar levels are not under control and continuously fluctuating. Dr Umesh Prasad, who treating the RJD chief, said that spreading of infection in his body is a major concern and if the infection spreads to the replaced heart valve area there is danger to his life as well.
Lalu's sons, daughters and sons-in-law have met him at RIMS and they have demanded that he be shifted to some other place for better treatment. Rabri herself has never ever visited RIMS to meet Lalu. She has never gone to Ranchi with Lalu in jail.
Doctors at RIMS have said that Lalu's condition has worsened but not reached a situation that warrants shifting to some other hospital.
Rabri also taunted chief minister Nitish Kumar for installing a high resolution closed circuit television (CCTV) camera on the boundary wall between Tejashwi's bungalow and the chief minister's bungalow. "It's good he has installed the CCTV camera on us but I must say that it is the people of Bihar who are guarding us and they are one who are keeping a close eye on the RJD," Rabri said.