Kushwaha 'anger march' in Patna against Nitish
JDU boss had said discourse shouldn't be taken to a low level; RSLP leader reads caste in the word 'neech'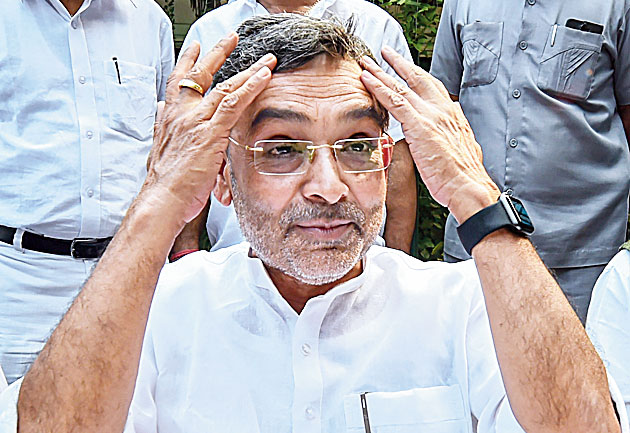 ---
Patna
|
Published 08.11.18, 06:28 PM
|
---
The Rashtriya Lok Samata Party (RLSP) led by Union minister Upendra Kushwaha will take out an "Aakrosh (protest) March" against chief minister and Janata Dal United boss Nitish Kumar on Saturday.
The march would be organised by the Akhil Bhartiya Kushwaha Mahasabha, led by J.P. Verma, chairman of the RLSP parliamentary board.
The decision comes amid heightened animosity between the two sparring NDA partners. The RLSP has sought intervention of BJP president Amit Shah over some of Nitish's remarks.
Last Saturday, during a programme in Patna, the chief minister was asked to respond to Kushwaha's comment that he (Nitish) did not wish to continue in the post after the 2020 Assembly elections. To that, Nitish replied that "discussion ka standard itna neeche mat le kar jaiye (do not lower the level of discussions)".
Kushwaha, however, gave Nitish's comment a political spin by alleging that the chief minister had termed him "neech (a lowly person)" to gain sympathy among his voters. RLSP's Verma said Nitish's comment had angered the Kushwaha community. "There is strong reaction among the Kushwaha community on Nitishji's remarks calling our leader 'neech'. The people of the Kushwaha community are being targeted in Bihar and over the past three months, around 30 incidents have taken place where our community has been targeted. We have decided launch an 'Aakrosh March' and will submit a memorandum to the governor demanding speedy trials in the cases in which the Kushwaha community members have been targeted," he told The Telegraph.
NDA sources said Kushwaha's repeated attacks on Nitish are a part of a strategy to find an exit route from the alliance with the BJP reportedly unwilling to offer it more than two seats for the 2019 Lok Sabha elections.
Neither the BJP nor the JDU, these sources said, is too concerned about Kushwaha leaving the alliance. The sources pointed out that in the 2015 Assembly polls, Kushwaha had failed to deliver votes of his own caste and the RLSP could win only two of the 20 and odd seats it was given to contest. For Kushwaha, the problem is that though the RJD is making noises about his "insult" in the NDA, he may not get a "red carpet" welcome in the Grand Alliance as well in terms of the number of seats his party is given to contest in 2019.
Officially, the RLSP sought to put up a brave front. The party's national general secretary and spokesperson, Madhav Anand, said the RLSP would be given more than three seats and intervention of BJP president Shah would be sought to tackle the Nitish problem.