Isolated Pappu Yadav left in no man's land
The RJD will not let Pappu come back to its fold, and has also asked the Congress not to entertain him at any cost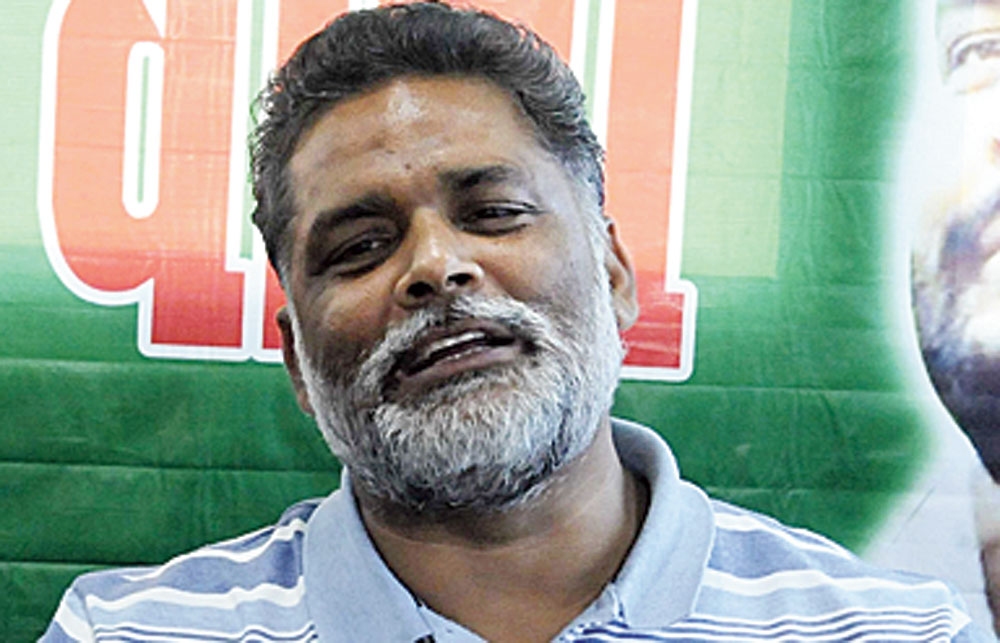 Pappu Yadav has been attacking both NDA and Grand Alliance leaders of late.
Telegraph file picture
---
Patna
|
Published 31.10.18, 05:44 PM
|
---
Madhepura MP Rajesh Ranjan a.k.a Pappu Yadav finds himself in no man's land with the NDA as well as the Grand Alliance virtually slamming their doors on his face.
He is trying hard to come back to the RJD or enter the Grand Alliance via the Congress, but RJD leader Tejashwi Prasad Yadav has put his foot down and also asked Congress not to entertain Pappu at any cost.
The NDA scenario is similar; he was tested and in the last Assembly election — he was reportedly acting on the instructions of the BJP — but could not even manage to win a single seat.
He recently met All India Congress Committee (AICC) Bihar in-charge Shaktisinh Gohil in Patna, expressing the desire to contest the election from the Grand Alliance camp but had refused to provide details of what transpired, claiming it was a meeting related to north Indians being beaten up in Gujarat.
However, Pappu told The Telegraph over phone on Wednesday: "I have met Gohilji and Rahul Gandhiji and they are the ones who will take the decision on whether I will get an entry in the Grand Alliance or not. Congress is the bigger party and it is the election of the country not the state in which a regional party has any role to play."
Of late, Pappu has been attacking both NDA and Grand Alliance leaders. A few days back, he declared that the day he comes to power in Bihar he would give an order to shoot all corrupt politicians and prison would be the only place for anti-social elements. He has also been attacking Tejashwi.
On Wednesday, Pappu declared that he still respects Lalu Prasad, adding that after the RJD chief he himself is the voice of the people.
However, RJD sources confirmed that Tejashwi does not want Pappu, "an agent of the BJP", in the Grand Alliance. Reliable sources in the BJP also said the party considers him a burden.
Pappu claimed that that he has always done politics for the people, unlike Tejashwi.
"Tejashwi was born at a king's home whereas I have my own identity and struggled to reach here," Pappu said. "Tejashwi spent his days sleeping in AC rooms whereas I spent my days meeting people and sharing their problems on the road. Tejashwi has no political identity."
Asked about his "unparliamentary" attacks on politicians from both camps, he said: "Politicians are allowed to commit all sorts of crimes from murder to rape but I cannot even oppose them? I will keep opposing such politicians no matter what happens."
If required he will go alone in the Lok Sabha election, he declared.