Giriraj sees repeat of 1947 in 2047
Population explosion of divisive forces is horrible, says minister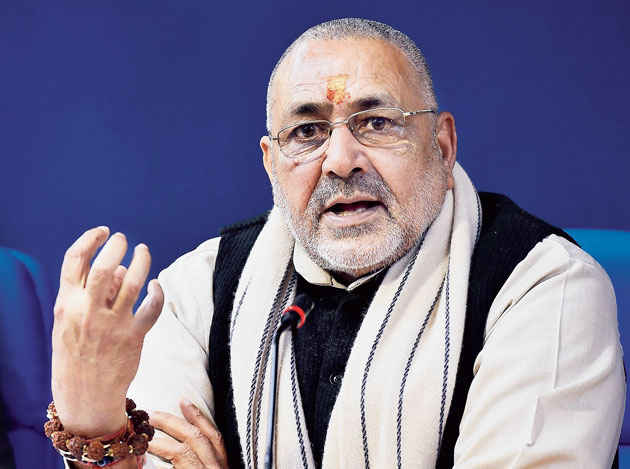 ---
|
Patna
|
Published 16.10.18, 07:14 PM
---
Union minister and the BJP's Nawada MP, Giriraj Singh, has once again courted controversy by stating that population explosion of divisive forces might in 2047 lead to conditions similar to those that led to Partition in 1947.
He said social harmony had been hit wherever Hindu population was on the decline in the country. Giriraj came up with a tweet in Hindu that roughly translates to: "Country was divided in 1947 on the basis of religion. Similar conditions would be there by 2047. People from JNU-AMU would speak in favour of anti-nationals and speak about division. Population was 33 crore in 1972 and now it has become 136 crore. Population explosion of divisive forces is horrible. Movement should be organised in every village and town to safeguard the country."
He didn't name any community, but another of his tweets translates to: "Social harmony has been hit wherever the Hindu population has declined in the country. People first demand Sharia and then convert it into Sharia." Sharia is the Islamic canonical law.
Giriraj also raised the Ayodhya Ram temple issue by tweeting that a majority of Muslims favoured construction of a Ram temple but the Congress and other parties had misguided some Muslims for the sake of votes. "Hindus' request should not be converted into a flame," read the concluding part of his tweet.
Repeated attempts to speak to the BJP leader, in Chennai on Tuesday, for comments to elaborate on his tweets, proved futile.
On October 11, Giriraj had told The Telegraph that sentiments would be hurt if a Ram temple was not built in Ayodhya. Reacting to a series of controversial tweets by the BJP leader, the Congress' Bihar unit president Madan Mohan Jha told The Telegraph: "Giriraj is in the habit of issuing controversial statements that cause social tension."
RJD Rajya Sabha member and national spokesperson Manoj Jha said: "It is unfortunate that a man in Modiji's cabinet can use such hateful language and get away with it. In order to understand Maryada Purushottam, he has to have the eyes to see Bapu's idea of Ram. For a serial offender like him and others of his ilk, Ram is a political instrument, while for a majority of Indians, he is a symbol of inclusiveness.