Ghats not yet ready for Chhath in Bihar's Ara
Devotees in Bhojpur will have a tough time unless govt cleans up act in 5 days left for the festival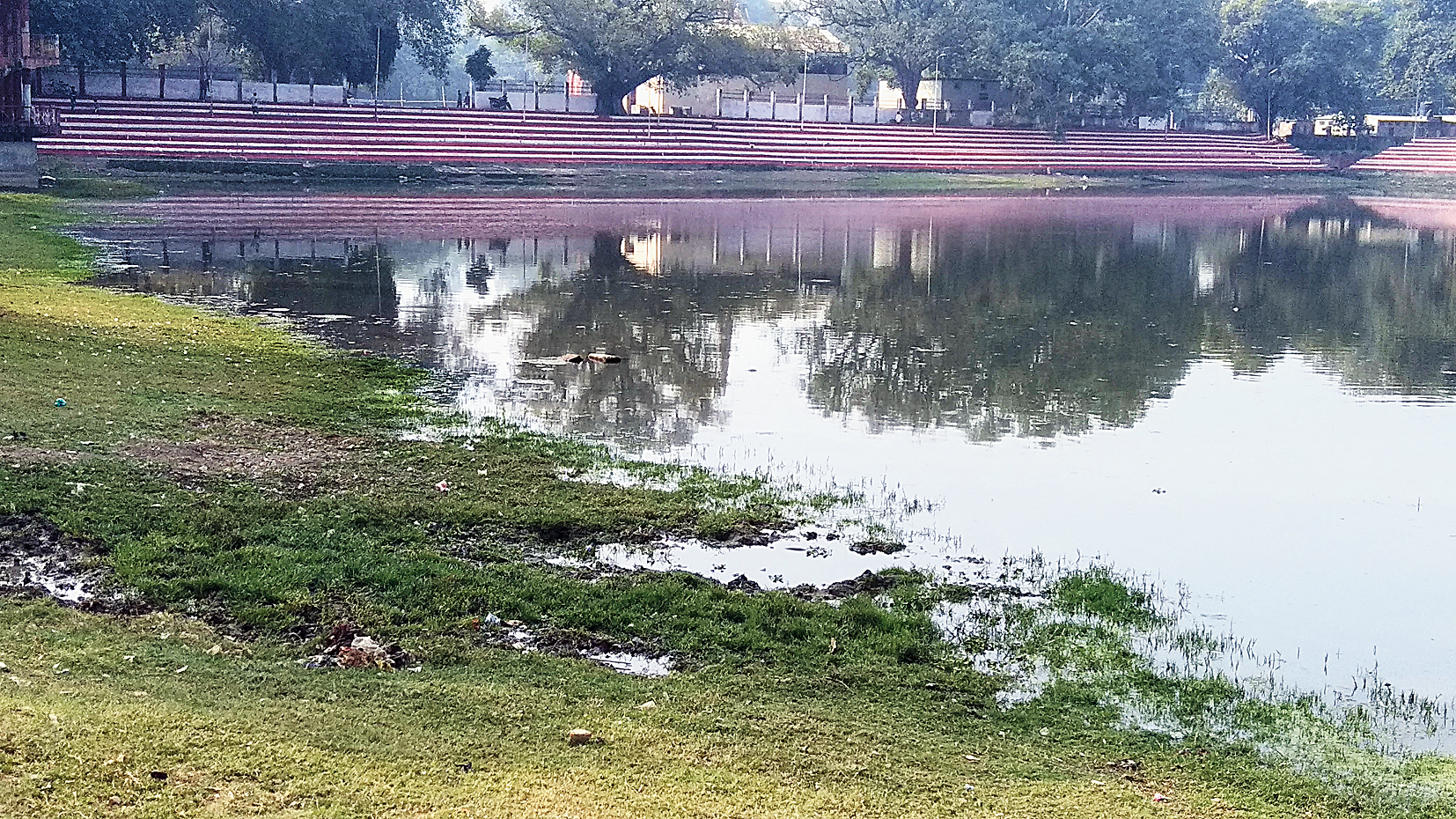 ---
|
ARA
|
Published 09.11.18, 06:59 PM
---
Ghats on the banks of the Ganga, Sone and a number of ponds in Bhojpur district have not been cleaned up with barely five days to go for Chhath.

Devotees might have to take routes where pigs are rummaging through garbage heaped on the banks, not to forget makeshift huts that block the approach road to ghats.
Even the ghats have become unsafe thanks to continuous erosion. To make matters worse, devotees will have to walk at least 2km on foot to reach the mainstream of the Ganga as the river has changed course, moving further north in Sinha and Barhara.
"The administration has turned a Nelson's eye towards the condition of Ghats," social activist Hareram Singh said. Reports say the ghats in Sinha, Barahara, Jagdishpur, Sahar, Sandesh, Koelwar and Ara have become unsafe.
Sand and soil erosion are a reality at a number of ghats, particularly in Barhara and Koelwar blocks. The Sone canal flowing through Ara is contaminated as sewage from the town's drains falls into it.
"If the administration fails to put up bamboo strips or the pontoon bridge over the canal, devotees will have a tough time reaching the other side of the canal," said Sumitra Devi, a devotee from Jawar Tola.
Garbage is also lying unattended near the pond at Ara Collectorate where at least 15,000 people perform Chhath every year. Residents themselves are cleaning the area. Also, despite authorities concerned having their offices near the pond, guards being deployed round the clock and Ara being declared an open defecation-free area, people have been dirtying the area.
At Gangi, where bodies are cremated, pieces of cloths and half-burnt wood can be seen scattered all around. At Koelwar, use of earth-mover machines to dig out sand from the Sone has created at least a 20-40 ft ditch, endangering lives of devotees.
Marshy land along the banks and the polluted water have hit the festival's sanctity.
Ara Municipal Corporation (AMC) mayor Priyam Devi said cleaning of ghats and removal of garbage were on in full swing and she and her team would keep vigil round the clock so that devotees do not face difficulties.
Bhojpur district magistrate (DM) Sanjeev Kumar claimed elaborate security arrangements have been made to maintain law and order during Chhath. Also, dangerous ghats have been marked out for special attention. NDRF teams, doctors, magistrates and the police would be deployed and use of crackers at the ghat and ferrying of boats completely banned. He said CCTV cameras would be installed at almost all ghats to keep a vigil on dandies and anti-social elements. Temporary bathrooms and lavatories, too, would come up for devotees.