Family fight goes to cops
Rabri Devi up against Chandrika Rai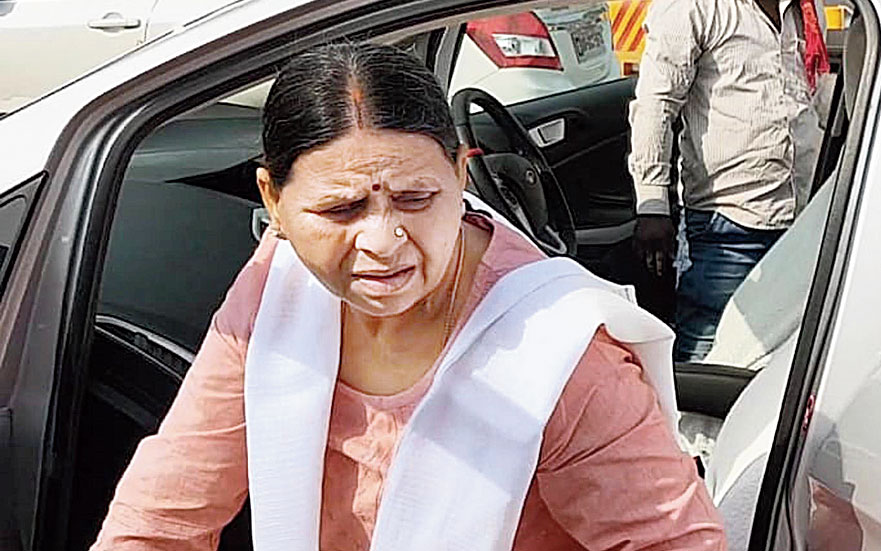 Rabri Devi dispatched two truckloads of goods to Chandrika's residence in Patna on Thursday evening.
File picture
---
Patna
|
Published 27.12.19, 10:10 PM
|
---
High drama erupted in the Bihar capital on Friday as the feud between the families of RJD chief Lalu Prasad and that of his estranged daughter-in-law, Aishwarya Rai, spilled into the police station.
Lalu's wife, Rabri Devi, returned the gifts brought by Aishwarya during her wedding with Lalu's elder son, Tej Pratap Yadav, but Aishwarya's father Chandrika Rai refused to accept them and lodged a complaint with the local police station.
"We had not demanded anything back apart from my daughter's mobile phone, passport and documents left at Rabri Devi's residence. We don't know what goods have been sent and whether a list of the same has been prepared in the presence of a magistrate or the police. We cannot accept any unauthorised thing," Chandrika said on Friday.
He claimed nobody from Rabri's family told him that things belonging to his daughter were being sent.
"Rabri's security personnel brought the goods in pick-up trucks and started unloading. We stopped them. We have no idea what objects are there. There could be explosives or liquor or something to frame us. I have lodged a complaint against her (Rabri), her security personnel and drivers at the Shastrinagar police station," Chandrika added.
Rabri had dispatched two truckloads of goods to Chandrika's residence in Patna on Thursday evening. When the family refused to accept them, some cops had to guard the vehicles through the chilly night. The vehicles are still parked in front of Chandrika's residence.
Misa Bharti, Lalu-Rabri's eldest daughter and Rajya Sabha member, accused Chandrika of indulging in cheap publicity.
"Aishwarya's mother had demanded that all the goods that were sent with Aishwarya should be returned. When we did that, she and her husband refused to accept them. It seem they have lost their mental balance and are alleging frivolous things to attract cheap publicity," Misa said.
She also claimed that Chandrika had called Rabri Devi a jaahil (idiot) and insulted women of the state.
Aishwarya married Tej Pratap on May 12 last year but he filed a divorce petition just five months later.
Since then relations between the political families have nosedived.