Dry Falgu challenge for devotees
Water was available at depths of 6-8 feet beneath the sand bed, said the DM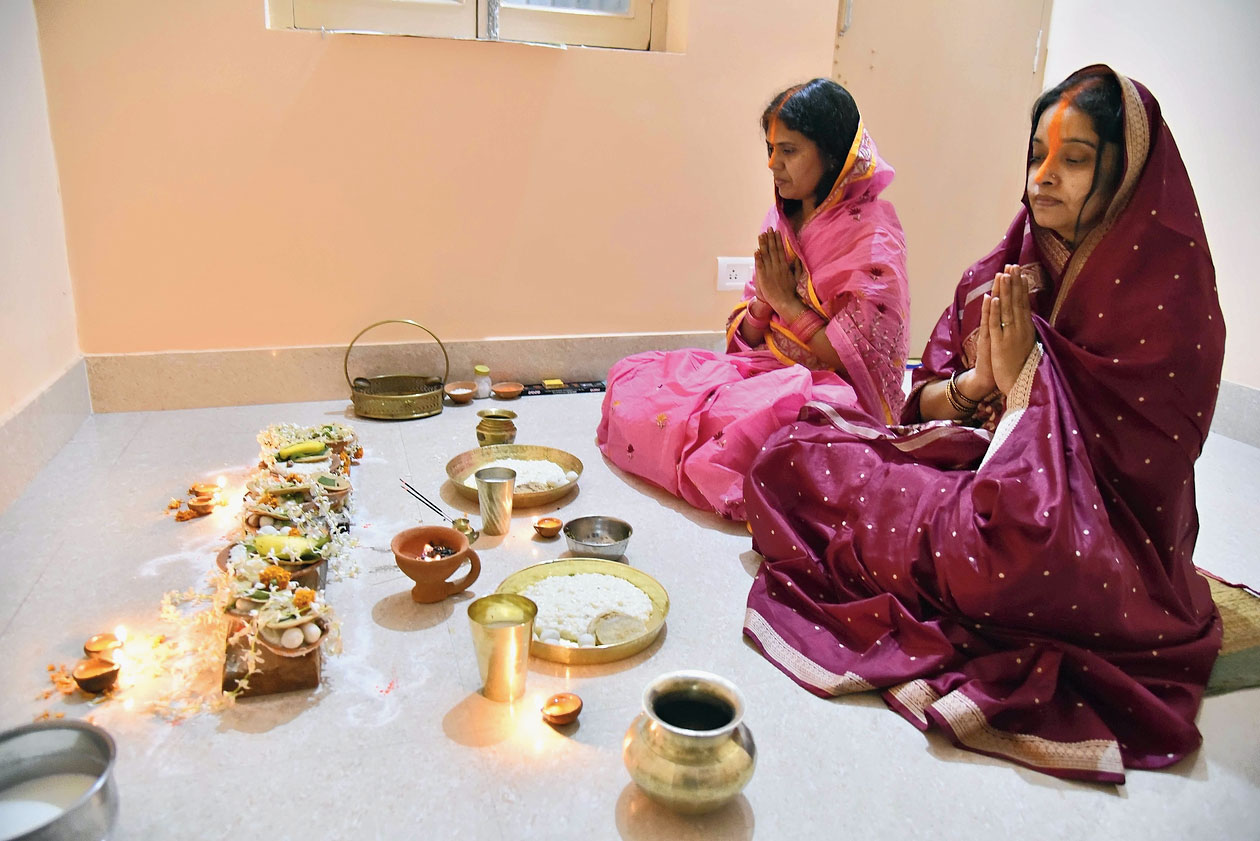 ---
|
Gaya
|
Published 13.11.18, 06:42 AM
---
For the first time, the Falgu has completely dried up during Chhath proving to be a problem for devotees.
Lalji Prasad, a former member of the standing committee of the Gaya Municipal Corporation, said: "Though the river remains by and large dry, water used to be there in patches between Kindui and Pita Maheshwar to facilitate rituals. The situation this time is really bad. It was not so bad even during the 1966 drought," he said.
Admitting that non-availability of water has presented a challenge, district magistrate (DM) Abhishekh Singh said special kunds have been dug in the riverbed between Kindui and Pita Maheshwar to facilitate ritual performers. Each kund is about 150feet-long and 30-ft wide. About one dozen such kunds have been dug near Kindui alone, said the DM.
Such kunds have also been dug at Dev Ghat and Pita Maheshwar, said the DM. Water was available at depths of 6-8 feet beneath the sand bed, said the DM. The situation was bad in Bodhgaya. In Bodhgaya, the Falgu is known as Niranjana.
On the status of water bodies in the town, the DM said no report of any water body going fully dry has been received from any part of the town. Gaya Municipal Corporation, recently launched a drive to clean the water bodies after idol immersion during Durga Puja and other festivals, said the DM.
Expressing concern over the fast declining water table, Falgu Bachao campaigner Brajnandan Pathak said the river has been exploited by land sharks and the municipal corporation. Whereas land grabbers have made about 1,000 concrete structures between Bodhgaya and Bitho, the municipal corporation for years used to dump waste and debris in the river bed. Though the municipal body has now stopped the practice, the damage has already been done, said Pathak.
Construction of a low-height barrage over the Falgu was the only way to retain water in the Falgu, said an expert. During his stint as chief minister, Jitan Ram Manjhi approved the barrage proposal along with causeways on the eastern and western flanks of the river. It was estimated to cost about Rs 650 crore. The proposal stands virtually dumped ever since Manjhi demitted office.
Gaya town MLA Prem Kumar and local MP Hari Manjhi have been from time to time raising the demand to link Falgu with the Ganga and the Sone. "But there has been no breakthrough on the river linking front," said Congress leader Arun Kumar Prasad.