Diwali countdown & safety push
Guidelines in place, sale of crackers rolls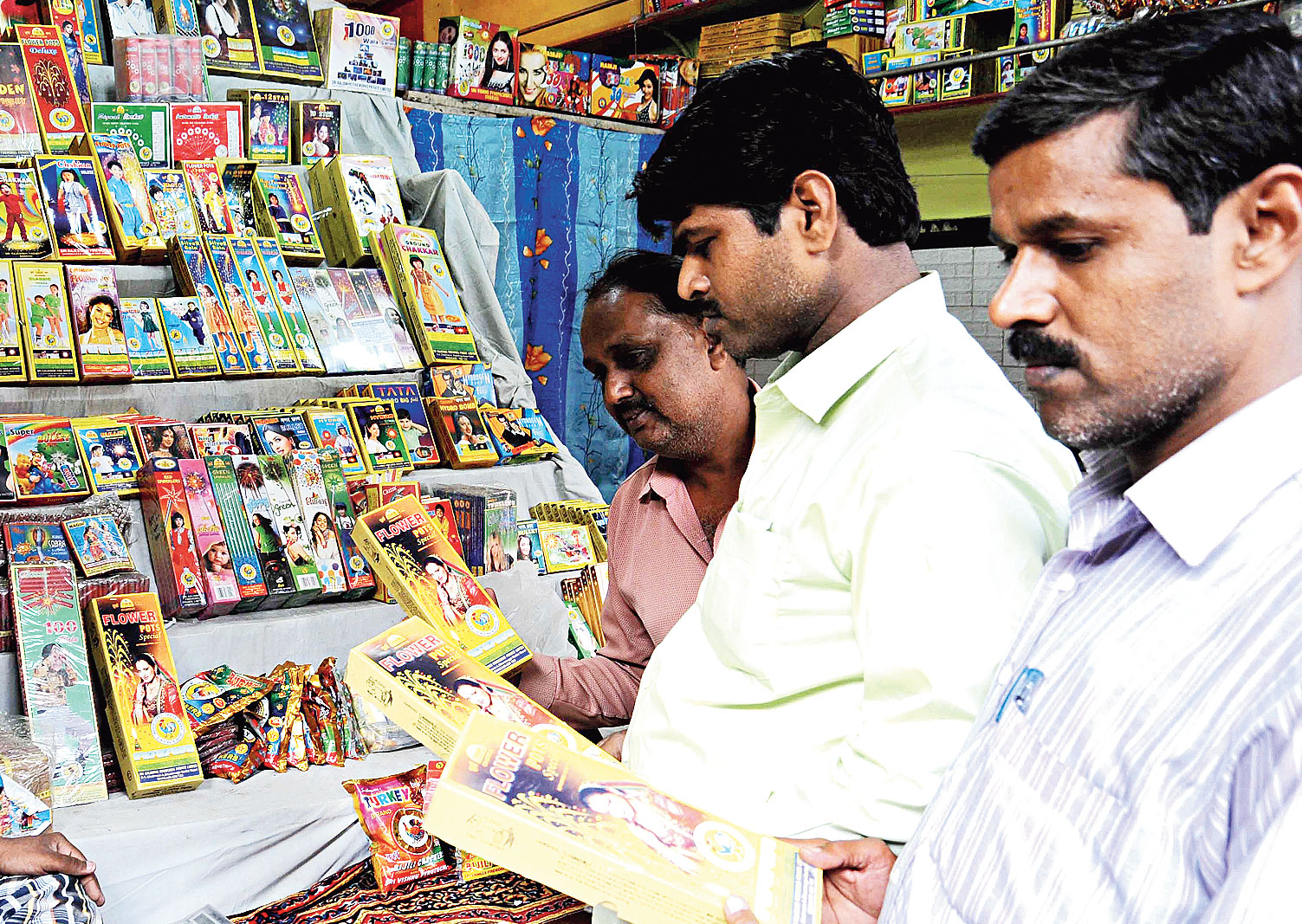 Customers purchase crackers at Khajekalan in Patna City on Sunday.
Picture by Sachin
---
Patna
|
Published 04.11.18, 06:33 PM
|
---
The district administration has issued licences to 74 shops for selling crackers, a week after officials sealed eight shops and arrested 11 people for selling fireworks without necessary permits.
"We have received 218 applications and so far we have issued 74 licences and few more could be issued after checking the papers. Along with the licences we have also issued the Supreme Court guidelines and rules from the district administration," said Patna district magistrate Kumar Ravi.
According to the district administration guidelines, there should be a gap of at least 3 metres between two cracker shops. The sheds of shops should not be head-to-head and no burning lamp should be kept inside any shop.
The guidelines state that crackers should be used within a radius of 50m of the shop. Crackers cannot be purchased by a person below 18 years of age and during purchase by a minor, an adult should accompany him/her. Loose crackers cannot be sold.
Many shops opened on Sunday in Patna City after the district administration issued the licences on Saturday evening. On the 2km stretch between Pashim Darwaja and the Chowk area, there are around 150 crackers shops which cater to Patna and neighbouring districts.
"I would have faced a huge loss if the district administration had not issued the license to me. I hope to recover the money which I spent on purchasing my stock from the godown," said Manoj Kumar, a small trader in Patna City.
Rajendra Nagar resident Animesh Kumar was relieved.
"On Diwali, the rush in Patna City is high and it becomes difficult to purchase the crackers and one cannot bargain easily," he said. "I was hoping to purchase in advance and waiting for the day when shops would open. Finally it has opened today and I have come to purchase crackers."
However, the licence which has been issued is temporary and DM Ravi said the licenses would be vaild till November 8. Those who have a permanent licence would be allowed to continue their business as usual.
Ravi said action would be taken against those violating the order of the district administration and those engaging in illegal sale of crackers.