Divorce arrow has been fired: Tej
Lalu appeal to reconsider decision fails to convince son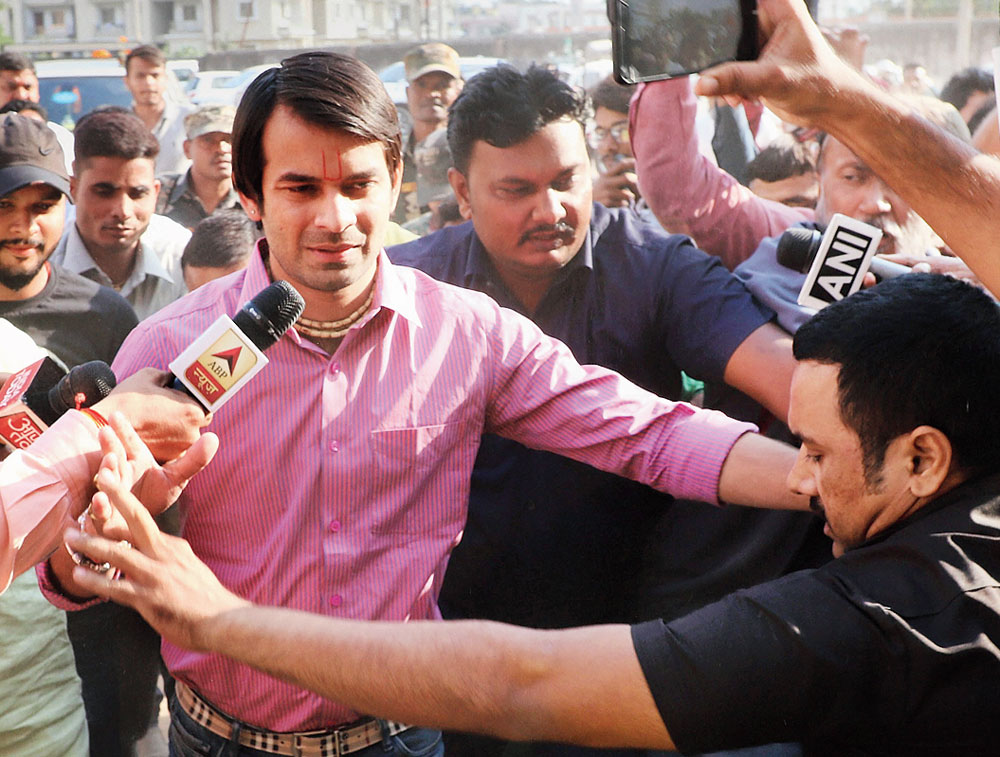 Tej Pratap Yadav arrives in Ranchi to meet his father Lalu Prasad on Saturday.
(PTI)
---
Published 03.11.18, 04:59 PM
|
---
Ranchi/Patna: Tej Pratap Yadav is bent on ending his six-month-old marriage to Aishwarya Rai, rebuffing even his father Lalu Prasad's attempts to convince him to reconsider his decision.
Tej Pratap had a closed-door meeting for over two hours with his ailing father at Rajendra Institute of Medical Sciences on Saturday afternoon.
Tej Pratap, who married Aishwarya on May 12 at a grand event in Patna, filed for divorce at the family court of additional judge Umashankar Dwivedi on Wednesday under various sections of the Hindu Marriage Act.
"My father asked me to wait till he comes back to Patna. But I don't know when he will come back. I have already decided. I stand by my decision to divorce my wife. I will attend the court when the matter is taken up on November 29," he said.
Lalu, sources close to Tej Pratap said, advised his elder son to reconsider his decision, saying his "immature" call had embarrassed the family no end. Tej Pratap came to Ranchi by road from Bodhgaya to meet Lalu who is undergoing treatment under judicial custody.
"Ghut ghut ke jeene se kaya fayda (there is no point in living a suffocating life). I cannot adjust with her because she has lived in the high society in Delhi; I am a simple person leading a simple life. We are not made for each other. In fact I tried my best for the last six months and told my parents as well that we are not compatible and intentionally I was made a pawn," Tej Pratap said in Bodygaya before leaving for Ranchi.
Aishwarya comes from a strong political background — she is the granddaughter of late chief minister Daroga Prasad Rai and the daughter of former minister Chandrika Rai, an RJD MLA considered close to Lalu.
Tej Pratap appeared dejected at the lack of support he was getting from his family. "My family members are not taking my side. In fact I spoke to Papa and Mummy as well, nobody listened to me. How can I carry on with my life with her if I do not get along with her? I have not been on talking terms with my wife for the past one-and-a-half months. Once the arrow is released from the bow, it will not come back and will reach its destination," he said.