Dig for case truth yields bones and skull
The CBI dug up a cremation site close to the Muzaffarpur shelter home at the centre of a sex abuse scandal and found parts of human skull and bones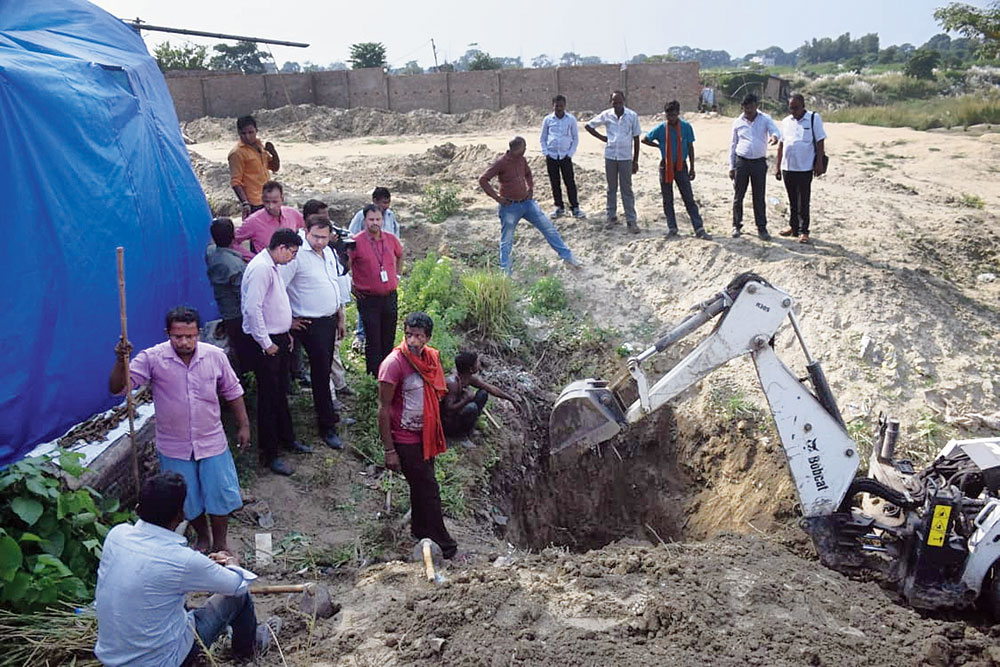 The site being dug up on Wednesday
Picture by Pankaj Kumar
---
Patna
|
Published 03.10.18, 08:26 PM
|
---
The CBI on Wednesday dug up a cremation site located close to the Muzaffarpur shelter home which is at the centre of the sex abuse scandal and recovered parts of human skull and bones that had been buried around 10 feet deep.
Vijay Kumar, the driver of Brajesh Thakur — the alleged mastermind behind the rape of at least 34 minor girls staying at the government funded Balika Grih in Muzaffarpur — accompanied the CBI team.
Sources said Vijay, who was grilled for several hours, gave leads to the sleuths about the cremation site.
The action comes a little over two months after the Muzaffarpur police had dug up the premises of the Balika Grih in the heart of the district headquarters town, around 80km north of Patna.
Muzaffarpur district authorities had on July 23 carried out excavations on the campus of Balika Grih to find the body of a resident allegedly murdered and buried after she refused to yield to molestation attempts. No human remains were found in the five-hour-operation. The dig was initiated on court orders after some girls rescued from the shelter home alleged the murder and burial of a fellow inmate.
On Wednesday, CBI and forensic officials reached the Sikandarpur cremation site, around one-and-a-half kilometres from the shelter home, with a backhoe loader. The digging started around noon and continued for almost three hours, throwing up parts of human skull and some bones of the hands and chest buried 10 feet deep.
"Today's exercise was part of our efforts to trace an inmate of the shelter home who was allegedly tortured and killed for not following the diktats of those manning the shelter home a few years ago," a member of the probe team said.
Forensic experts, who were accompanying the probe team, collected samples which will be later sent to the laboratory for DNA test. Authoritative sources said the CBI would try to locate the family members of the victim, if any.
The CBI had conducted searches at different places under the jurisdiction of Ahiyapur police station in Muzaffarpur on Tuesday and quizzed scores of people.
The team also visited the Sri Krishna Medical College and Hospital in the town to ascertain whether any inmate of the shelter home was ever admitted for treatment or not. They scrutinised records of old cases lodged at the Ahiyapur police station.
The torture and sexual exploitation of the girls came to the fore during a social audit by the Mumbai-based Tata Institute of Social Sciences.