City of yoga remembers biggest fan
Read more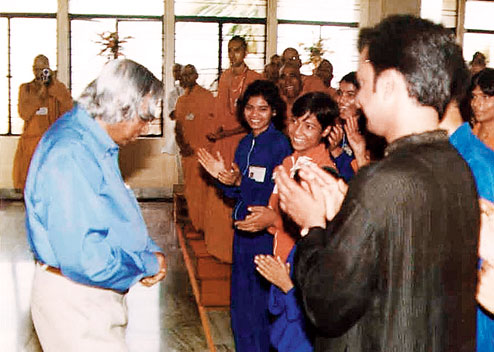 ---
Published 29.07.15, 12:00 AM
|
---
Over 2,000 Indian and foreign yoga lovers led by Swami Niranjananada Saraswati, head of Bihar School of Yoga, paid tributes to former President APJ Abdul Kalam who died on Monday.
Swami Niranjanananda Saraswati told The Telegraph: "Kalam was not only a great scientist, but also a deeply spiritual man. He had called Munger "City of Yoga" during a visit. Munger residents and Bihar School of Yoga students can never forget the love and affection Kalam showered on them."
Kalam shared an emotional and spiritual bond with the Bihar School of Yoga, which he visited twice as President. During a visit to the institute in May 2003, Kalam told a gathering of schoolchildren and residents about his attachment to the place.
He shared an experience of 1958 when he was a young aeronautical engineer. "I wanted to be a pilot. I applied to the Indian Air Force (IAF) and was called to its selection board in Dehra Dun for an interview. I travelled all the way from Rameshwaram, across the sea from Mandabam to Chennai, from Chennai to Delhi and from Delhi to Dehra Dun. It was the first time I had seen the whole of India, this beautiful land of different cultures," he told eager, young listeners. But he missed the posting by a whisker, ranking 9 among the 25 applicants. The IAF needed just eight people. "I was very dejected. Thereafter, I took a bus to Delhi via Rishikesh and Haridwar. That was the route I selected. I started from Dehra Dun early in the morning. When I reached Rishikesh, suddenly the beautiful Ganges came into view, the crystal clear waters coming from the Himalayas. I felt like taking a bath, even though it was November. After bathing in the Ganges, I was putting on my dhoti when I noticed a beautiful, happy building on the opposite bank," Kalam had said.
The happy building was the Ashram of Swami Shivananda. When he entered the place, the Swami was giving a discourse. "It was Swamiji's habit to select two persons after his sermon and ask about their problems. I was selected," Kalam recalled. Swami Shivananda asked the young man his name and then, in Tamil, why he looked so sad. When the young Kalam related his sorrow, the Swami opened Chapter 11 of the Bhagwat Gita, where Lord Krishna appears before Arjun and asks him to "defeat the defeatism tendency."
Kalam recalled: "Swamiji told me that my destiny was not to become a pilot and I should move on." After that, Kalam went on to pursue higher education. But he did not for a moment forget his meeting with Swami Shivananda. That explains his love for Munger's yoga school, as Swami Shivananda's disciple had established it (in 1963).