Chinese national gets in drone to Bodhgaya
A Chinese national dodged customs officials to sneak in a drone to Bodhgaya. No incriminating evidence found yet.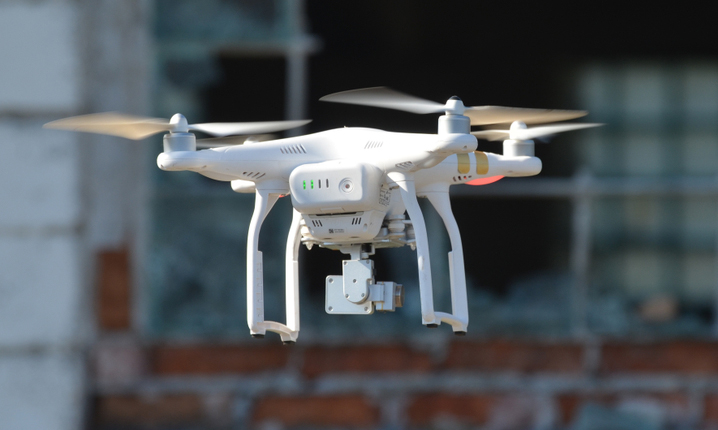 Drone quadrocopter Phantom3 Professional with high resolution digital camera designed by the Chinese company DJI.
Shutterstock
---
Gaya
|
Published 16.11.18, 07:58 PM
|
---
A Chinese national dodged customs officials and other agencies successfully and brought into the country a lightweight drone, sending security agencies into a tizzy.
The man was first seen using the drone for aerial videography on the evening of November 13 in Bodhgaya. He was subsequently detained and questioned.
The drone has been seized. But what has alarmed the police is the apparent lapse that allowed the Chinese national to smuggle in the item without being noticed.
Confirming the seizure of the drone, officiating senior superintendent of police Anil Kumar said different agencies were looking into the matter. Refusing to divulge details, he said the matter was sensitive and needed to be probed.
As per information, the Chinese national arrived at the Gaya international airport on November 5. He, along with a woman, checked into a hotel on November 11. There is some ambiguity about his place of stay between November 5 and 11.
Sources said on November 5, the Chinese man checked into a guesthouse and on November 11, he shifted to a hotel. He is learnt to have told the cops that on account of the mosquito menace, he left the guesthouse and checked into the hotel.
The man and the woman were questioned by the police as well as different intelligence agencies. Sources said the man told the interrogators that he was not aware of the laws on use of drones in the country and restrictions for security reasons.
According to an official familiar with the legal aspects of the matter, each drone has got a unique identification number.
Before using the drone, one has to submit the number and get the instrument registered with the directorate of civil aviation. Permission from specially designated officers is required.
Sources said form C, a mandatory requirement for foreign visitors giving details like date and purpose of visit, place of stay, duration of likely stay, arrival details, intended departure etc was found in order. The Chinese national told the cops that he intended to leave Bodhgaya on November 19.
The equipment's memory card did not show anything incriminating. The police, on their part, are learnt to have sought details of all Chinese nationals to have visited Bodhgaya in the recent past.