Chhapra road bounty
Tejashwi inaugurates projects worth Rs 494 crore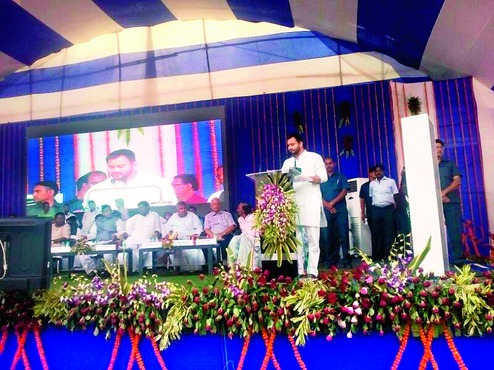 ---
Published 13.04.17, 12:00 AM
|
---
Tejashwi Prasad Yadav on Wednesday gifted people in Saran district 21 roads and five bridges of 227km, while promising more, to the area from where his parents have won elections.
The deputy chief minister, who is also the road construction minister, inaugurated the projects worth Rs 494 crore from Chhapra's Rajendra Stadium. The infrastructure together aims to achieve the government's target of allowing people reach Patna in five hours from any corner of the state.
This is the first major set of projects started in Saran since the Grand Alliance government came to power in Bihar. Before this, last month, Tejashwi had started road projects of Rs 343 crore in Vaishali district.
On being asked about giving special attention to Chhapra after Vaishali, Tejashwi told The Telegraph: "It's nothing as such, Chhapra is the gateway of north Bihar. After beginning of three upcoming bridges, the traffic pressure on this stretch will automatically increase. Roads in this area must be good keeping the traffic pressure in mind, so we have started these projects."
Chhapra in Saran district is not just the gateway to Bihar. It is the place from where Lalu was first elected to the Lok Sabha in 1977. Saran is also the Lok Sabha seat Lalu had to give up when he was convicted in the fodder scam.
Tejashwi inaugurated the project with cabinet colleagues Chandrika Rai (transport) and Muneshwar Choudhary (mines and geology) with him. BJP's Chhapra and Amnour MLAs C.N. Gupta and Shatrudhan Tiwari, respectively, were also present and praised the road construction department.
This Rs 494-crore project entails roads connecting Chhapra-Madhaura, Garkha-Chirand, Shilodi-Shahpur Chowk, Parsa-Mahesia, Khaira-Bintolia, Hariharnath-Pahleza road, Chhapra-Sonepur apart from five small bridges.
"My father has given so many things to Chhapra when he was railway minister. Our family has deep relations with Sonepur and Chhapra," Tejashwi said. "We are committed to develop these areas and others parts of the state. The people of Bihar have given us the mandate to work, and to achieve the target we are working hard."
He added that Chhapra would soon get its first double-decker bridge - proposed by the road construction department - too. "It would be the first double-decker bridge in Bihar and in fact India. The detail project report of the bridge is being prepared. It would be constructed in Chhapra at a cost of Rs 370 crore."
The young leader, a first-time MLA and minister, also used the inauguration platform to attack Prime Minister Narendra Modi. He said the Centre was supposed to spend Rs 55,000 crore - from Modi's promise of Rs 1.25 lakh crore package to Bihar - on the road sector but nothing has come yet.
"I will request leaders of all political parties to pressurise the PM to send us the package. Just making the announcement will not help Bihar," Tejashwi said.