Chemical alarm on fish from Andhra
Analysis collected on the fish has revealed presence of formalin, a chemical used for preserving fish; formalin is carcinogenic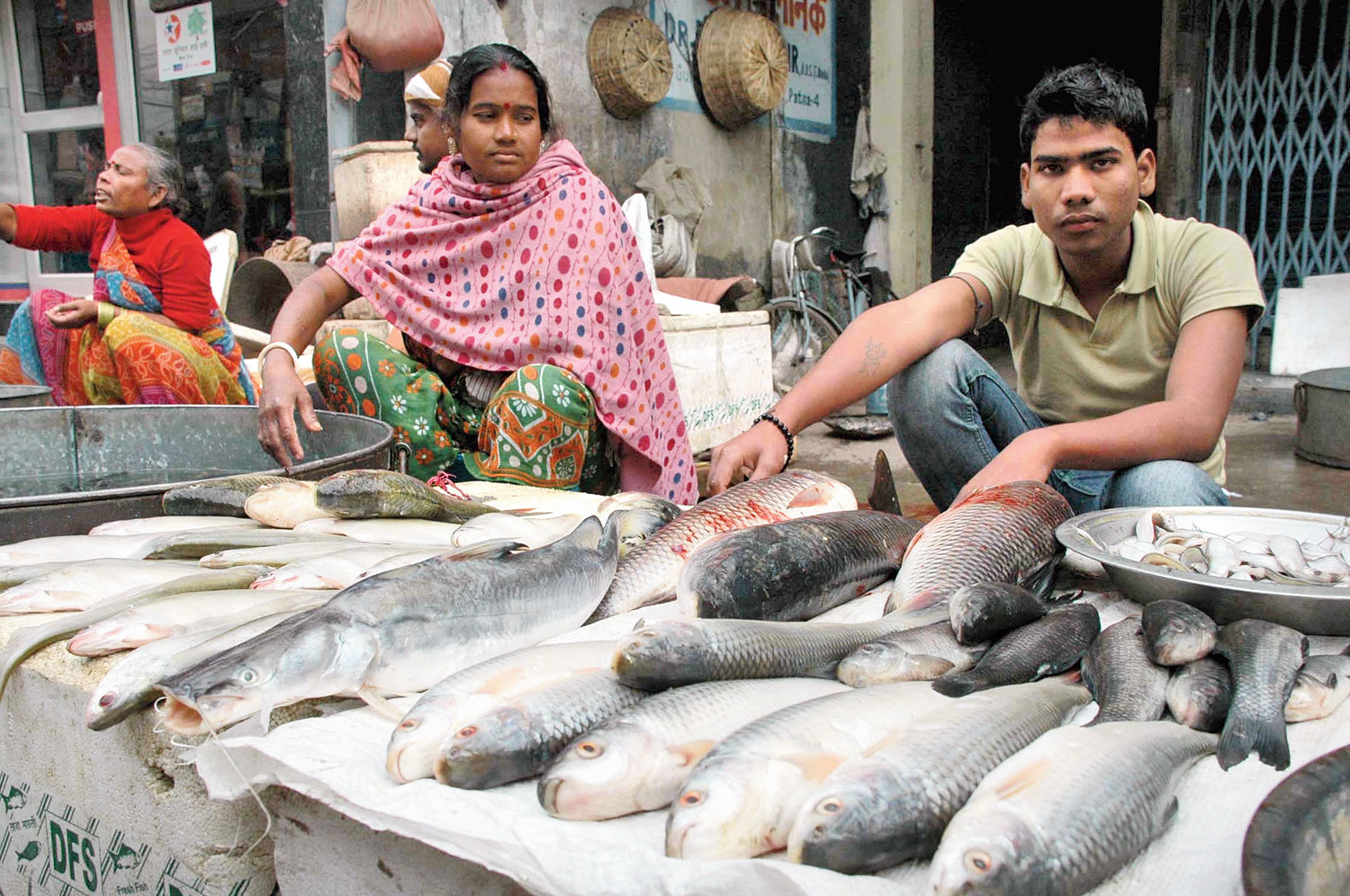 A fish market in Patna.
Picture by Manoj Kumar
---
Patna
|
Published 30.09.18, 06:16 PM
|
---
Beware of fish imported from Andhra Pradesh being sold across the state.
Chemical analysis of samples collected from these fish has revealed presence of formalin, a chemical used for preserving fish, in the samples.
Formalin is carcinogenic, which means it can cause cancer.
The presence of formalin in fish from Andhra was discovered in Odisha and Bengal a few months ago. The discovery has caused much alarm in fish markets across the two states.
Alarmed over these findings, the animal and fish resources department is going to send a proposal to the health department, which is empowered to ban any such items from being sold, for issuing a notification banning the sale of these fish.
A huge quantity of fish comes from Andhra Pradesh to the Bihar markets on a daily basis.
"According to our estimate, around 50,000 metric tonnes of fish from Andhra Pradesh are consumed in Bihar market in a year at present," a senior official in the fisheries directorate told The Telegraph on Sunday.
Bihar at present produces 5.87 lakh metric tonnes of fish per annum against its requirement of 6.42 lakh metric tonnes and the gap is met with supply from other states including Andhra Pradesh, from where the bulk of imports comes.
Sharing details of the chemical tests conducted on fish imported from Andhra Pradesh, the official revealed that they had got an instruction from the Central Institute of Fisheries Technology (CIFT), Kochi, to conduct such tests after formalin had been found in fish samples in some other states.
The CIFT had also provided special kits to conduct these tests.
Based on this input, the officials had collected 38 samples from 25 districts of Bihar and the tests had revealed presence of formalin.
"To be doubly sure, we sent the samples collected from the Patna market to the Food Testing Laboratory, Calcutta, and the report confirmed not only presence of formalin but also lead and cadmium, which too are harmful for human health," said the official.
He pointed that that based on the report from the Calcutta laboratory, the animal and fish resources department would now send a proposal to the health department, requesting a ban on the sale of fish from Andhra Pradesh in Bihar.
"The proposal would be send within two to three days," the official added.
Approached for a comment about the likely stand the health department would take once it receives this request, health minister Mangal Pandey said: "If such a proposal comes, the department would take action on the basis of scientific evidence and in accordance with the rules dealing with banning any item from sale."
He hinted that the health department would try to take action as quickly as possible, stating that no one could be allowed to play with human health.
Fish from Andhra Pradesh comes to Bihar markets, mainly in Patna, Muzaffarpur, Katihar and Rohtas districts. From these places, smaller consignments are sent to other parts of the state, sources said.