Lalu son does not turn up at RJD event
Supporters wait, then some curse RJD chief, leaving party leaders tense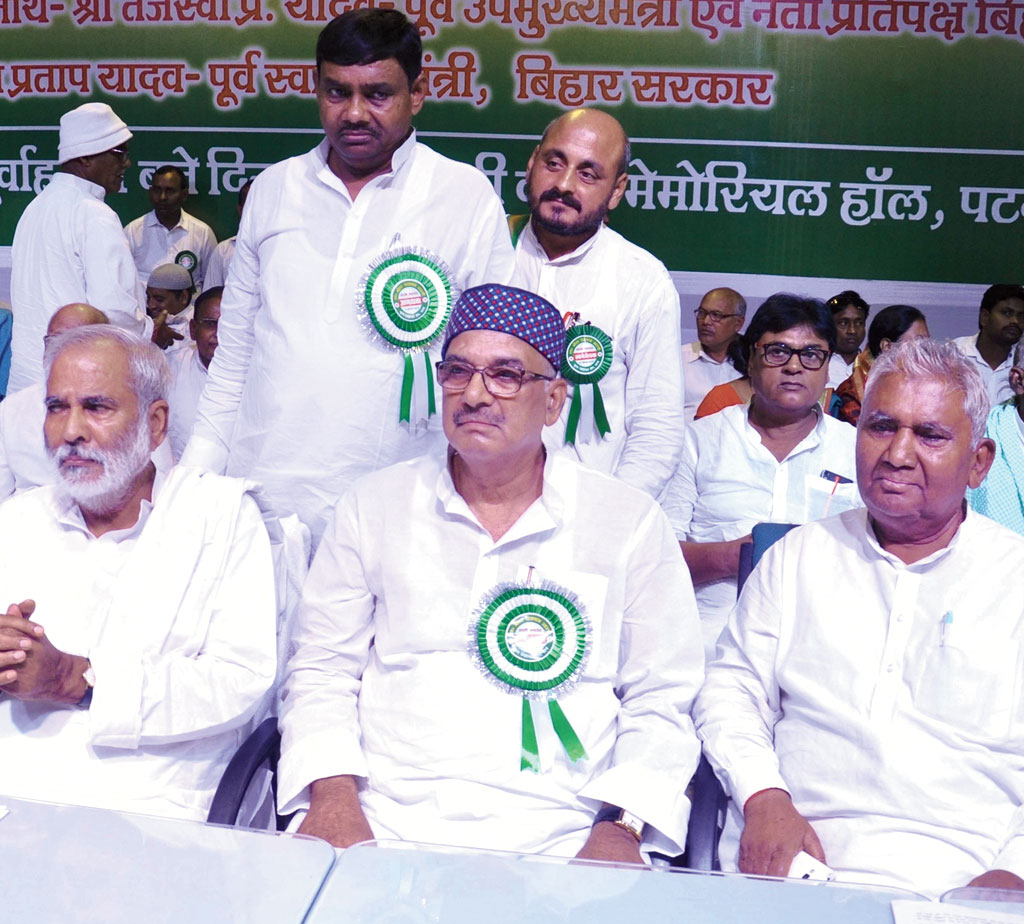 ---
|
Patna
|
Published 23.09.18, 06:13 PM
---
Supporters kept waiting for chief guest Tejashwi Prasad Yadav and special guest Tej Pratap Yadav but none of the brothers turned up at the event at SK Memorial Hall organised by the RJD's Dalit cell to celebrate the 104th birth anniversary of former chief minister and Dalit icon Bhola Paswan Shastri.
The hall was packed with RJD supporters and slogans in support of Tejashwi were echoing every now and then. Supporters holding banners of RJD chief Lalu Prasad and Tejashwi were waiting anxiously for the leader of Opposition.
The programme started at 11am and Tejashwi, who is in Delhi, was scheduled to arrive at noon. Senior RJD leaders who were controlling the stage kept asking people to be patient and said that Tejashwi can come anytime.
When it was past 2pm, murmurs began in the hall that Tejashwi was not going to come. Even the leaders sitting on the dais were equally tense when the news eventually came that Tejashwi would not attend the programme.
Tejashwi is in Delhi for the last 12 days and he was scheduled to return on Sunday morning.
Big banners and welcome gates were installed in the city at different places by the party, announcing Tejashwi as the main speaker of the function. RJD state unit president Ram Chandra Purbey was also present on the dais along with leaders such as Kumar Sarvjeet, Rekha Paswan, Vijay Prakash, Suday Yadav, and Upendra Paswan.
"We apologise on behalf of the party that Tejashwi won't be able to attend the event," Kumar Sarvjeet finally announced.
RJD sources said they tried to convince Tej Pratap, who was in Patna, to attend; for some time, slogans in support of Tej Pratap were raised — which usually signals his advent — but that too turned out to be a false hope. RJD sources said Lalu's elder son refused to attend when he came to know that he was being called as a "filler" after his younger brother did not turn up.
By the time the last speaker, RJD national vice-president Raghuvansh Prasad Singh, began his speech, half the crowd had left the hall.
The hall was booked till 3pm. A company had hired the hall from 4pm for an event that included a ramp walk. Many young girls and boys dressed like models were cursing the RJD and they booed during Raghuvansh's speech.
When Raghuvansh called Prime Minister Narendra Modi chor (thief) over the Rafale "scam", the young girl and boys started shouting slogans of "Modi, Modi". Some even shouted: "Lalu chor hai (Lalu is thief)".