BJP sings temple chorus, points finger at apex court
Title suit case delay hurts Hindu sentiment, Sushil Modi & Giriraj singh declare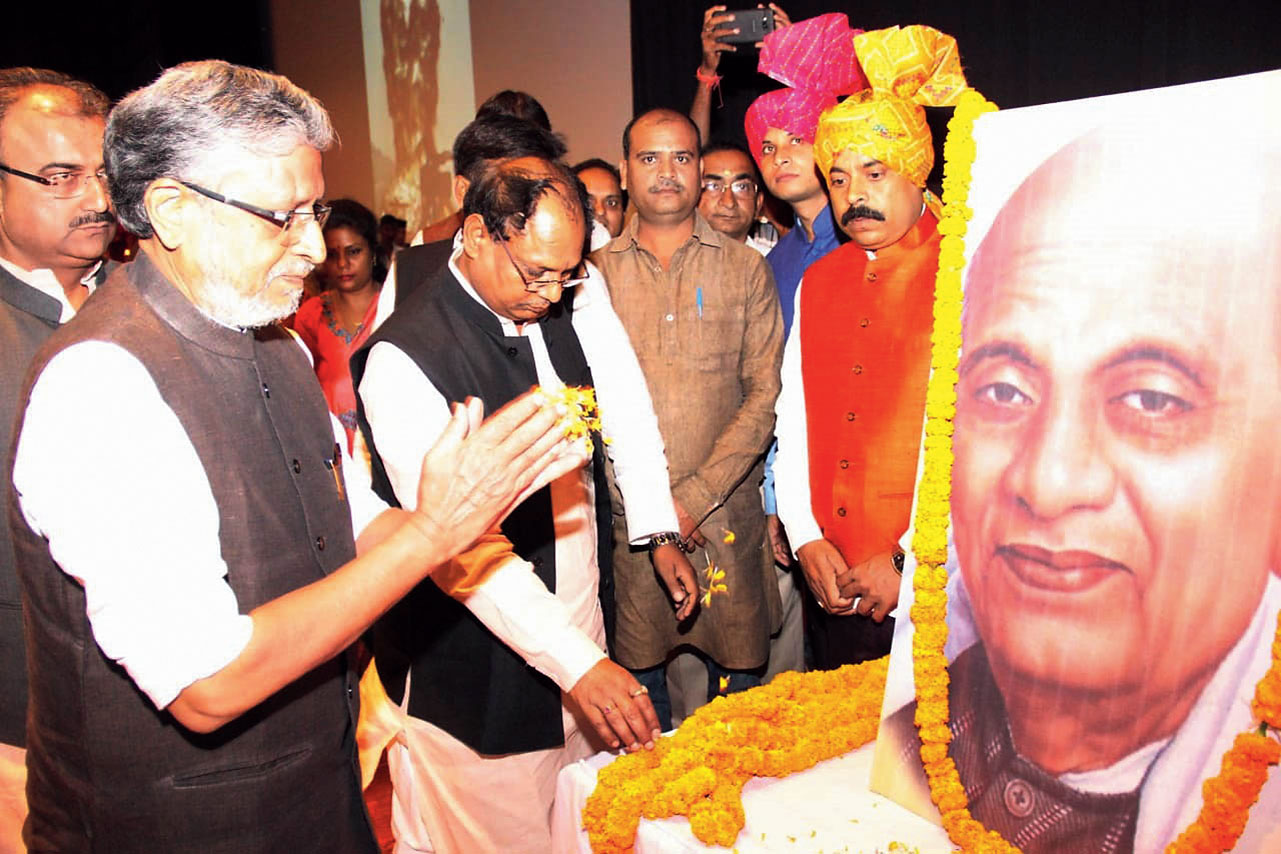 ---
|
Patna
|
Published 04.11.18, 06:32 PM
---
Deputy chief minister Sushil Kumar Modi on Sunday claimed that the Supreme Court's move to defer the Ayodhya title suit case to January had hurt the sentiments of crores of Hindus, and Union minister and Nawada MP Giriraj Singh declared that "no power in the world can stop the construction of Ram temple at Ayodhya".
"People of the country want to know that why the matter was adjourned," Modi said at a programme here to mark the birth anniversary Sardar Vallabhbhai Patel where another Union minister, Choudhary Birendra Singh, was also present.
"The apex court came up with a directive on formation of government in Karnataka at 1am. It also settled the issue related to Section 377 of IPC and the issue related to urban Naxals. Sentiments of crores of Hindus are attached with the Ram temple and their sentiments have been hurt by the apex court's decision not to hear the case now," Modi said.
He said he was confident that like the judgment of Allahabad High Court, the decision of the Supreme court too would be in favour of Ram temple. He was referring to the Allahabad High Court judgment in 2010 in which the court had trifurcated the disputed site at Ayodhya into three parts for Ram Lalla, Nirmohi Akhara and the original Muslim litigant. The judgment has been challenged in the Supreme court.
Modi also claimed Prime Minister Jawaharlal Nehru had opposed Sardar Patel's proposal of renovation of the Somnath temple after Independence and that finally it was done by using funds mobilised from the people. Modi also claimed that Nehru had also told then President Rajendra Prasad not to inaugurate it in 1951 after its renovation but the President had ignored it.
"These days Congress leaders keep on visiting temples. They should first clear their stand on Ram Lalla at Ayodhya," Modi said.
PTI quoted Giriraj, the Union minister of state for micro, small and medium enterprises, as telling reporters: "Prabhu Sri Ram is the cornerstone of the faith of more than 100 crore people in the country. There is resentment and impatience among the people as cold water has been thrown on their hopes, but a way out will be chalked out. No power in the world can stop the construction of Ram temple at Ayodhya."
The Congress, he added, will have to clear its stand on the private member's bill to be moved by Rajya Sabha member Rakesh Sinha.