Bihar govt wakes up to smell the dirty air
Deputy Chief Minister Sushil Modi and health minister Mangal Pandey admit pollution challenge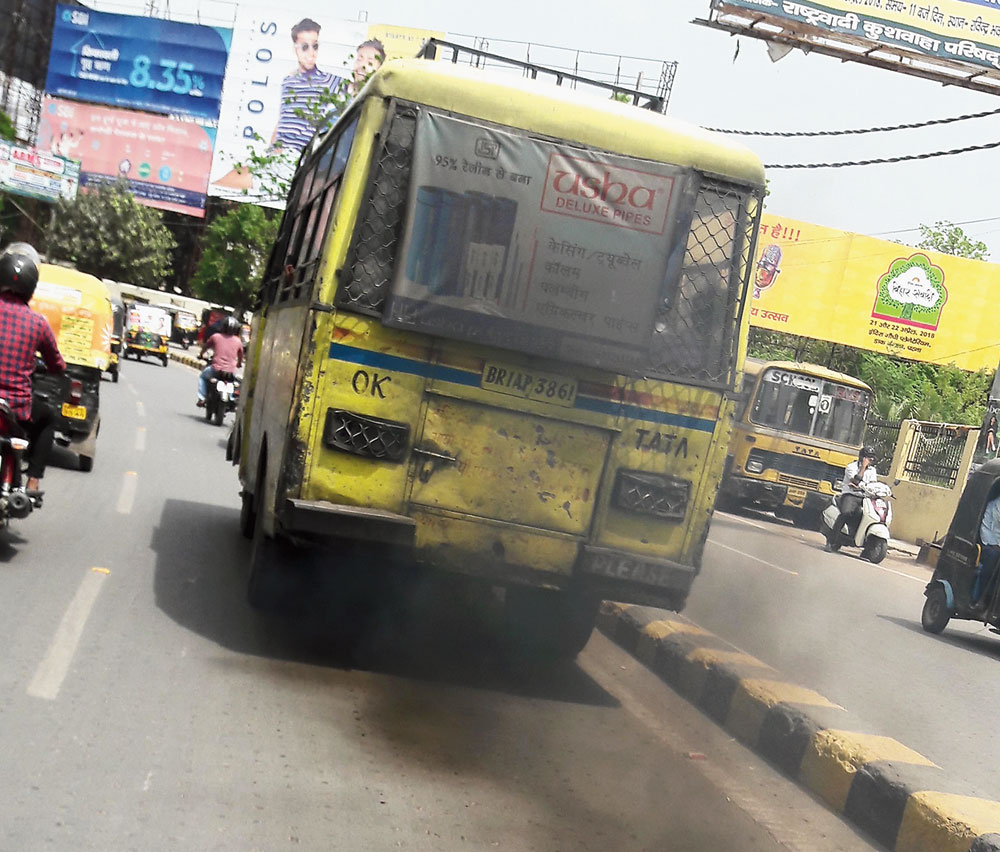 ---
|
Patna
|
Published 27.11.18, 05:27 PM
---
Two state ministers on Tuesday expressed concern at different events over the city's polluted air.
Recent data from the Central Air Pollution Control Board suggest that the air quality in Patna lately has been as bad as — if not worse than — Delhi and has been mainly hovering in the "very poor" band.
Deputy chief minister Sushil Kumar Modi called for a ban on plying of vehicles more than 15 years old, and pointed out that air quality in Patna and other cities located near the Ganga takes a dip in the winter as the water level of the river becomes low and dust and sand from the banks mixes with the air.
He was speaking at a function organised by the state disaster management authority.
Sushil stated that he had instructed monitoring of air quality in Patna at five places instead of the current one place, Indira Gandhi Planetarium. He also spoke about the steps taken to make brick manufacturing units adopt green technology, and issued a declaration on combating air pollution.
At another event, health minister Mangal Pandey conceded the challenges posed by poor air quality in Patna and a couple of more cities such as Muzaffarpur and Gaya.
"Public health concerns require special attention when we speak of air pollution control," Mangal said at a function on "Safeguarding Life from Air Pollution", organised by the Centre for Environment and Energy Development (CEED) in collaboration with All India Institute of Medical Sciences (AIIMS) Patna.
"We understand that Bihar is one of the most-affected states in India in terms of mortality because of rising air pollution as per the Lancet Commission report. Our department understands the urgency of the situation and is also willing to take steps to reduce the health impact caused by deteriorating air quality. We have prioritised it for collaborative and real action and are also looking into gaps that need to be addressed urgently," Mangal added in his address at the event, attended by many noted doctors, including pulmonologists, cardiologists, nephrologists, dermatologists, and orthopaedics.
Ramapati Kumar, CEO, CEED, pointed out the need for stronger and more integrated actions to deal with the threat of air pollution on public health in the Indo-Gangetic region.
"Looking at the deplorable situation of air quality in the urban landscape of the Indo-Gangetic states including Bihar, we need to develop a strong framework for the integration of public health information into policy development. Also, there is a lack of pertinent research and relevant data in the public domain in terms of air pollution impact on health. In order to develop a better understanding of the Air
Quality Index and the preventive measures for air pollution, we need to develop coordination among the government, medical practitioners and academicians. Through today's dialogue, we aim to compile scattered health information available in plenty and to encourage the use of this data in framing air pollution control policies."
Dr Ashok Ghosh, chairman, Bihar State Pollution Control Board, lauded CEED's effort to develop a health network on air pollution control.