Bihar education officer's letter of errors
Education officer makes 35 spelling and grammar mistakes in (Hindi) letter to Bihar Secondary School Teachers' Association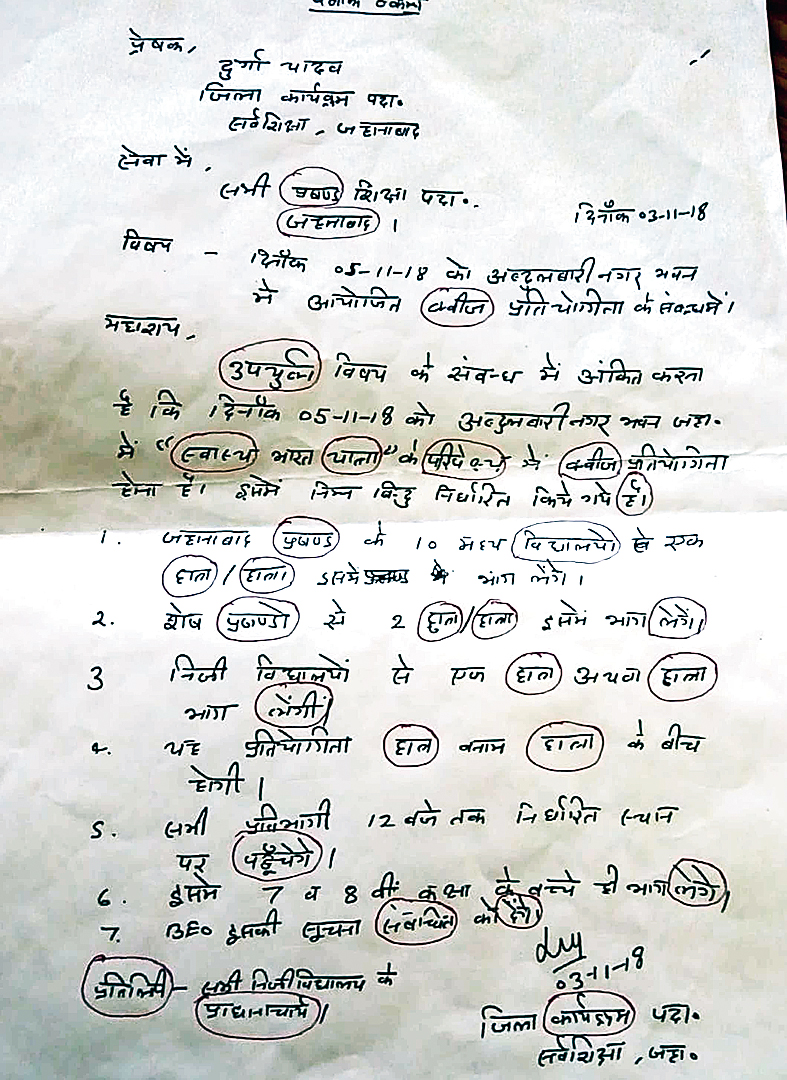 ---
|
Patna
|
Published 23.11.18, 06:38 PM
---
A routine letter sent by an official of the education department to the Bihar Secondary School Teachers' Association asking them to organise a quiz competition has created a flutter across teaching circles.
The teachers say the letter, written by Jehanabad district programme officer Durga Yadav, contains as many as 35 spelling and grammar mistakes, which, they said, was unbecoming of an education official. The district programme officer is entrusted with the job of monitoring teachers within his jurisdiction.
A copy of the letter, written in Hindi, is with The Telegraph.
Bihar Secondary School Teachers' Association general secretary Shatrughan Prasad Singh, who has shot off a letter to principal secretary, education, R.K. Mahajan on the matter, said: "The district programme officer is assigned the task of carrying out inspection of teachers. But these government officials don't even know the spelling of simple and basic words written in Hindi."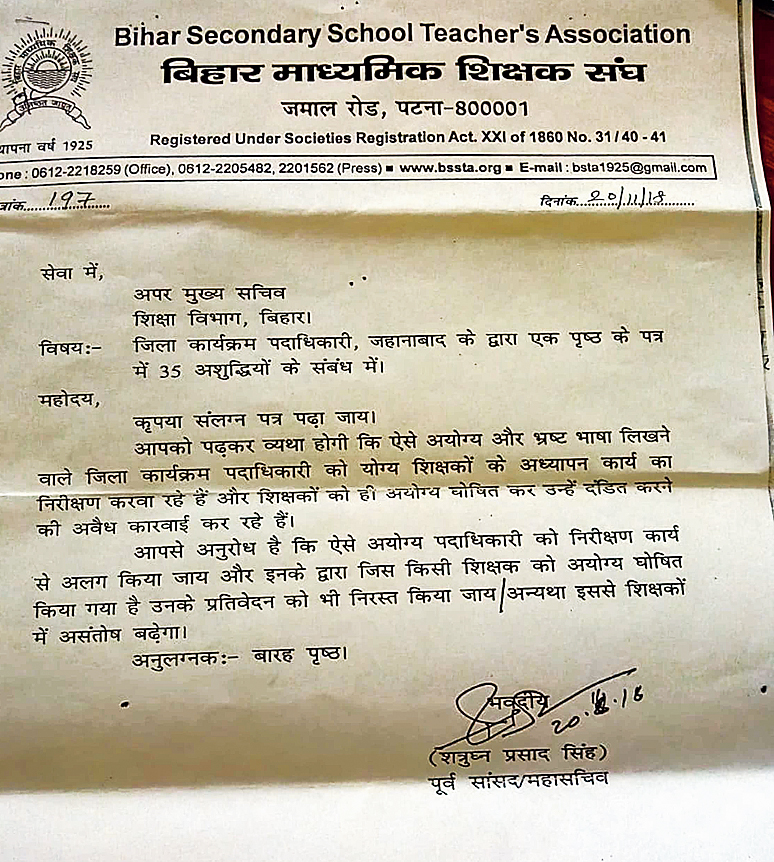 Shatrughan Prasad pointed out that the official has even misspelt the name of the district (Jehanabad), prakhand (block), and pradhanacharya (principal).
Programme officer Durga Yadav, while talking to The Telegraph, said an unnecessary controversy was being created. "The letter contains some errors, but there are not 35 mistakes as claimed by the teachers' association. Also, the letter was to be sent for typing, but in a hurry the junior staff despatched the handwritten letter to the schools."
The letter, dated November 3, was addressed to all block education officers asking them to host a quiz competition on November 5 at Abdul Bari Nagar Bhavan in Jehanabad town as part of the Swasth Bharat Yatra campaign.
Earlier too, the teachers' association has highlighted such glaring mistakes in letters sent by senior government officials. A government teacher, who spoke on the condition of anonymity, said: "Teachers at secondary and senior secondary schools have B.Ed and M.Ed degrees, some of them are even doctorates, but they are inspected by the district and block programme officers who are often only graduates."
"The job of these officials is to find out whether teachers are coming to schools on time, the infrastructure facilities at schools, but many a time they behave as if they are experts in all subjects."