Air quality alarm in Bihar's Patna and Muzaffarpur
Patna's air quality worse than Delhi post-Diwali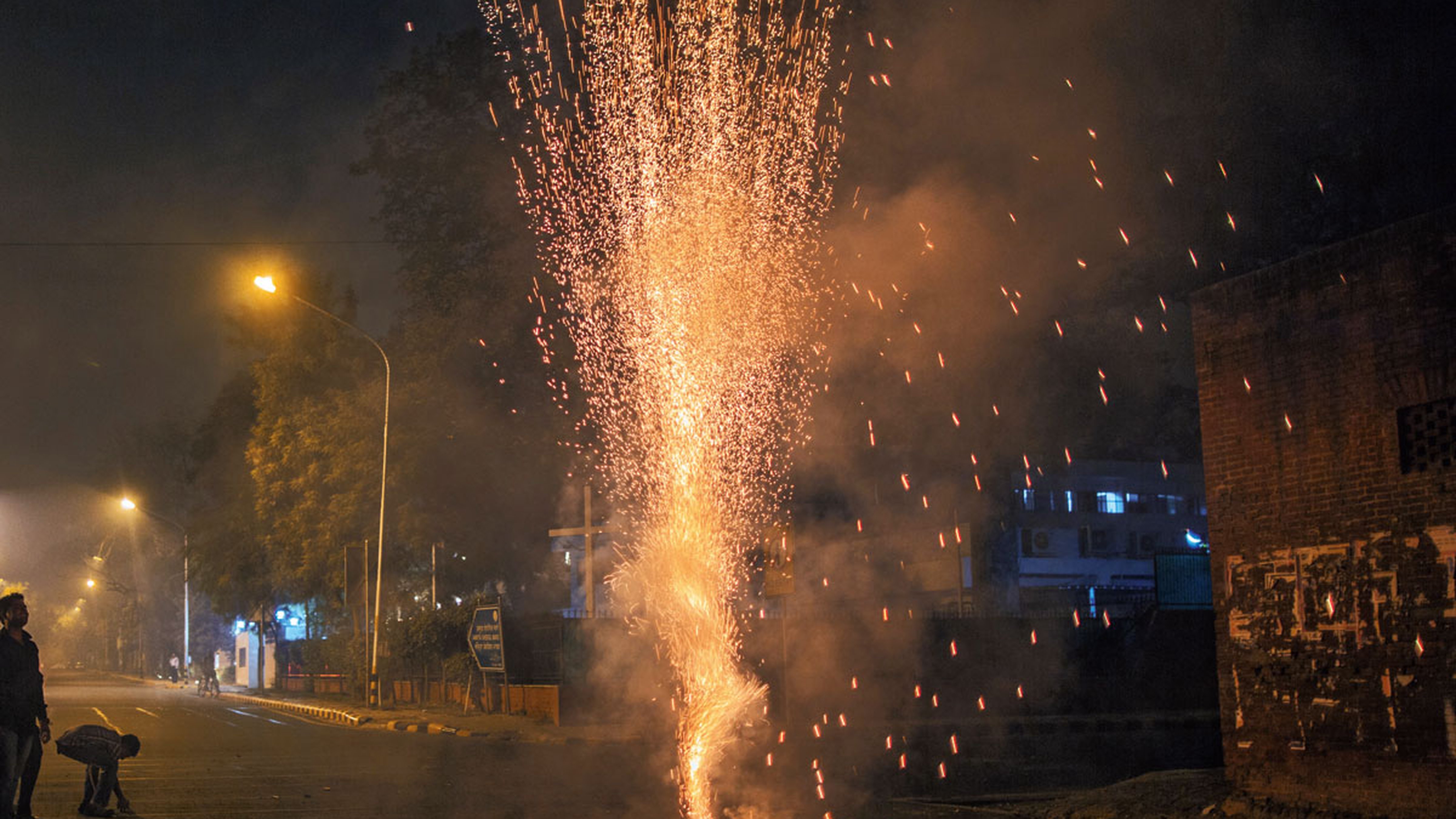 Diwali celebrations in Patna.
The Telegraph file picture
---
Patna
|
Published 16.11.18, 07:58 PM
|
---
The air quality in two of Bihar's largest cities — Patna and Muzaffarpur — remains alarming despite the focus being always on Delhi.
Patna recorded the third worst air quality of the month on Children's Day (November 14), as indicated by Centre for Environment and Energy Development's (CEED) analysis released on Friday. After hovering between "Very Poor" and "Severe" for the past five days, Patna's air quality worsened on November 14 with particulate matter (PM2.5) recorded over five times the national safe standard which otherwise had shown a similar peak on Diwali and the day after Diwali. The average Air Quality Index (AQI) on November 14 at 4pm (average of past 24 hrs) was "Severe", whereas that of Delhi was "Poor".
The present weather situation indicates that it will rise further in the coming days.
On the measures that need to be taken to improve the worsening air quality, Ankita Jyoti, senior programme officer, CEED, said: "The high level of air pollution being witnessed in Patna at the moment is because of the thermal inversion and topographical features. During winters when the temperature dips, the mixing height (height to which the wind rises) comes down and also wind speed reduces which results in trapping of pollution and further builds it up. This is typical of winter and is bound to happen always. What is important is to enforce a Clean Air Action Plan at the earliest for this perennial problem of high pollution especially during the winter months."
She added: "However, it is also important for Patna to have an Emergency Response Action Plan which, depending on the air quality level, will enforce immediate measures to respond immediately. For instance, if the pollution levels are high, the emergency response plan will ensure strict enforcement of measures and better preparedness."
CEED's analysis also indicates a situation where Patnaites can be exposed to the worst air pollution during nights and early mornings. Hence, it is advisable to avoid strenuous physical activities in the morning and to delay early morning walks. The four-hour and 24-hour average concentration of PM2.5 between November 12 and 15 from the air quality monitoring stations of the State Pollution Control Board have been tracked by CEED.
While there has been a mass awareness campaign for residents of Delhi, citizens of Patna are barely aware of the effects of the air they breathe. The air quality on November 14 was noted to be the worst in the past four days. On this day, PM2.5 level of 256 µg/m³ was observed while on November 13, it was 236 µg/m³. Like many cities across north India, the air pollution in Patna and Muzaffarpur was of the "Poor" air quality level. The AQI value of Patna and Muzaffarpur is comparable to New Delhi for the past five days.