ABVP man made pro-VC at Mahatma Gandhi Central University
Pro-VC was student president of ABVP in Maharashtra for over 2 decades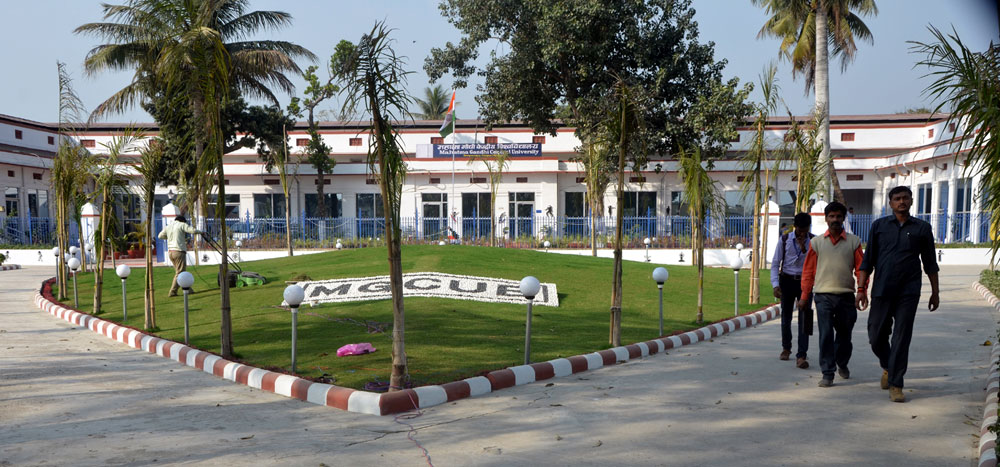 Mahatma Gandhi Central University
Telegraph file picture
---
Patna
|
Published 31.10.18, 06:08 PM
|
---
The new pro-vice chancellor of Mahatma Gandhi Central University at Motihari is the first senior academic with direct links to the RSS. Anil Kumar Rai 'Ankit' was vice-president of the RSS' students' wing Akhil Bharatiya Vidyarthi Parishad's Vidarbha unit in Maharashtra.
Rai, professor and head of the department of mass communication, Mahatma Gandhi International Hindi University at Wardha (Maharasthra), has been associated with the ABVP for over two decades.
"Apart from having a good academic record, Rai had been associated with different political parties," a senior teacher of the Central University in Motihari said on condition of anonymity. "Before 1990, he was associated with Left parties, from 1990 to 2000 he was associated with the Congress and from 2000 onwards he was associated with saffron parties. The Centre has appointed many vice-chancellors (VCs) and directors of educational institutions who are inclined to the right, but this is the first time any senior person at the university is directly associated with the right brigade."
Rai joined as pro-VC on Monday and on Tuesday participated in Mission Sahasi — an ABVP initiative to make girls fearless by teaching them self-defence — at the Munshi Singh College in Motihari.
He was the main speaker at a function attended by Union agriculture minister Radha Mohan Singh, state tourism minister Pramod Kumar and state cooperative minister Rana Randhir Singh.
But the pro-VC himself says being associated with the ABVP doesn't mean affiliation to any political party. "The ABVP's main task is character-building of students with focus on national and social development," he said. "ABVP members rendered services during the Kerala floods and the 2014 Kashmir floods."
After appointment of the university's first pro VC, the varsity administration has abolished the posts of academic coordinator and administrative coordinator. The university administration issued a notice under which all affairs of temporary campus, academic operations and students discipline will be looked by the pro-VC. The proctor, dean students welfare, deans of different schools, heads of different departments and section officer or any other authority deputed at the temporary campus will report to the pro-VC.
But the controller of exams will report directly to the VC. In the VC's absence, the pro-VC shall officiate to look after routine affairs of the office of VC. Rai, who hails from UP, is also the founder head of the department of mass communication at V.B.S. Purvanchal University, Jaunpur (UP).
He has also been associated with different newspapers and electronic media in different capacities.