Absence of map slows sewer hunt for Patna boy
Outdated map does not show the Mohanpur sump house drain nor the connecting channels to it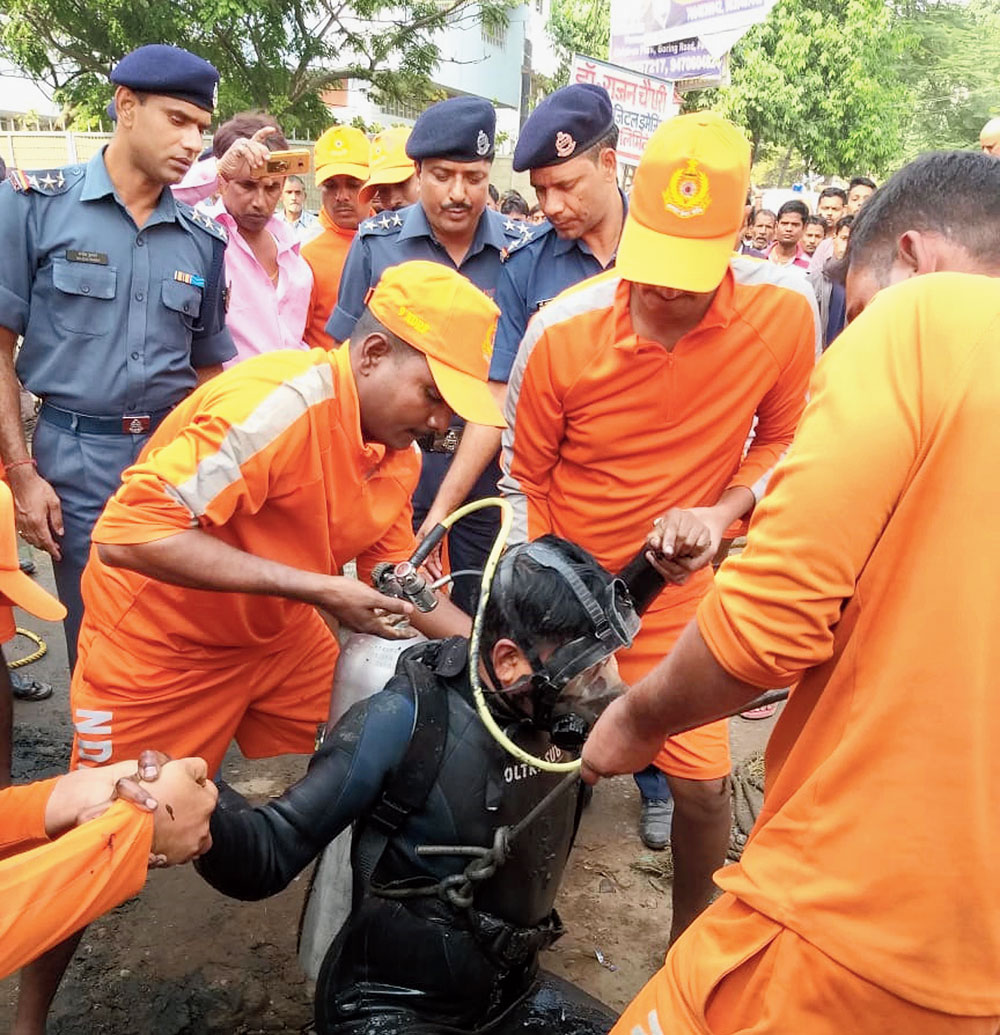 An NDRF diver emerges from a manhole during the search for 10-year-old Dipak Kumar on Tuesday
Picture by Manoj Kumar
---
Patna
|
Published 20.11.18, 06:07 PM
|
---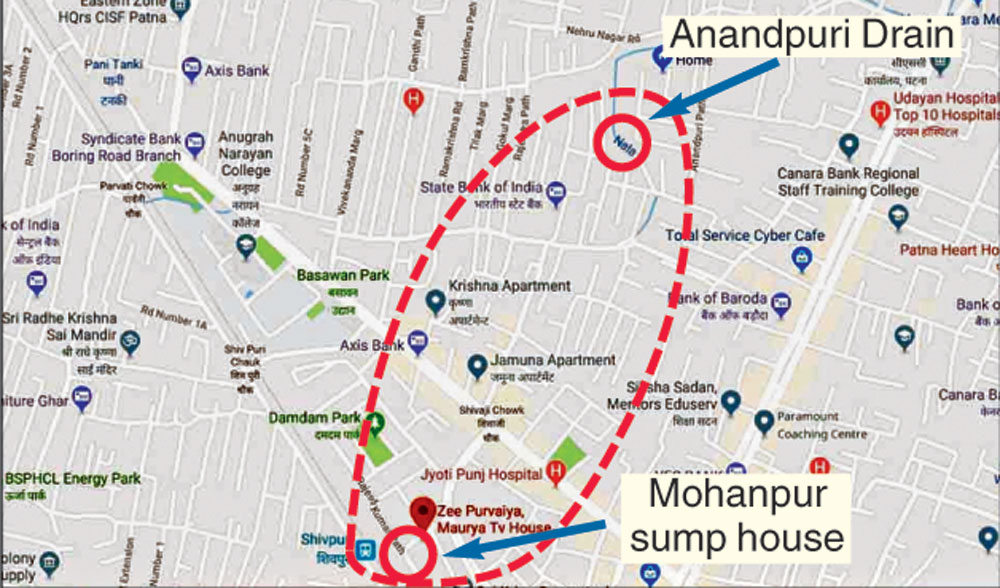 The rescue team is working blind in its efforts to trace 10-year-old Dipak Kumar, who fell into a drain on Saturday, because there is no upddated map of the sewer network.
A retired engineer of Patna Municipal Corporation (PMC) on Tuesday provided a map, but National Disaster Response Force (NDRF) and State Disaster Response Force (SDRF) officials said the map, which dates back to the 1960s, did not even show the Mohanpur sump house drain, nor the connecting channels to it.
The rescue team has been depending on inputs from local residents.
"We don't have any proper map of the sump house drain and its channels," deputy municipal commissioner Vishal Anand admitted. "Yesterday (Monday), we walked along with a few residents and tried to trace out the channels of the drain. It was assumed that Dipak could be recovered from the Anandpuri drain in case pressure is created in the Mohanpur sump house drain by switching on the motor pump. It is assumed that the Mohanpur sump house drain connects to the Anandpuri sump house drain but we don't know the exact channels. We are moving ahead based on presumptions."
Sudarshan Prasad Singh, retired executive engineer of the Bihar Rajya Jal Parshad (BRJP), on Tuesday floated a new theory — that the rescue teams were so far looking in the wrong channel and that Dipak could be in a drain parallel to the sump house drain.
"The sump house drain ends at the manhole in front of Children's Park in SK Puri but the parallel drain goes to Boring Road and Dipak could be there," Prasad said. "I am one of the engineers who had taken part in the creation of this drain in 1973. However, we don't have any updated map because all our records were washed away in the 1975 flood."
Passing muck buck
The Mohanpur sump house drain has not been cleaned for decades, and no one is taking responsibility.
"The BRJP is supposed to ensure water supply to sump houses and drain them and the PMC is supposed to look after the cleaning; but neither has cleaned the drain for years," a senior PMC official said.
It came as news to Anand. "Why has the drain not been cleaned? Is there any standard operating procedure which mentions whose responsibility it is?" he asked an official.
NDRF and SDRF officials confirmed that the rescue team was finding it very difficult to move ahead due to the silt and animal carcasses in the drain.
"The PMC collects holding and other taxes from us. So is it not evident whose responsibility it is to clean this drain?" said Vipul Sinha, local resident.
Dummy fail
The team on Tuesday threw a dummy, similar to Dipak's size, into the drain to track it.
"The dummy was filed with stones. It didn't match Dipak's weight and got stuck somewhere," said a source.