Anwar Chitrakar: Finding humour amidst adversity
Anwar Chitrakar's fine lines and delicate forms are relevant beyond the period quaintness that is part of the legacy he has inherited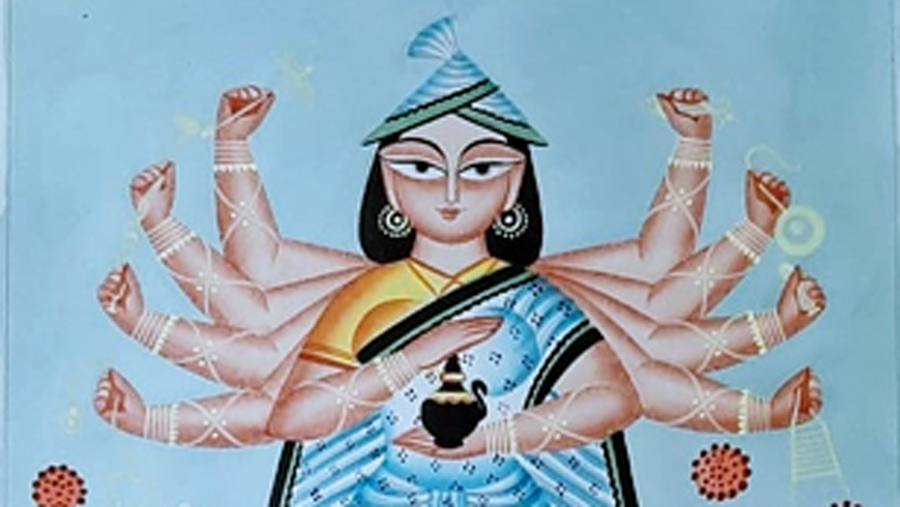 ---
---
There was a time when folk arts were struggling to survive. However, these have recently been rejuvenated to some extent by the urban middle classes' discovery of India's rich and varied arts traditions. Artists hailing from traditional patua families like Bhaskar Chitrakar and Anwar Chitrakar have used this opportunity to blend their inherited legacy with these times.
This blend of tradition and modernity was evident at Ei Samayer Pat/Tales of Our Time, an online exhibition of Anwar Chitrakar's works by Emami Art. Dainty, colourfully detailed and replete with gossipy amusement in true Kalighat style, the paintings make light of our current adversities. Couples have a field day by using the anonymity afforded by masks to avoid the searching eyes of parents, while the modern babu has to wield a spatula and a saucepan under lockdown; elsewhere still, the new-age devi vanquishes coronasur (picture). The works are also full of hope — of the virus being eradicated, of the eventual triumph of nature.
Anwar Chitrakar's fine lines and delicate forms are relevant beyond the period quaintness that is part of the legacy he has inherited. Even in his choice of social themes and their tongue-in-cheek treatment that Kalighat popularized, Anwar Chitrakar brings a fresh perspective. Patachitra has never been just about paintings or style; it is as much about capturing the zeitgeist, and Anwar Chitrakar is an able chronicler.