Xi Jinping scolds Justin Trudeau over media 'leak'
A short video caught by a news cameraman shows Xi smiling tightly as he spoke to Trudeau at a concluding reception for the Group of 20 meeting in Bali on Wednesday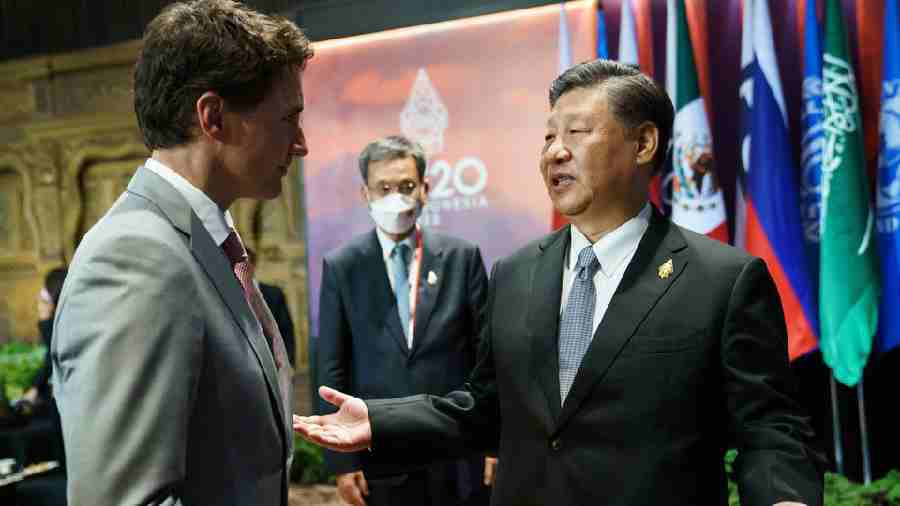 Adam Scotti/Prime Minister's Office via Reuters
---
New York
|
Published 17.11.22, 01:11 AM
|
---
A brief scolding that the Chinese leader Xi Jinping gave to Canada's Prime Minister, Justin Trudeau, at the end of a summit in Indonesia has offered a glimpse into Xi's muscular style of personal diplomacy — and has left an awkward image that Trudeau would probably rather forget.
A short video caught by a news cameraman shows Xi smiling tightly as he spoke to Trudeau at a concluding reception for the Group of 20 meeting in Bali on Wednesday.
But the words that came out of Xi's mouth were chilly. Xi chided Trudeau, accusing him of leaking details of a brief conversation they had the previous day.
"Everything we discussed has been leaked to the paper. That's not appropriate," Xi says, speaking through a translator. Trudeau nods curtly.
Xi shakes his head, telling Trudeau, "that's not the way the conversation was conducted." Xi goes on to say that "sincerity" is needed for fruitful discussion.
"Otherwise, the outcome will be hard to say," he adds.
But before his words can be fully translated, Trudeau responds. "In Canada, we believe in free and open and frank dialogue," he says.
Xi looks away, his wan smile has gone, as Trudeau adds: "We will continue to look to work constructively together, but there will be things we will disagree on."
Xi has the final word before the two leaders move on: "Let's create the conditions first."
After one brisk handshake, the men part ways.
While Xi has a reputation as a swaggering strongman, his image is carefully managed, and the 40-second conversation offered an unusual peek into how he interacts with other leaders and can be attentive to perceived slights.
The exchange came at the end of a summit where Xi has sought to steady China's relations with the US. Canada had not been included in Xi's roster of formal meetings, possibly reflecting unhappiness with recent comments by Trudeau.
CIA chief in Kyiv
William J. Burns, the CIA director, visited Ukraine on Tuesday for talks with Ukrainian officials, his second visit to the country in two months, according to a US official.
The meeting, in Kyiv, came a day after Burns met in Turkey with a senior Russian intelligence official to convey a warning against the use of a nuclear device or any escalation of the conflict.
The US official who discussed Burns's visit spoke on the condition of anonymity because of the sensitivity of the matter.
While in Kyiv on Tuesday, Burns spoke with Ukrainian intelligence officials and President Zelensky. During the visit, Russian missile strikes hit Kyiv and other cities in Ukraine. Burns was inside the US embassy at the time of the strikes, the US official said.
Burns's visit was aimed at reassuring Ukrainian officials that discussions with Russian officials were about the threat of nuclear escalation.
New York Times News Service