Why Trump is sticking with the Saudi crown prince
The US President praised Saudi Arabia this weekend as a 'truly spectacular ally'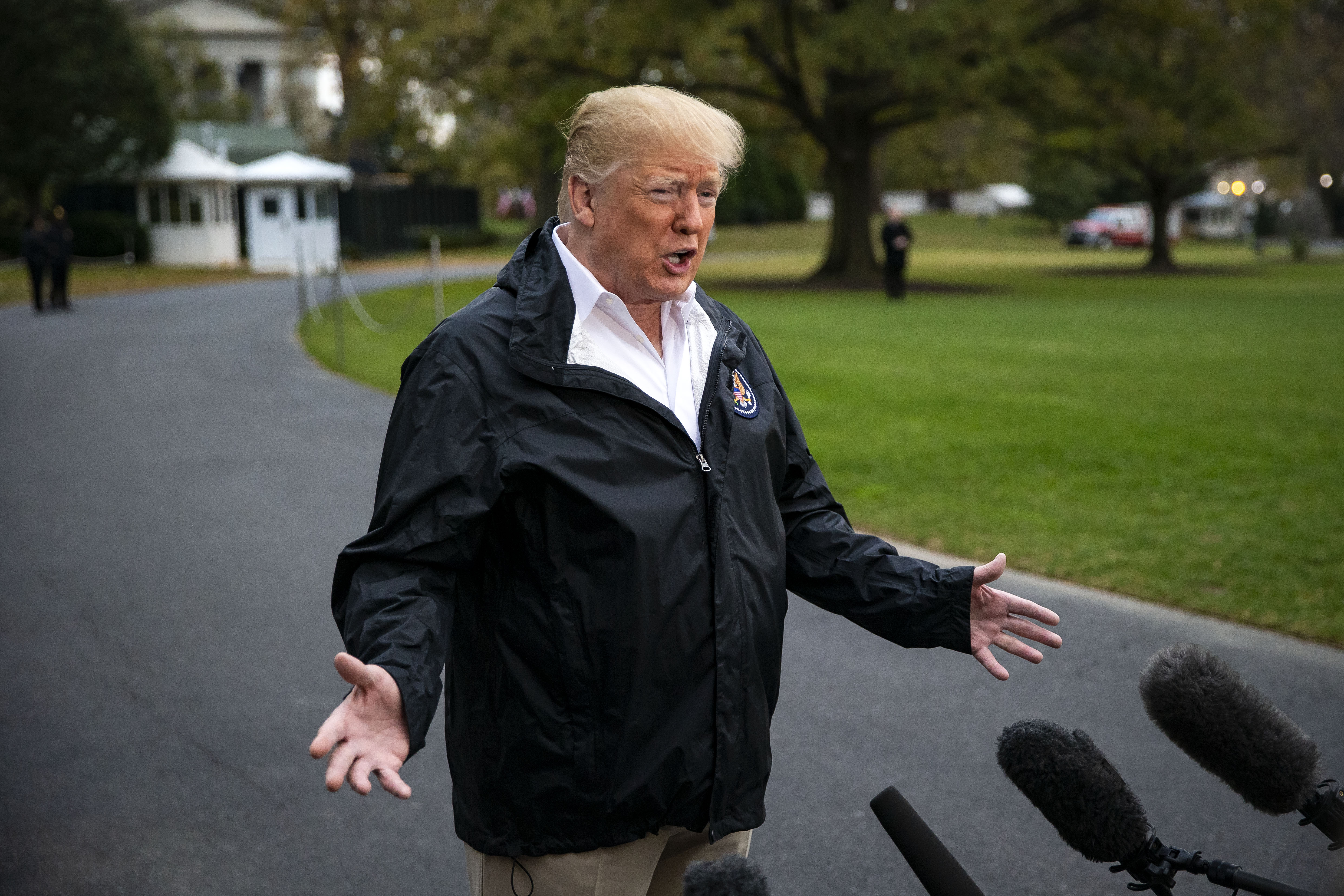 For Trump, it is enough that Crown Prince Mohammed denied any involvement in the killing in phone calls with him.
New York Times News Service
---
Washington
|
Published 19.11.18, 11:41 AM
|
---
As evidence piles up pointing to the Saudi crown prince's responsibility in the brutal killing of dissident journalist Jamal Khashoggi, President Donald Trump has only hardened his refusal to concede any possibility that the prince had a hand in the crime.
Trump, who had once condemned the Saudi leaders for perpetrating "the worst cover-up in history," praised Saudi Arabia this weekend as a "truly spectacular ally," even after the CIA concluded that Crown Prince Mohammed bin Salman, the kingdom's de facto leader, ordered the murder.
Trump said he would wait for a report on Khashoggi's death produced by his administration, due Tuesday, before deciding how to assign blame. But he seemed to play down the importance of the report even before it was issued, suggesting that it would not establish definitively who was ultimately responsible and risking a clash with his own intelligence agencies.
"Will anybody really know?" Trump said in an interview aired on Fox News on Sunday. "All right, will anybody really know?"

He also showed little interest in one of the vital pieces of evidence in the case: an audio recording of Khashoggi's death last month in the Saudi Consulate in Istanbul, which the Turkish government shared with the CIA. Trump said there was no reason for him to listen to the recording because "it's a suffering tape, it's a terrible tape."
The President's remarks were a vivid illustration of how deeply Trump has invested in the 33-year-old heir, who has become the fulcrum of the administration's strategy in the Middle East — from Iran to the Israeli-Palestinian peace process — as well as a prolific shopper for US military weapons, even if most of those contracts have not paid off yet.
They also showed how stubbornly Trump has decided to stick with his ally. He does not even want to listen to evidence that could shake his confidence, even if it creates rifts with intelligence officials. Internal tensions were already on display this weekend when, after the CIA tied Crown Prince Mohammed to the killing, the State Department issued a statement saying that "reports indicating that the US government has made a final conclusion are inaccurate". For Trump, it is enough that Crown Prince Mohammed denied any involvement in the killing in phone calls with him.
The President's defence of the prince is reminiscent of how he deflects questions about Russia's interference in the 2016 election by saying that President Vladimir Putin always denies it when he asks.
As with Russia, those statements have become increasingly unpersuasive. "He's showing that they're desperate," said Bruce O. Riedel, an expert on Saudi Arabia who is a senior fellow at the Brookings Institution. "They're now staring at the fact that they're not going to be able to deny Mohammed bin Salman's culpability."
Trump's stand is creating a US foreign policy that is becoming increasingly isolated in its position. The European Union has demanded "full clarity" from the Saudis about the killing of Khashoggi, who lived in Virginia and was a columnist for The Washington Post. Even other countries like Israel, with strategic ties to Saudi Arabia, are not vocally defending Crown Prince Mohammed.
Republicans and Democrats in Congress flatly accuse the prince of being responsible, and say they will push for much stronger action against Saudi Arabia. On Saturday, Sen. Bob Corker, R-Tenn., chairman of the Senate Foreign Relations Committee, tweeted, "Everything points to the Crown Prince of Saudi Arabia, MbS, ordering @washingtonpost journalist Jamal #Khashoggi's killing."
Saudi Arabia's neighbour the United Arab Emirates is eager to wind down Crown Prince Mohammed's marquee foreign policy project, the war in Yemen, where Saudi and Emirati-backed forces are battling Houthi rebels backed by Iran. The war, which has killed thousands of civilians, is a primary target of U.S. lawmakers.
Trump's national security adviser, John Bolton, met the crown prince of the United Arab Emirates, Mohammed bin Zayed, last week in Abu Dhabi, and the two discussed ways to hasten an end to the war.
Saudi Arabia is a linchpin of the US strategy to isolate Iran. The kingdom agreed to increase oil production to offset the loss of oil from Iran after Trump reimposed sanctions on Iran's energy and banking system this month.
But in recent weeks, with the United States having eased the pressure on the market by granting waivers to several major importers of Iranian oil, Saudi Arabia is considering cutting production.
Trump's son-in-law and senior adviser, Jared Kushner, cultivated Crown Prince Mohammed, and views him as critical to his efforts to broker a peace agreement between Israel and the Palestinians. The prince did help by modulating Saudi Arabia's response to Trump's decision to move the US embassy to Jerusalem last year.
But the prince's father, King Salman, has since made clear that the Saudis will not force the Palestinians to accept a deal with Israel — and Kushner's peacemaking efforts look stymied.
Given the passions generated by the Yemen war on Capitol Hill, the White House is likely to use the Khashoggi affair as leverage to force Crown Prince Mohammed to wind down the conflict as quickly as possible. But Saudi experts warn that this will be difficult since an abrupt Saudi retreat would further tarnish the prince's image inside the kingdom.
"It's very clear that what the administration wants is to buy off Congress with Yemen," Riedel said. "But it doesn't solve the underlying problem, which is that Mohammed bin Salman is a destabilising force in the region."
c.2018 New York Times News Service