US warplanes strike two Iranian-backed militias in Iraq, Syria
There were no immediate reports of casualties but a military after-action review is ongoing: Pentagon officials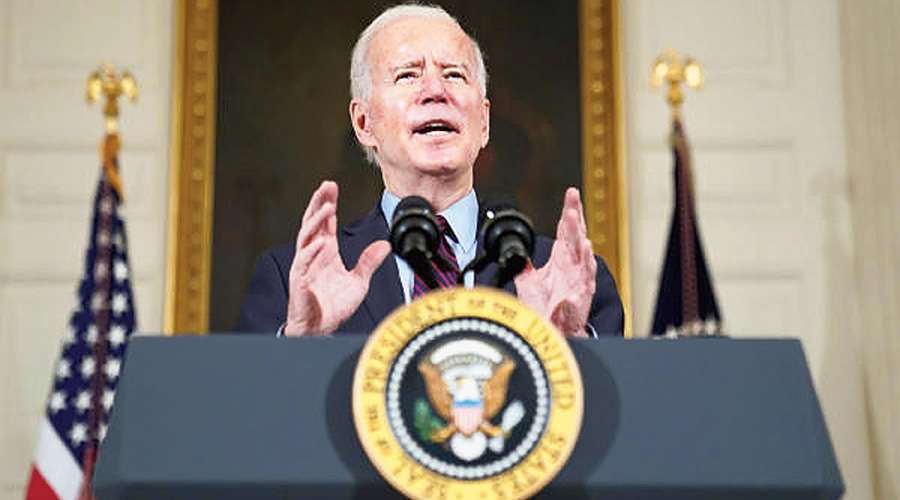 The strikes were the second time that Joe Biden has ordered the use of force in the region.
File Picture
---
Washington
|
Published 29.06.21, 02:48 AM
|
---
The US carried out airstrikes early on Monday morning in Iraq and Syria against two Iranian-backed militias that the Pentagon said had conducted drone strikes against American personnel in Iraq in recent weeks, the defence department said.
"At President Biden's direction, US military forces earlier this evening conducted defensive precision airstrikes against facilities used by Iran-backed militia groups in the Iraq-Syria border region," the Pentagon spokesman, John F. Kirby, said in a statement.
Kirby said the facilities were used by Iranian-backed militias, including Kata'ib Hezbollah and Kata'ib Sayyid al-Shuhada, to store arms and ammunition for carrying out attacks against places where Americans were located in Iraq. There were no immediate reports of casualties but a military after-action review is ongoing, Pentagon officials said.
The strikes were the second time that Biden has ordered the use of force in the region. The US carried out airstrikes in eastern Syria in late February against buildings belonging to what the Pentagon said were Iran-backed militias responsible for attacks against American and allied personnel in Iraq.
The latest strikes were carried out by US Air Force fighter-bombers based in the region.
Pentagon planners have been gathering information for weeks on the sites and militia networks that use them, American officials said on Sunday. Defence secretary Lloyd J. Austin III and General Mark A. Milley, the chairman of the Joint Chiefs of Staff, briefed Biden on attack options early last week, and Biden approved striking the three targets.
The strikes were carried out a little more than a week after Iran elected a hardliner, Ebrahim Raisi, as its next President. The military action also came as the negotiations intended to bring the US and Tehran back into compliance with an international nuclear accord have reached a crucial juncture.
New York Times News Service