US treasury secretary confronts Russians over Ukraine conflict at G20 meet
Janet L. Yellen condemning the war was a rare direct interac­tion between American and Russian officials on the anniversary of the con­flict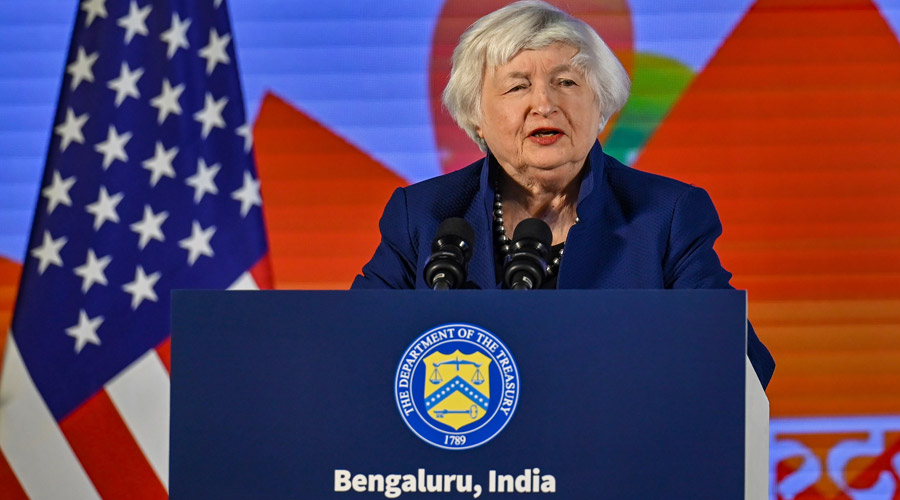 US treasury secretary Janet L. Yellen.
PTI photo
---
Bangalore
|
Published 25.02.23, 01:02 AM
|
---
US treasury sec­retary Janet L. Yellen directly confronted senior Russian officials during a meeting of finance ministers of the Group of 20 nations on Friday, calling it a "moral imperative" to end the war in Ukraine.
Her condemnation of the war was a rare direct interac­tion between American and Russian officials and occurred on the anniversary of a con­flict that has divided the world and roiled the global economy. The US has pledged to deliver more aid to Ukraine and to level more sanctions on Rus­sia.
"I urge the Russian officials here at the G20 to understand that their continued work for the Kremlin makes them com­plicit in Putin's atrocities," Yellen said in a private session, according to remarks that were shared by a treasury de­partment official. "They bear responsibility for the lives and livelihoods being taken in Ukraine and the harm caused globally."
The comments were made during a session about "inter­national financial architec­ture" that took place on the first day of a two-day gather­ing of top economic policy­makers in Bengaluru. Senior Russian economic officials were in attendance, accord­ing to a treasury official, who declined to characterise how they responded.
Such forums have become awkward affairs in the past year, with officials debating how to characterise Russia's actions in the traditional joint statements that are produced at the conclusion of the meet­ings.
In April, Yellen and sev­eral other finance ministers walked out of the room during a G20 meeting when Russia's representative started speak­ing. On Friday, Yellen said that the war was "the most impor­tant thing for the global econ­omy" because it had caused headwinds for all the major economies.
New York Times News Service