US officials enter China consulate in Houston
This week, the Trump administration had ordered the embassy to close over espionage concerns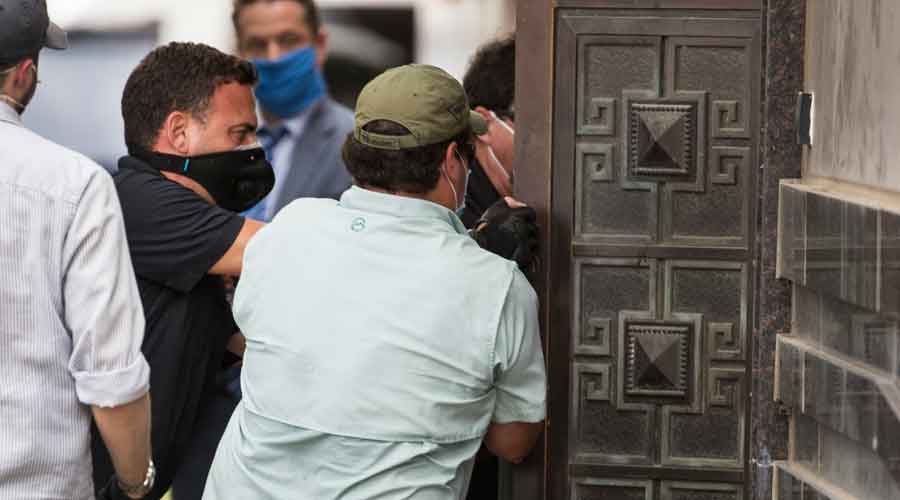 Federal officials and a locksmith pull on a door to make entry into the vacated Consulate General of China building on Friday
AP
---
Beijing, Houston
|
Published 26.07.20, 02:13 AM
|
---
US federal officials and law enforcement officers entered the Chinese consulate compound here along with a locksmith after the mission was shut down.
The Trump administration ramped up its confrontation with China this week, ordering Beijing's consulate in Houston to close over espionage concerns. The consulate, which is located in Houston's busy Montrose Boulevard for 40 years, closed on Friday evening as the deadline set by the Trump administration to shut down the mission expired.
On Friday, the flag and the seal of the People's Republic of China were taken down from outside the consulate. Early in the morning, the consulate staff were seen removing their belongings from the building.
After the Chinese diplomatic staff vacated the building, a number of black SUVs, trucks, two white vans and a locksmith's van entered the compound, CNN reported.
In Beijing, the Chinese foreign ministry said it has expressed strong dissatisfaction and opposition to the US law enforcement officers' "forced entry" into the consulate and lodged a diplomatic protest.
"China will make a proper and necessary response in this regard," the ministry said.
The consulate in Houston is the building of the diplomatic consulate and is also China's national property, it said. According to the Vienna Convention on Consular Relations and the Sino-US Consular Treaty, the US must not infringe on the premises of the Chinese Consulate in Houston in any way, the ministry said. China too on Friday ordered the US to close down its consulate in Chengdu.