Unaided across Antarctica: What kept Colin O'Brady and Louis Rudd going
Two days apart, an American athlete and a British soldier trudged over 1,400 km to cross Antarctica unassisted, a feat attempted by many but accomplished by only these two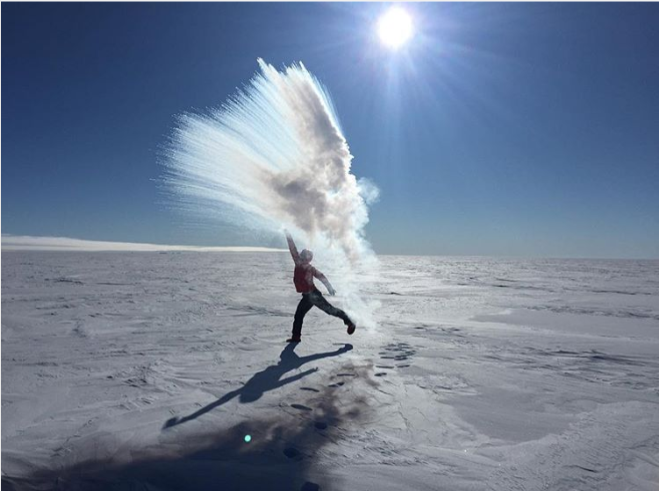 ---
---
British soldier Louis Rudd on Friday became the second person to cross Antarctica solo and unassisted, two days after Colin O'Brady of Portland, Oregon, became the first on Wednesday.
O'Brady, 33, and Rudd, 49, began the trek as a race on November 3.
Rudd finished his 925-mile (1,440km) journey on Day 56 at the foot of Leverett Glacier, a little more than 48 hours after O'Brady completed his expedition. He is the only person to complete two traverses of Antarctica. His first was in 2017 with a team assembled from the British Armed Forces. He had led that expedition.
Rudd carried with him a flag bearing the family crest of a friend and mentor, Henry Worsley, who died in 2016 after he was airlifted from the ice while trying to accomplish what he did this week. The over 1,448km trek took O'Brady 54 days and Rudd 56. Other adventurers had completed the traverse, but not alone or without help from supply drops or kites to harness the wind and lighten the haul.
All through the icy trek, both kept separate digital journals. O'Brady on Instagram and Rudd in a blog. They recorded in minutiae eating routines and challenges in the unending swathes of snow and bone-chilling winds. Rudd even made a blog entry on a vital problem -- taking a dump in -50 degree Celsius.
The mountains made Rudd emotional because they reminded him of his friend Worsley, who died during a similar trek in Antarctica in 2016. '... I thought about Henry a lot today, particularly when I saw the mountains – the fact that he didn't quite unfortunately make it that far – he ground to a halt shortly before he would have been able to see the Transantarctics. So he was really on my mind,' the soldier wrote. 'I'm carrying Henry's flag, his family crest flag... that he carried on all his journeys, and it's really important to me that, this time, the flag goes all the way, and completes the journey right to the end. And it will.'
On December 23, the soldier recounted how his vision had played a trick on him. He had been skiing along and staring at a cloud that looked 'slightly unusual'. Then he realised that this cloud wasn't moving, like all the other clouds around it were. 'It suddenly dawned on me that I wasn't looking at a cloud at all, and it was actually the peak of a mountain,' Rudd wrote. 'Once I actually reach those mountains, I'm obviously into the Leverett Glacier, my pathway down off the continent and onto the Ross Ice Shelf.' The Leverett Glacier is where Rudd's ended his trek on Friday.
On Day 37, he posted his weather-beaten face. 'I'm no longer the same person I was when I left on the journey, can you see it in my face?' he wrote. 'I've suffered, been deathly afraid, cold and alone. I've laughed and danced, cried tears of joy and been awestruck with love and inspiration.'
All day, O'Brady timed when he ate and measured how much he ate. He was also alarmed by how much weight he lost. 'I've lost a ton of weight. So much so that I am afraid to take a close look at my body. My calves feel more like the size of my arms at this point. My watch is starting to slide around on my wrist and I've had to tighten the strap,' he wrote on Instagram.
In another post, he gave a break-up of his nutrition intake, which was Colin Bars, oatmeal and ramen. The Colin Bars were made for him by a company called Standard Process to provide the adventurer 'additional nutritional support'. It contained 'fats and oils, a combination of plant proteins, nuts, seeds, dried fruit, fruit powders, probiotics, vitamin and mineral blends, coming in at approximately 1,165 calories', Standard Process said on its own Instagram handle.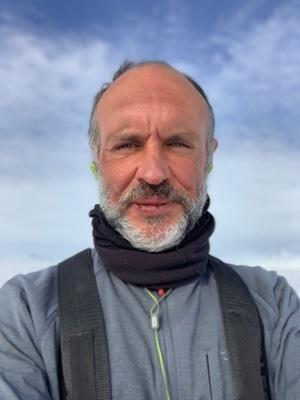 But freeze dried food was the least of their problems.
On December 19, the 47th day of the trek, Rudd recounted his struggle to put his tent up, while also trying to protect his pulk - a low-slung sled to carry food and belongings - after walking for 13 hours in highly windy conditions.
'Really challenging getting the tent down safely and getting that packed,' he exclaimed. 'By the time I'd got everything in the pulk, the pulk was just full of spin drift and everything was covered. I was getting buried. Off I went, and got going....'
Rudd had refused to halt in the bad weather earlier. 'I thought I'd go a bit longer just to see if I could get a lull so I could put the tent up, 'cause I was quite worried about trying to get the tent back up in those conditions. I kept going, it got to about 8 o'clock and I'd been going for 13 hours.'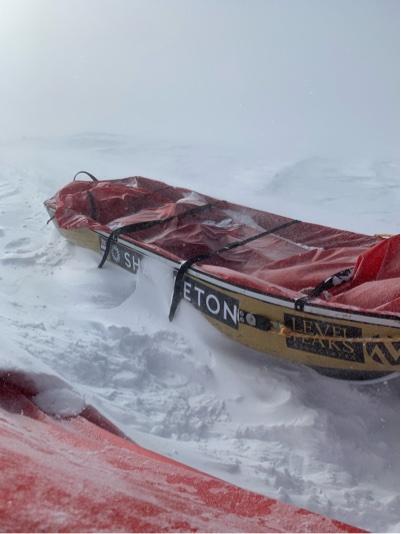 O'Brady won after he covered the last roughly 129km in one big, impromptu final push to the finish that took well over an entire day.
'While the last 32 hours were some of the most challenging hours of my life, they have quite honestly been some of the best moments I have ever experienced,' he posted on Instagram. Rudd congratulated him in the blog late Wednesday.
'I've just heard that the American Colin's finished,' he wrote. 'Fantastic, well done to him. He'd pushed really hard all the way across and done extremely well, so congratulations to him.'
'I start the day with a special oatmeal blend that has extra oil (added for fat) and protein powder,' the American wrote. 'Next... the @standardprocess custom "Colin Bars" at 4,000 calories per day are what I eat while I'm outside pulling the sled. I eat about 500 calories worth of bar every 90 minutes when I stop to take a 5 minute break.'
The ramen was a middle-of-the-day snack 'for a warm pick-me-up and some extra salt'. O'Brady's dinner came in a freeze dried packet.
Calories each day? 7,000.
Food made up the vast majority of the weight in the sled, he wrote. 'But each day that I eat my ration, my sled gets a little lighter and I can go a little farther. Then repeat. I wake up and do it all over again!'
Food was on Rudd's mind too. The full English breakfast, to be precise. In his post on Day 24, the British soldier thanked his colleague John Jones for his support and for making him a full English breakfast the day before he left for the expedition. 'A huge shout out to you John. I keep thinking about that full English breakfast you made me the day before I departed. And my God, I could probably destroy ten of those now,' he said.
On Friday, O'Brady met Rudd met in a tent after both were done.
'It's a small club,' O'Brady's wife Jenna Besaw joked. 'His intention is to wait for Louis and have kind of a celebratory moment with the only other person on the planet to have accomplished this same thing.'
After an accident burned his legs in 2008, O'Brady was told he may never walk, but he went on to become an endurance athlete.
At the beginning of the trek, he had to haul 375 pounds (170 kilograms) of gear uphill and over sastrugi - wave-like ridges in the snow created by wind. By the end of the journey, his gear weighed roughly 140 pounds (64 kilograms).
On November 18, he wrote that he awoke to find his sled completely buried from an all-night blast of wind and snow. That day, he battled a 30 mph (48 kph) headwind for eight hours as he trudged on.
'I wanted so badly to quit today as I was feeling exhausted and alone, but remembering all of the positivity that so many people have been sending, I took a deep breath and focused on maintaining forward progress one step at a time and managed to finish a full day,' he confessed.