UN rues climate meet failure
Climate negotiators managed to stitch a 'highly compromised and weak agreement' on key issues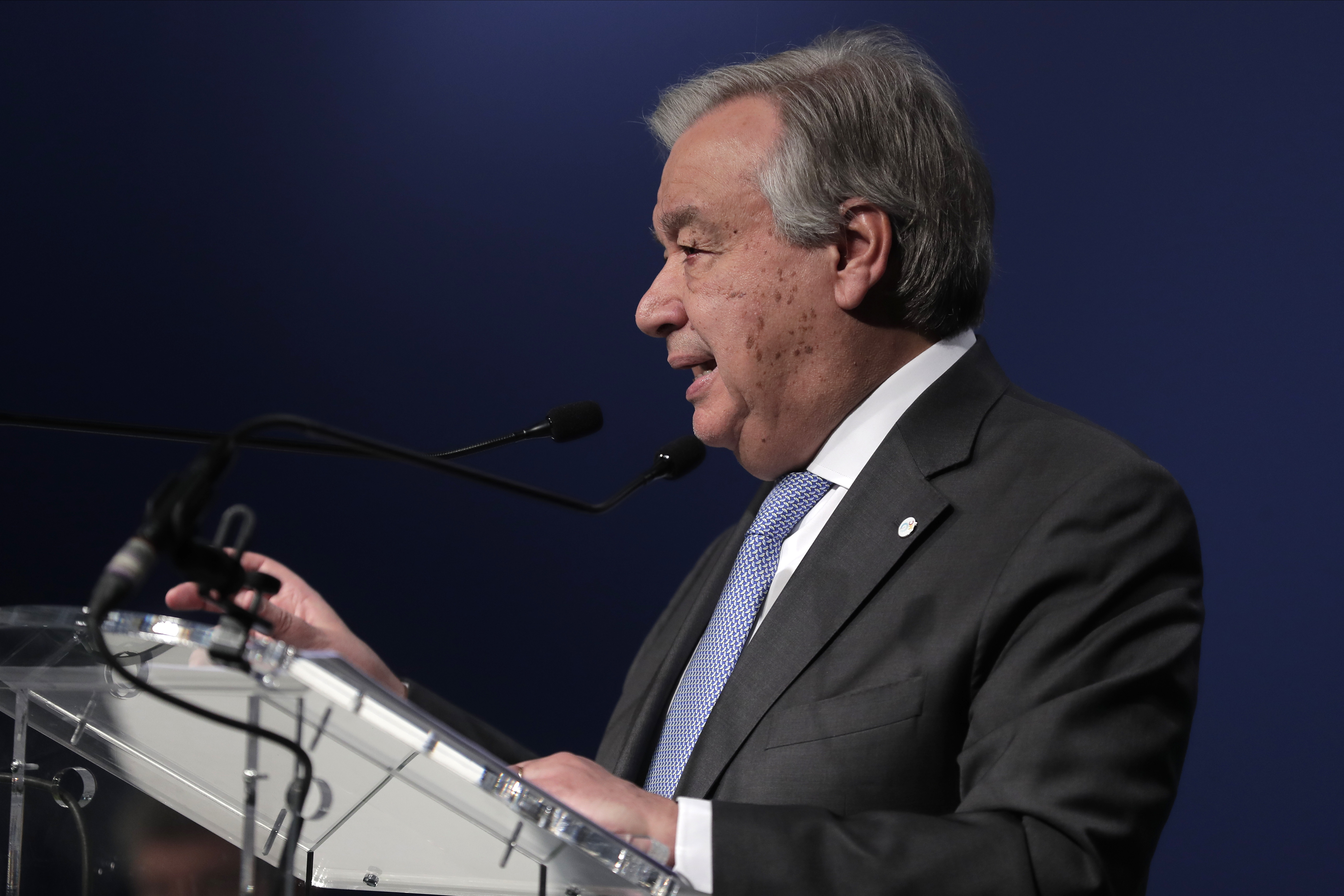 Antonio Guterres, Secretary-General of the United Nations delivers a speech at the COP25 climate talks summit in Madrid, Spain, on December 12, 2019
AP
---
Madrid
|
Published 16.12.19, 07:55 PM
|
---
The longest global climate change talks closed early on Monday after nearly 48 hours extra talk time, but left analysts and even the UN secretary general "disappointed" by their poor progress and promises for more talks.
The earlier longest running UN climate conference was in Durban in 2011 when it had overshot the schedule by 36 hours.
Climate negotiators in Madrid managed to stitch what some analysts said was a "highly compromised and weak agreement" on key issues, but agreed to defer talks until the next such summit in Glasgow, UK.
"I am disappointed. The international community lost an important opportunity to show increased ambition on mitigation, adaptation and finance to tackle the climate crisis" said UN secretary general Antonio Guterres after the summit.
Earlier, several scientific reports had urged countries to show ambition and more actions to lower the world's green house emissions in order to prevent the global average temperature from rising beyond 2 degrees Celsius and worsening impacts of climate change.
The climate liability of the developed countries to support the developing and vulnerable nations for the climate-linked damages already incurred has weakened under resistance from successful nations.
"It has become weak under pressure from the US and others ... unless dedicated money is allotted, nothing effective on ground will happen in already affected areas like the Sundarbans in Bengal or Bangladesh" said Harjeet Singh, global lead of climate change of Actionaid.
Most developed countries refused to budge from "nationally declared commitments" (NDC) under the 2015 Paris climate pact, despite scientists calling them "inadequate". Therefore, it did not find mention in the operative part of the final text in Madrid.
However about 73 countries committed to enhance their NDC before the next conference in Glasgow. However, that is unlikely to have much bearing over the overall global emissions as they are mostly developing and "least developed countries", which emit far less compared to developed countries. India has opted for an NDC review in 2023.
Observers in Madrid, that The Telegraph spoke to, blamed G20 countries for the poor outcome, with US, Brazil, Australia, Saudi Arabia among the major deterrents to global ambition and action to counter climate change.
"The impacts of not acting adequately on climate change are clear and visible not only with developing and under developed countries but also in developed countries. Yet the just concluded conference shows that the political will to act is absolutely missing across governments" said Aarti Khosla, director of Climate Trends.
"The US, despite pulling out of Paris Agreement, continued its toxic role in the background to scuttle any ambition to reduce emissions while Brazil tried to legitimise its deforestation. The time lost in Madrid will have far reaching impacts and will be detrimental to the well being of the planet. There is lot to be done at the next conference, unless the world chooses to commit hara-kiri. I am not sure whether it has already committed one" said Sanjay Vashisht , head of Climate action Network, to The Telegraph.
"There is no sugar coating it, the negotiations fell far short of what was expected. The can-do spirit that birthed in Paris in 2015 feels like a distant memory now" said Helen Mountford of World Resources Institute.