UK's young hobbled by inflation, slow economy
Many young Britons had hoped that after two years of the pandemic they could finally start enjoying their lives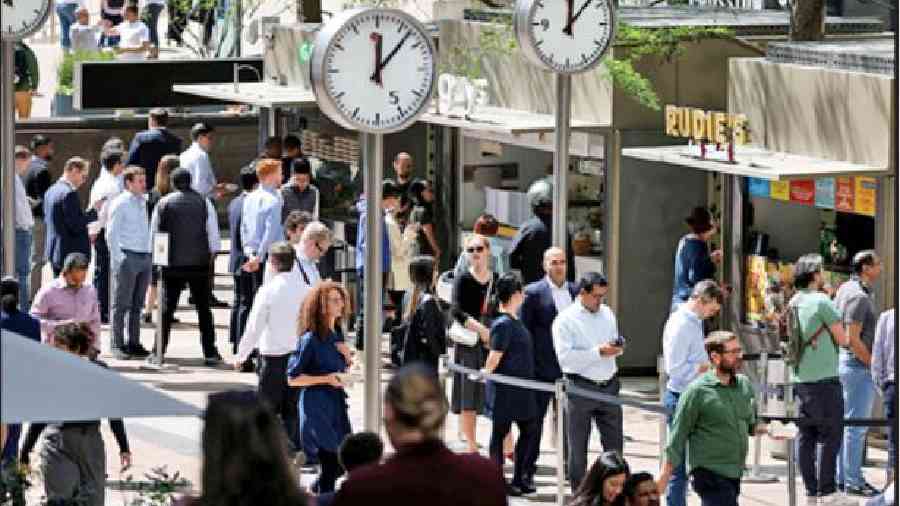 People queue for food in the financial district of Canary Wharf in London.
File picture
---
Blackburn, England
|
Published 12.10.22, 12:15 AM
|
---
To try to save money this past summer, Maisie Grattan juggled three jobs at one point — rushing from event planning at one pub in the morning to pulling pints at another, and then doing regular shifts at a Sainsbury's grocery store.
A politics student, Grattan lives with the family of a close friend in the town of Darwen and often cuts commuting costs by taking classes online instead of paying for the train to her university in nearby Manchester.
She, like many others, was irked last week when Jake Berry, a Conservative lawmaker who represents her region, suggested that people get "better-paid jobs" to pay off their rising bills.
How was that possible, she asked, when wages had not grown and employment opportunities in the area felt so limited?
"It just feels like going back to the beginning," Grattan said. "The constant worry of what if I don't have enough money?"
Many young Britons had hoped that after two years of the pandemic they could finally start enjoying their lives.
Instead, they are often staying in and staying home — this time for financial reasons as they confront rising costs and a slowing economy.
"No one is in our corner right now," said Evie Hargreaves, who moved back in with her own family, and invited Grattan to join her. "It feels scary and daunting."
Berry later admitted the phrasing of his comment was a "clumsy" attempt to frame the conservative government's vow to revive the economy after its proposed tax cuts shook Britain's financial markets recently, sending the pound plunging and forcing the Bank of England to intervene.
Facing soaring inflation, rising energy bills and stratospheric housing costs in several major cities, many young Britons navigating the uncertain transition to adulthood say they fear they are just lurching from one global crisis to another.
As they enter their first years in the workforce, they are struggling to find affordable housing or moving back home when they can't find a place they can afford.
Students are opting to study closer to home, cutting back on socializing and picking up multiple jobs in their time off. And the strain is even greater for young people from families who lack the means to provide a financial safety net.
Young Britons are less likely than their elders to be insulated against financial shocks and less able to pay higher bills, said Sophie Hale, principal economist for the Resolution Foundation, a research group focused on economic issues.
She said that almost 70 per cent of 20-29-year-olds had less than a month's worth of income in their savings, compared to 20 per cent of those over 65. And wage growth for young people had been weak.  "It's really about the precariousness of their financial position," she said.
With six in 10 young Britons holding low-paid jobs, young people have been hit harder by inflation than most, Katherine Chapman, director of the Living Wage Foundation, said in a statement.
"Without a wage that can keep up with inflation, young people risk being locked out of the benefits that youth should bring," the statement said.
All of this is making it hard to enjoy the milestones of growing up.
"There's very little bit to be optimistic about in this current landscape," said Peter Rigg, a student.
Even with a tight labour market, he said, being employed no longer assured economic security.
New York Times News Service