Volodymyr Zelensky seeks 1 per cent of Nato's tanks and planes
'We did not ask for more, and we do not ask for more'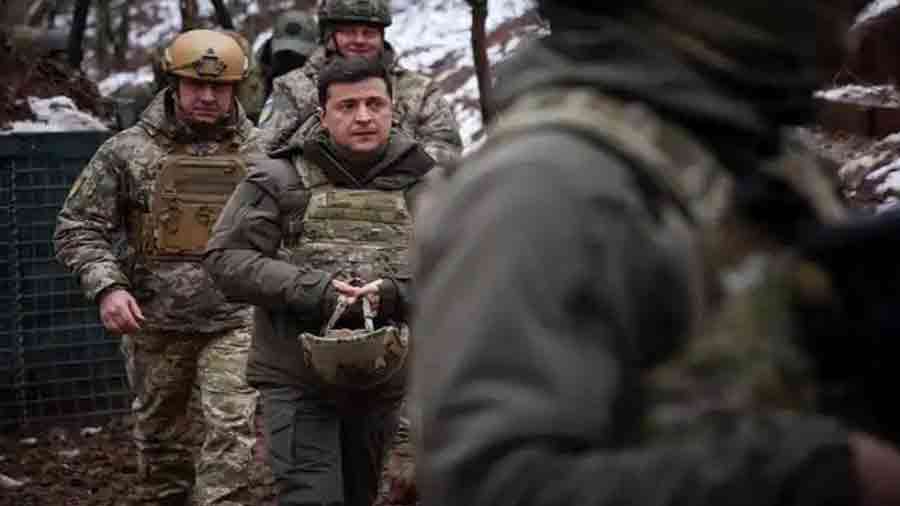 Volodymyr Zelensky.
File Photo
---
Published 28.03.22, 03:27 AM
|
---
President Volodymyr Zelensky said European leaders were falling short in helping his nation fight Russia and urged them to show even a bit of the courage that the outmanned residents of Mariupol have demonstrated.
"Their determination, their heroism and resilience are impressive," he said of the hundreds of thousands of residents stuck in the southern port city without water, food and electricity.
Zelensky renewed his public appeal to Nato for military equipment, saying he wanted "1 per cent" of the alliance's tanks and planes.
"We did not ask for more, and we do not ask for more," he said. "And we have already been waiting for 31 days."
Zelensky said he had spoken with the Polish President, Andrzej Duda, and that his ministers of defence and foreign affairs had met with officials from the US, including President Joe Biden, to discuss the need for more military equipment.
The price of security, Zelensky said, was planes, tanks, missile defence systems and anti-ship weaponry.
"This is what our partners have that is covered with dust at their storage facilities," he said.
Zelensky opened his remarks by hailing the bravery of citizens in Slavutych, who unfurled the Ukrainian flag in front of city hall and chanted, "glory to Ukraine," before occupying Russian soldiers. "We were all with you — on your streets, in your protest," he said.
He closed with a rebuke of Russian shelling near Kharkiv that damaged a Holocaust memorial, likening Russia's assault on non-military targets to the strategies employed by Nazi Germany.
Thousands of Jews were executed at the site of the memorial during World War II, Zelensky said. Now, he said, Russia was committing "a crime against history."
(New York Times News Service)