As Russia pounds Ukraine, Nato countries rush in Javelins and Stingers
The American weapons are part of a $350 million package that President Biden authorized on Saturday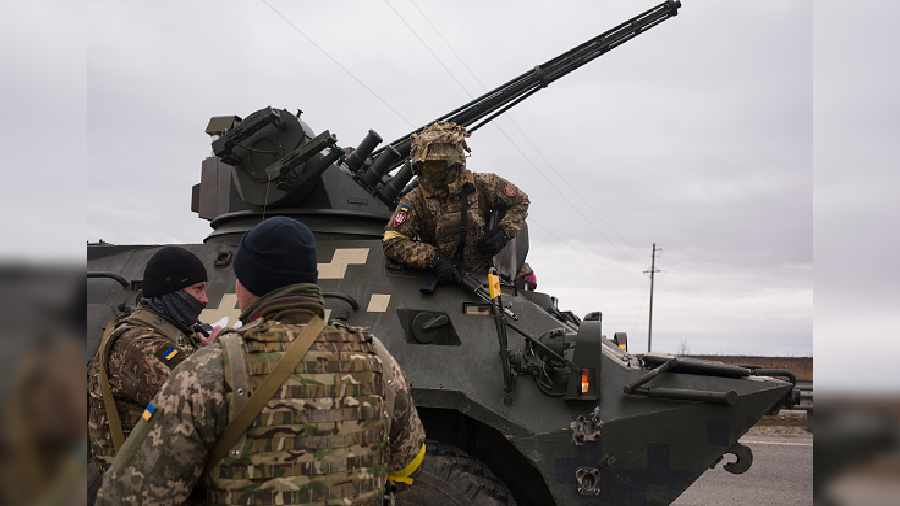 krainian APC as seen on the road on March 5, 2022 in Sytniaky, Ukraine. Russia continues assault on Ukraine's major cities, including the capital Kyiv, more than a week after launching a large-scale invasion of the country.
Getty Images
---
Published 06.03.22, 01:04 AM
|
---
Near Ukraine's Border: Some 14 wide-bodied aircraft transported a bristling array of Javelin anti-tank missiles, rocket launchers, guns and ammunition to an airfield near Ukraine's border on Friday, as the US and European allies ramped up their efforts to give the Ukrainian military a leg up in battling a foreign enemy that far outguns it.
The top US military adviser to President Biden inspected the weapons transfer operation in an unannounced trip, meeting with troops and personnel from 22 countries who were working around the clock to unload the armaments for transport by land to the Ukrainian forces.
The American weaponry, which included the Javelins as well as small arms and munitions, was part of a $350 million package that Biden authorised on Saturday; within two days, one official said, the deliveries were landing at an airfield near the border that can process 17 airplanes a day. What began as a trickle — with only two or three planes arriving a day — is now a steady flow, the official said, with 14 loads from one airfield alone.
General Mark A. Milley, the chairman of the Joint Chiefs of Staff, included a stop at the airfield as part of a trip to the region. As he spoke to troops, cargos of Javelins rolled behind him. Nearby, two C-17s, the enormous cargo workhorses of the US Air Force, sat on the tarmac.
The US has delivered nearly 70 per cent of the $350 million package to Ukraine's military, a senior Pentagon official said on Friday. It expects to complete the entire shipment in the next week or so.
The shipment of weapons — which also includes Stinger anti-aircraft missiles from US military stockpiles — represents the largest single authorised transfer of arms from US military warehouses to another country, the Pentagon official said.
US officials said the weaponry, equipment and other war material were being flown to neighbouring countries like Poland and Romania and then shipped over land into western Ukraine.
New York Times News Service