UK tycoon Kirit Pathak dies after crash
Reports said he was injured in a collision on January 17 and passed away last Saturday, January 23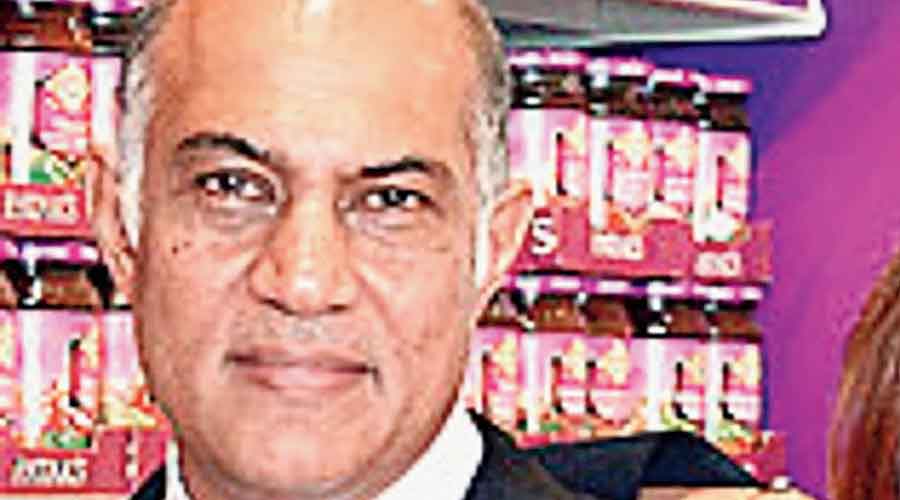 ---
|
London
|
Published 26.01.21, 01:37 AM
---
Kirit Pathak, whose family firm sold the ubiquitous Patak's Mango Pickle which made bland English food edible for Indians, has died, aged 68, following a car crash in Dubai.
Reports said the tycoon was injured in a collision on January 17 and passed away last Saturday, January 23.
He is survived by his wife, Meena, with whom he built a flourishing food empire in the UK, and their children, Neeraj, Nayan, and Anjali.
The firm was founded by his parents, Lakshmishankar and Shantagaury Pathak in 1957, starting with a small shop near Euston railway station in London. The firm was called Patak's, with the "h" dropped.
In the early days of Indian immigration to the UK, it was customary for first generation folk to make a trip to the shop to pick up a jar of Patak's Pickle. This enhanced the taste of home cooked macher jhol for Bengalis, for example, and made English "meat and two veg", the latter usually boiled to exhaustion, less of a daunting challenge.
No wonder the Goodness Gracious Me comedy team came up with a sketch, in which a group of Indians went out "for an English" and asked the waiter to "bring us something totally tasteless".
But Lakshmishankar had struck gold. The pickle business grew into a food empire under Kirit and Meena. In 2007, Kirit sold the business to Associated British Foods (ABF) for a reported £105 million but retained the rights to the brand in India and was made chairman of ABF's combined world foods group.
George Weston, chief executive of ABF, sent his condolences and said: "Kirit was a great man who was blessed with entrepreneurial flair, astute business acumen and a passion for authentic Indian cuisine.
From humble beginnings he and Meena created an incredible business all built on the concept of making Indian-style meals easy and accessible for time-poor people, but what they actually did was introduce a fantastic genre of cooking into millions of homes, transforming it into a home-dining staple.
"Kirit and his family revolutionised the way we eat at home and he leaves behind a legacy that not only employs hundreds of people but is enjoyed by millions of homes worldwide every day."
Andy Mayhew, managing director of AB World Foods, added: "With his energy, enthusiasm and natural business acumen, Kirit turned Patak's into one of the UK's most successful food brands, cutting through the established culinary culture of the time to bring the flavours of India to the United Kingdom and beyond.
"Under Kirit's visionary leadership, a-state-of-the-art factory was built in Leigh (in Greater Manchester), where we are still based today, employing over 350 people. He remained involved with the business as chairman and, later, Honorary Life President of AB World Foods."
"On a personal note, Kirit has been a friend and mentor to me for over 13 years and I shall miss enormously both his good company and wise counsel. I know the shock of his loss will be keenly felt across AB World Foods and we extend our thoughts and prayers to his family at this difficult time."
Kirit and Meena came to be recognised as pioneers of the Indian food business.
But there were inevitable newspaper headlines – "Pathak's in a pickle" – in 2004 when Kirit's two sisters, Chitralekha Mehta and Anila Shastri, took their brother to court, claiming they had been deprived of the shares they had handed over to their mother for safe keeping.
Their frail mother, who lived with Kirit, backed her son, but the judge was not impressed with the argument that in Indian culture, daughters had no business to be in business, especially after they were married. This was probably the reality in many Indian business families but in a society, where women were fighting for equal rights, this kind of argument reeked of the middle ages. The sisters won but had to take Kirit to court again to get their dues.

But that said, Kirit's contribution to the food business has been widely recognised after his passing. Kirit once told The Telegraph
that his lifestyle was quintessentially English, even to going out for country walks in green wellies, a sign of being upper middle
class.

"Only our parrot talks with a Gujarati accent," he quipped.