UK to give illegal migrants a one-way ticket to Rwanda
British Home Secretary Priti Patel in the Central African nation to sign the controversial deal condemned by critics as shameful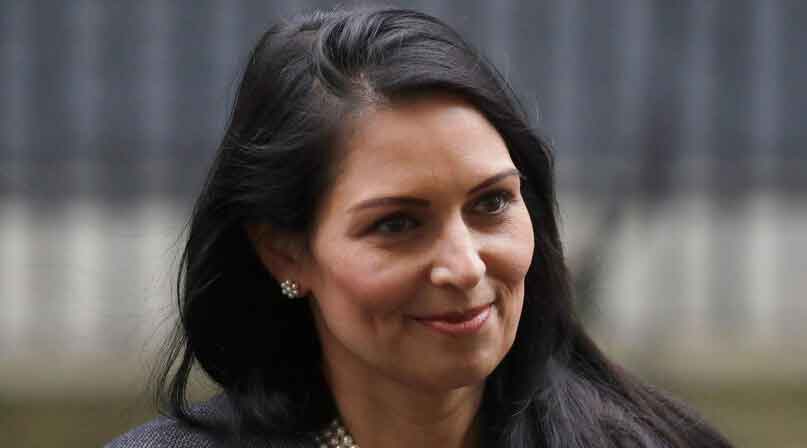 British Home Secretary Priti Patel
File Picture
---
New Delhi
|
Published 14.04.22, 10:24 PM
|
---
UK Prime Minister Boris Johnson has unveiled a highly controversial scheme to transport illegal immigrants trying to cross into Britain to hostels in Rwanda almost 4,000 miles away in the heart of Africa.
Priti Patel, the United Kingdom's Home Secretary (equivalent of our home minister) is currently in the Rwandan capital Kigali to sign what has been called the Migration and Economic Development Partnership. The UK government has already said it would pay the Rwandan government POUNDS STERLING 120 million to take in an unspecified number of illegal asylum seekers and immigrants. A pilot scheme involving a few hundred immigrants is about to be launched. 
The Times, London reported the new plan with the headline: "Channel boat migrants will be sent on one-way flight." Johnson's Rwanda scheme has instantly provoked a barrage of criticism from human rights organisations and immigration lawyers. Amnesty International's Steve Valdez-Symonds tore into the scheme, describing it as "the very height of irresponsibility".
In a similar vein, Yasmine Ahmed of Human Rights Watch said: "Offshoring asylum seekers to Rwanda is unethical, immoral, ineffective, costly and very likely unlawful."
Johnson was unrepentant about the controversial nature of the scheme, nothing like which has ever been attempted in the UK, but insisted it was the best way to slash illegal immigration.  He acknowledged there would be huge criticism of the scheme and also legal challenges from what he termed, "a formidable army of politically motivated lawyers". He insisted that the scheme is "fully compliant" with international law".
However, he also added that for now only single men will be sent to Rwanda which has a spotty record on policing and also human rights issues.
Home Minister Patel speaking at a press conference in Kigali, also defended the plan and insisted it, "fully complies with all international law and national law.. However, a YouGov snap poll indicated 42 per cent of people polled in the UK were against the scheme and 35 per cent for it.
Under the scheme immigrants will be housed in hostels while their applications for asylum are processed. Some of the responsibility for processing asylum seekers would be undertaken by Rwanda. Also, Britain would fund a 'training and support' package for people who win the right to live in Rwanda for five years. Unsuccessful claimants for asylum will be deported back to their home countries. Photos of one proposed 50-room hostel which can house 100 immigrants were released to the press Thursday.
Johnson has been under intense pressure to resign in recent weeks after what's been called the Partygate scandal. Johnson has been found to have broken the law and fined for attending more than one of several parties that were held in the Prime Minister's office in 10, Downing Street when Covid-19 lockdown rules were in force. He came under fierce attack with critics saying the Rwanda scheme is just an attempt to divert attention from his own lawbreaking.
The Opposition party leader, Keir Starmer, also launched a broadside aimed at Johnson, saying the Rwanda scheme was just an effort by the prime minister to distract people from his political imbroglio. Said Starmer: "It is a desperate attempt by a prime minister to distract from his own lawbreaking. It's unworkable. Extortionate. And Britain really does deserve better than this."
Britain's Home Secretary Patel had also worked on a scheme to transport would-be illegal immigrants to remote and tiny Ascension Island in the South Atlantic Ocean somewhere between Africa and South America. The idea had been shot down very firmly with suggestions that it would be a logistical nightmare. A representative of a UN refugee organisation had also said it would breach Britain's obligations to asylum seekers.
However, the government has been under considerable pressure because of the increasing number of people attempting to cross into Britain in small boats from mainland Europe. About 5,000 people have been intercepted trying to cross the English Channel into Britain since January 1. These include a mix of people from war-ravaged countries like Syria and Afghanistan. Last year 28,256 migrants crossed the Channel in small boats. Nine out of 10 were male and seven out of 10 were single.
Precise numbers about how many Indian immigrants have crossed the Channel in small boats were not immediately available.
Australia is the only country which has used a scheme like this to prevent immigrants landing on its shores. Under that programme, which has been hugely controversial, people attempting to travel to Australia in small boats are picked up and taken to an island in the Central Pacific. Denmark, which has very tough immigration laws, is also said to be considering sending illegal migrants to Rwanda.
Interestingly, Rwandan President Paul Kagame is also determined to reverse the exodus of young men from the country and feels bringing the migrants from Britain might achieve this goal. Kagame has been in power since 2000 and is said to have stabilised the country which saw the terrible massacre of the Tutsis by the Hutu tribe back in 1994. However, he has been accused of being a brutal dictator.