UK ex-PM Liz Truss attempts dramatic political comeback with swipe at Rishi Sunak
I wanted to become prime minister to change things, not to manage decline or to preside over our country sliding into stagnation: Truss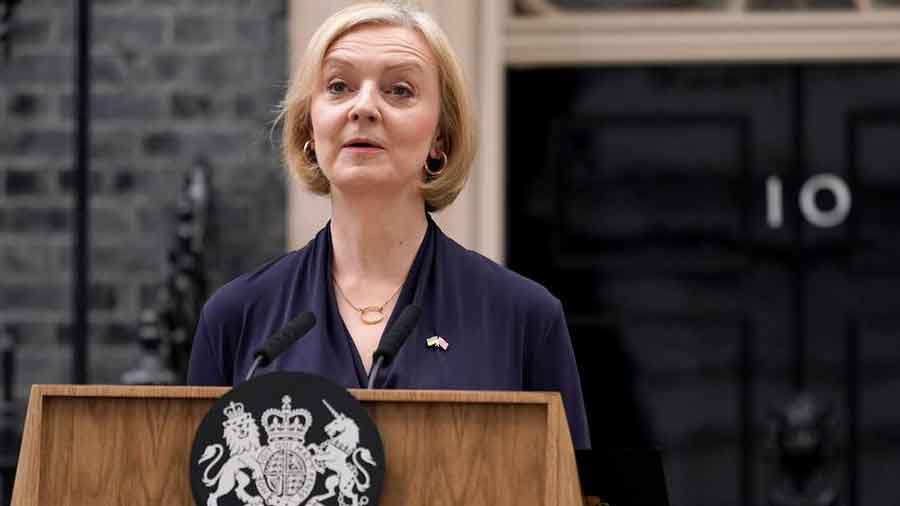 ---
London
|
Published 05.02.23, 06:47 PM
|
---
Britain's former prime minister Liz Truss, who has the ignominy of being the country's shortest serving in the top job at just 49 days, on Sunday made a dramatic attempt at a comeback to frontline politics with an indirect swipe at successor Rishi Sunak's policies.
Truss, whose mini-budget in September last year was widely blamed for setting the UK on a spiralling economic downturn, claims she was never given a "realistic chance" to implement her tax-cutting vision for growth.
In a lengthy essay in 'The Sunday Telegraph', the former party leader admitted she was not "blameless" but argued that her mandate as the Conservative Party leader was not respected and that her premiership was the casualty of the "left-wing economic establishment".
"I wanted to become prime minister to change things, not to manage decline or to preside over our country sliding into stagnation," she writes.
"In the medium term, I believed my policies would have increased growth and therefore reduced debt. Five-year forecasts are treated as accurate predictions and therefore filling the 'gap' becomes the imperative of government policy… As a result, the government is forced to make economically detrimental decisions, such as raising corporation tax, based on uncertain forecasts that may not come to fruition," she said, indirectly referencing the Sunak-led government's policies.
The timing of Truss' essay, just as Sunak marked his first 100 days as British Prime Minister this week, is widely being seen as the now backbench MP's attempt at keeping her dream of returning to the front benches alive ahead of a general election expected next year.
She reflected on the "deeply disturbing" moment she had to sack her chancellor, Kwasi Kwarteng, despite his "brave" economic package – widely known as the disastrous mini-budget, which ultimately precipitated her exit from Downing Street after her own party MPs turned on her.
She writes: "I am not claiming to be blameless in what happened, but fundamentally I was not given a realistic chance to enact my policies by a very powerful economic establishment, coupled with a lack of political support.
"I assumed upon entering Downing Street that my mandate would be respected and accepted. How wrong I was. While I anticipated resistance to my programme from the system, I underestimated the extent of it." The 47-year-old former Tory leader, who had defeated Sunak in the leadership election in early September, announced her resignation within weeks. The party MPs then overwhelmingly backed the British Indian leader to take over after a speeded-up leadership race with Penny Mordaunt, now a member of the Sunak Cabinet.
Sunak's Business Secretary, Grant Shapps, came out in defence of the government on Sunday in response to the essay. The minister said that while Truss had the right priorities, she failed because she did not try to deal with the "big structural issues" first and bring soaring inflation under control as a priority – a pledge Sunak made on taking charge a day after Diwali on October 25, 2022.
"I noted that she said that they hadn't prepared the ground for these big tax changes," he told 'Sky News'.
"And I think the truth is, and we know this, what you've got to do first is deal with the big sort of structural issues. Deal with inflation first, deal with the debt so you're on a downward trajectory. And then you look towards tax cuts."
Except for the headline, this story has not been edited by The Telegraph Online staff and has been published from a syndicated feed.