UK advisory on AstraZaneca vaccine
European Medicines Agency said blood clots should be added to the list of side-effects of the vaccine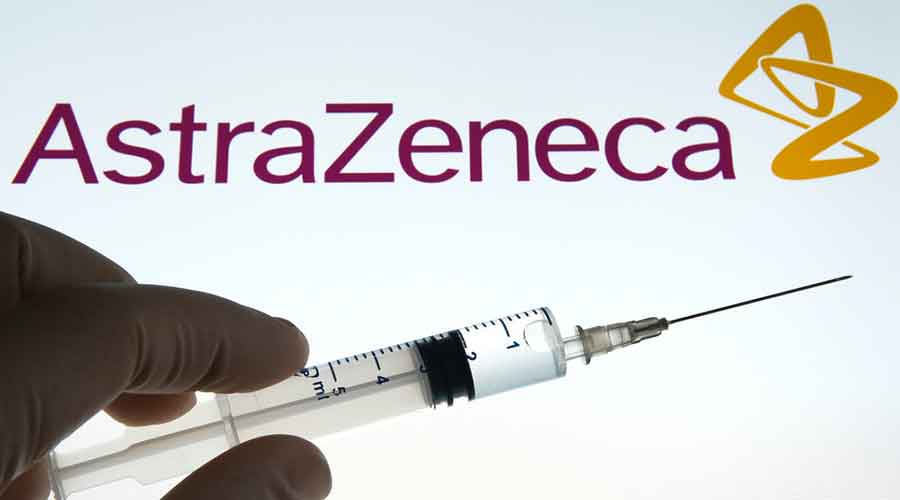 ---
|
London
|
Published 08.04.21, 01:13 AM
---
The UK's Medicines and Healthcare products Regulatory Agency (MHRA) is undertaking an important "course correction" by recommending that where possible an alternative to the Oxford-AstraZaneca vaccine be given to people aged between 18 and 29.
It is doing so after recording 79 cases of blood clots in which 19 out of the 20 million people vaccinated by March 31, 2021, had died, three of them under 30. Two-thirds of the clots had occurred in women.
The recommendation will be noted in India, where the Serum Institute is manufacturing the Oxford vaccine under licence for domestic use and indeed the world.
Dr June Raine, the MHRA chief executive, said: "Vaccines are the best way to protect people from Covid-19. But no effective medicine or vaccines is without risk."
She acknowledged there was a "reasonably plausible" link between the vaccine and the blood clots, although AstraZeneca has said its studies have found no causal connection.
She pointed out that the side-effects of the AstraZeneca vaccine were "extremely rare" — and more work was going to identify if the vaccine was definitely causing the clots.
"The balance of benefits and known risks is still very favourable for the majority of people."
But she admitted for younger age groups it was more "finely balanced", adding, "The public's safety
is at the forefront of our minds."
Prof. Jonathan Van Tam, England's deputy chief medical officer, said that when the virus was low in the community the risks for under-30s were higher from the vaccine than from coronavirus.
But he said that if the virus prevalence rose, the benefit would also rise. He said: "This is a course correction, there is no question about that."
As of Wednesday, the UK has started rolling out the Moderna vaccine to add to the one from Pfizer.
The European Medicines Agency (EMA) said blood clots should be added to the list of side-effects of the AstraZeneca vaccine, and that a "plausible explanation" was that it was causing a rare auto-immune response.
But Emer Cooke, the executive director of the EMA, also emphasised: "Our safety committee has confirmed the benefits of the AstraZeneca vaccine overall outweigh the risks of side effects."